January 8, 2008
Posted by Tyler Cruz
It's only been 5 days since the much-heated competition between Gyutae Park and I, but somehow Gyutae has managed to put himself far in the lead.
The current standings are: Tyler: 7 Gyutae: 25
I don't know how he managed to get so many votes, but there's no denying the fact that I need to catch up soon if I want to win this thing.
One of my mistakes, I believe, is that I played the "stats" card too aggressively. Many of the votes for Gyutae stated that they voted for him because they like to root for the underdog. Well, now I'm the underdog, and that's no good.
Even though Gyutae is currently kicking my ass, the competition is still far from over. There are still SIX days left in this thing, and I plan on doing whatever it takes to come out on top. I really hate losing 🙂
I'm putting even more up for grabs
Yes, that's right. In order to compete with Gyutae and his henchmen, I'm going to have to put even more up for grabs in order to help sway the outcome of this competition.
Therefore, in addition to getting 3 chances to win $100 if I win the competition, and in addition to the 100 Entrecard credits I give out to everyone who votes for me, I'm now posting a link to each blog that votes for me, with some comments on their blog or post as well! I don't know what amount of traffic this brings, but I'd estimate you'd get at least 40-50 clicks from my highly-targeted demographic.
In addition, Gyutae is almost all out of t-shirts! He only has a few more left to give away, meaning that his vote count will likely plateau soon, giving me a chance to catch up and win.
Therefore, if you haven't voted for me yet, for whatever reason… (I'm not pointing fingers here…) you're passing up a good opportunity to be guaranteed 100 Entrecard credits, a mini-review of your blog, and 3 chances to win $100 cash.
How to Vote for Tyler
The details of the contest and competition can be found in my original post, which includes the full details and rules needed to participate.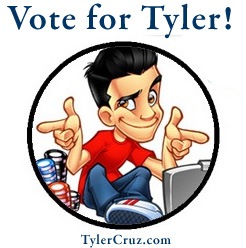 The Good Guys
Here are all the good guys (and gals) who have voted for me so far
blogodise.blogspot.com – I'm not sure if he's aware, but all of his ads underneath his "Web Traffic Boosters" are all displayed incorrectly (overlapping, layout, etc.) in Internet Explorer (I'm using MSIE7.0), but renders fine in FireFox. If you ever hold a blog contest though, let Erz from blogodise.blogspot.com/ know about it as you stand a good chance of him posting about it.
BloggingCents.com – Not only do I have the same name as her son, but she seems to be in love with my orange couch….
BoringBlogz.blogspot.com – While I'm concerned that it took him an hour to have to decide between me and Gyutae (what's to think about?), in the end he did the right thing. He also points out a rather embarrassing SEO mistake Gyutae made when posting about the contest on his blog…
StopSkynet.com – As the post says, "Tyler's knowledge of the web will be invaluable when it comes to massing our campaign against Skynet." Labelled as propaganda by Cyberdyne, the post has crept through the underground in order to spread the word of Gyutae Park and his alliance with Cyberdyne to create the early Terminator models…
MeganLovesDance.com – Seeing Megan's design makes me miss my old pink blog design. But mine never had dots on it… unfortunately.
Walsho.net – Mark is no lemming! He's not falling for Gyutae's t-shirt marketing ploy! You may remember Marks blog as being the one where he made a post about paying a designer for a mascot, and then the mascot turned out to look a lot like me. Anyhow, he now has a brand new blog design, which looks 10x better than his old one, so check it out.
GradeMoney.com – Desmond Ong explains why you should vote for me, with facts such as his girlfriend saying I'm cute and that the Cartoon Network might feature me in a cartoon series…
So there you have it. Help me fight back against Gyutae… do your part!
Posted: January 8th, 2008 under Contests