November 15, 2008
Posted by Tyler Cruz
The following is a paid review and is completely of my own opinion and is not influenced by being paid. If you're interested in having me review your site or product, please view my advertising page.
Several years ago, before I had multiple consistent streams of revenue coming in, one of the methods I used to make money online was domain flipping. Domain flipping, just like it sounds, is simply the act of buying a domain to sell at a higher price.
Domain flipping is actually one of the main things I suggest to those who are brand new to making money online and want to get started bringing money in. It's a very low-risk endeavour and really only requires an $8 startup fee (to buy a domain). While domain flipping can be very tedious at times, it's also very easy to learn and do and thus great to those dipping their toes into the make money online arena for the first time.
I had made some decent money back in the day by flipping domains. It was nothing spectacular: it started at around a $25 profit off a $30 investment, then as I learned more it grew to perhaps a $100 profit off a $60 investment, and then into the higher ranges such as a $600 profit off a $200 investment. It's similar to house flipping – the more experience and cash you have, the more expensive houses (domains) you can invest in and flip.
In fact, I was so into domains that I even bought the domain and site DomainForums.com for $10,000 in 2005 (which I later flipped for $14,000 a couple months later).
To find the domains, all I did was (apart from checking recently expired domain lists and checking for available domains) frequent the various domain forums where domains were listed for sale. There are a number of very large webmaster and domain forums where members can post their domains for sale. I simply scoured these forums every day to find my domains names.
The four main forums I used were Sitepoint, DNForum, NamePros, and Digitalpoint. Those forums have so many new domains posted up every day it's crazy. In addition, there are thousands of active members who scour those threads as well which means that when you post your domain up for sale it has an extremely high chance of being bid on, if not bought out altogether.
There are so many new domains added every day that it would literally take me hours to go through those 4 forums to search through all the domains. Finding a domain that you can make a profit on is like finding a needle in a haystack in those forums, simply because of the immense amount of new domains constantly being listed. Most of them are crap, but chances are you can find at least a few every day that you'll be able to profit on.

This is where WeGotDomain.com comes in. WeGotDomain is essentially an aggregator for domain name classifieds listed on webmaster forums. It collects domains listed for sale on DNForum, Digitalpoint, Sitepoint, NamePros, eBay, DomainForums (Heh, coincidentally the site I used to own), and DomainState and organizes them all into a searchable database.
In addition, WeGotDomain lists the price, PageRank, number of backlinks, and other information for each domain to make evaluating each domain simple. This was another step in the equation for domain hunting manually that took extra time. Because of this, WeGotDomain makes finding used aged domains or domains with pr listed on webmaster forums very easy.
At the time of this review, there are currently 11,092 domains listed, with 532 of them being added today. Keep in mind that sold or cancelled domains are usually removed from the system in an effort to keep the database up-to-date.
The Search System
In addition to the default listing of all the recently added domains, users can search for domains by more specific data. For example, you could search by text, a certain character length, choose to return only certain extensions, or return only the results added in the past day or two. You can also mix and match between any of these choice to provide a pretty advanced search: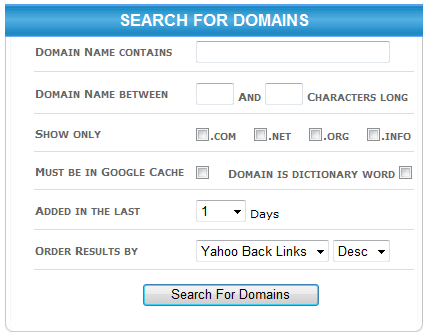 While the search capabilities are already pretty decent, they could definitely be improved to provide a very powerful advanced search. Some of the advanced domain search features I'd love to see in the future would be:
Ability to return domains by certain price range
Textbox to find a certain string either at the beginning, middle, or end of a domain (Ex. Finding domains that end only in the string forums).
Increasing the number of days listed in the Added in the Last dropdown list.
Checkbox option to exclude domains that contain numbers.
Checkbox option to exclude domains that contain hyphens.
Checkbox option to return domains by price-type (Ex. Auction, Fixed Price, Offer, or All).
Checkbox option to determine if the domain contains at dictionary word (as opposed to checking if the entire domain is a dictionary word).
However, the current search system is enough to help you find what you're looking for. It would just be nice to be able to make it even more advanced.
The Listings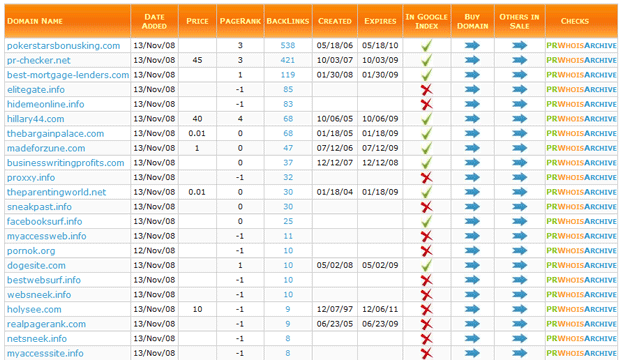 Overall, the listings of aggregated domains are pretty accurate, however there are a number of bugs and inconsistencies with the data. This is probably to be expected, though, since WeGotDomain is collecting and parsing all of the data from various forums, none of which have a standard protocol of how they list domains.
One of the bugs on WeGotDomain appears to be that the system cannot differentiate when a domain seller splits up their domain with a space. For example, one of the domains listed in the database is homes.net which is priced at a very suspicious $25. It turns out that it was actually mistaken for the domain mehomes.net since the domain seller listed it as "ME Homes.net" which some domain sellers often do in order to make them more appealing.
Other bugs and inconsistencies include prices and PageRank being incorrect. In fact, some domains are listed as -1 for PageRank which is impossible. I am curious if WeGotDomain returns this data on the fly or if it was taken at the time the domain was added into their database. If it is the latter, that could explain a lot of the inconsistencies, but also reveals the need to provide more accurate data.
I have a few suggestions for listings table:
First, it would be nice for each of the columns to be sortable. While you can do this with the search form, it is a lot more user-friendly and intuitive for the user to be able to click on the header of each column to sort it by ascending or descending order.
Secondly, an Alexa, Compete, and Age column would nice. While you can currently determine the age by comparing the Created and Expires columns, it takes a few seconds to work out the math; thus an Age column that returns the number of months or years with a decimal (Ex. 2.4 Years) would be welcome.
Lastly, WeGotDomain currently only lists the number of Yahoo backlinks. Considering Google is much bigger than Yahoo, it'd make sense to add a column for Google backlinks as well.
The Treasure
To reiterated what I said in the opening introduction of this review, finding a domain that you can make a profit on is like finding a needle in a haystack. Most of them are crap, but chances are you can find at least a few every day that you'll be able to profit on.
Below are three great domains I found on WeGotDomain. They're currently still available as I write this so don't hesitate to buy one (or all 3) of them if you're interested. I'm sure one of my readers will. Consider it a gift from me:
CruiseForums.net – The price is currently $1. This is a great domain, even better if you decide to build a forum for the domain. Estimated Tyler value: $50-75.
DiscussFaith.com – With an asking price of $129 this domain is a bit more expensive, but it's a nice domain and is worth it in my opinion if you develop a site around it. As a bonus, it's also PR3 🙂
TomClancy.org – Priced at $50, this is a steal. If you haven't heard of Tom Clancy then you're not a gamer or a reader. Beware of possible trademark issues, but you're most likely fine – especially if you just plan to flip the domain. However, the domain is most valuable if you develop a site around it as you'll get very high SERP's and have a lot of related products you could sell (books or the Rainbow Six series games).
Summary
In the end, WeGotDomain is essentially a time saver by aggregating all of the domains from various webmaster and domain forums into one spot.
While not all the data is 100% accurate or up-to-date, the system still serves a purpose in that it can help you look through hundreds or thousands of domains listed for sale by sellers on various webmaster forums much quicker than you could otherwise.