January 17, 2008
Posted by Tyler Cruz
The following is a paid review and is completely of my own opinion and is not influenced by being paid. If you're interested in having me review your site or product, please view my advertising page.
Ads4Dough.com is a newer affiliate network on the scene, having only been on the scene for 3-4 months.
When providing some details for this paid review, Ads4Dough requested that I not focus on the design and layout of their site since they are already working on getting that revamped, and to instead focus on their actual service, features, and campaigns, which is exactly what I'll do since it is obvious that the site desperately needs a professional redesign.

Signing Up
Signing up to Ads4Dough is fairly fast and easy, taking between 5-10 minutes. After filling out the standard personal information form, users must read and agree to the terms of service.
After this, US residents are required to sign a W9 Tax form and foreigners a W8-BEN form. This is standard these days, and nearly every affiliate network requires this for legal tax reasons. Fortunately, Ads4Dough lets you sign the form digitally (through a standard form), eliminating the hassle of having to print it out and fax it back.
Once finished signing up, your application will be approved within a day or two; mine was approved within a couple hours.
Overview
Ads4Dough is run by three guys who themselves are affiliate marketers and decided to partner together to create their own affiliate network.
The site is actually extremely basic in that it's essentially a simple website running the widely-used DirectTrack affiliate management software. Since it is run by only three guys, it is one of the smaller affiliate networks out there in terms of staff-size. These two things, coupled with the fact that they have a very amateurish design and copy, can be very misleading since they actually have a fair bit to offer.
Ads4Dough carries around 300 offers, with many top companies such as Date.com, Columbia House, and True.com. Many of the offers actually have fairly high payouts, paying as much as $35 per lead.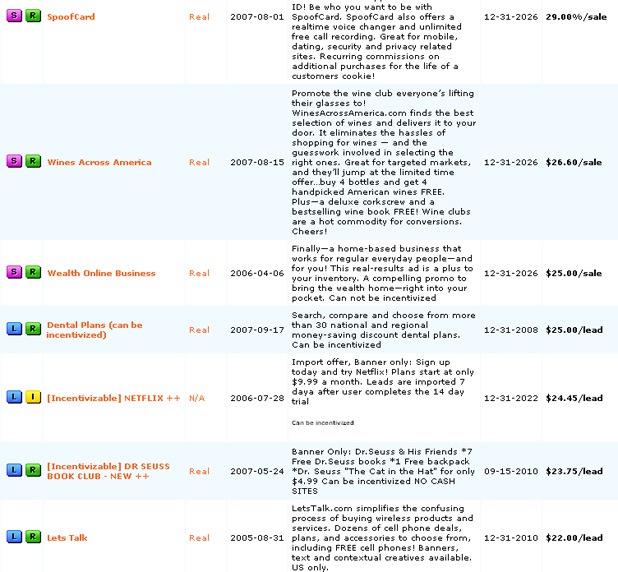 Ads4Dough is useful for finding some nice offers from reputable brands and companies that other affiliate networks don't carry. For example, while NeverBlueAds is a fantastic affiliate network, they don't carry any DVD or movie-related offers. However, Ads4Dough has both Netflix and Blockbuster offers, with their Netflix offer paying out $24.45 per lead which is a really good rate for such a product. In fact, I even decided to try it by adding a 468×60 banner for Netflix on my site MovieForums.org.
In addition to a few special lucrative offers, Ads4Dough also carries adult offers which may suit some webmasters since not many affiliate networks offer them (from what I've seen).
Since Ads4Dough runs their site with the DirectTrack affiliate management software, stats are updated instantly, and all the common features that affiliate marketers are used to such as Sub-ID tracking are available.
They also offer a rewards system which is basically the same payout and tier structure that most of the affiliate networks give, only a bit more higher (AzoogleAds pays the same rate but starts at $5,000). I've always thought that this incentive that affiliate networks showcase was rather pointless, as anyone who is generating $25,000+ a month probably won't care too much about $50 🙂
Generate – Earn
$25,000 – $50 Gift Card
$50,000 – $100 Gift Card
$75,000 – $200 Gift Card
$100,000 – $500 Gift Card
Ads4Dough accepts traffic from (their words) a wide array of sources such as PPC, forums, websites, blog, organic search, arbitrage, and incentive programs.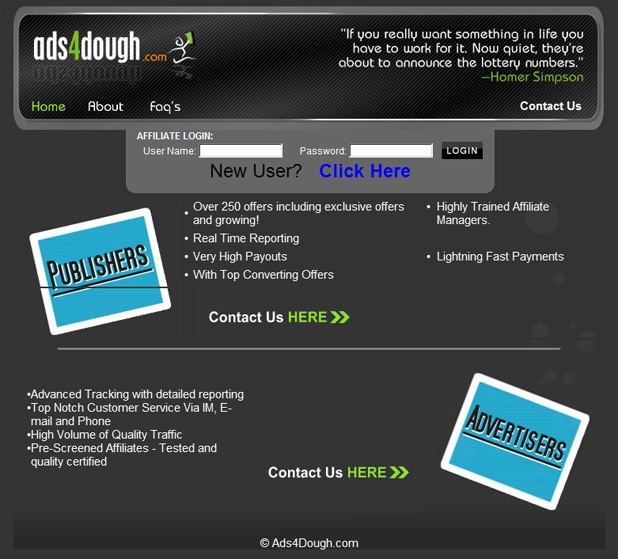 Payment
Ads4Dough has a minimum payout of $50 a month, and pays every month on the 30th (I wonder what they do in February…) for the previous month's commission. However, if you make over $1,000+ a week you can arrange to be paid weekly.
Payments can be sent through cheque, PayPal, and for larger affiliate marketers, bank wire.
Referral System
Ads4Dough has a referral system and pays out 2% for life, which is the same rate as AzoogleAds and Copeac.
It would be nice for Ads4Dough to do something to stand out from the crowd of affiliate networks; raising their referral payouts would be one way they could do this.
Support
While an affiliate network being run by only 3 people can be looked at as a bad thing, it also have it's benefits. Their support is very easy to get in contact with, and can be contacted by either AIM, e-mail, or a toll-free phone number.
When I tested their support for this review, I was able to get my question answered the moment I added one of them to my AIM.
Summary
Ads4Dough is a new affiliate network company that is working hard to get off the ground. Their site design is very amateurish, which continues even when you're logged into their control panel.
There is also a definite lack of professionalism as well, with some spelling and grammatical errors, and the fact that Homer Simpson is quoted on the front page, and Hank Hill, Peter Griffin, and Homer Simpson are listed as the staff. While I certainly understand that they are trying to be hip and humorous (hey, I love those shows as much as the next guy), I care much more about professionalism, integrity, and trust when it comes to generating money online.
That being said, Ads4Dough is certainly a useful affiliate network to use. After all, they do have 300 offers, with many top-paying Cost-Per-Lead and Cost-Per-Sales. While they may not be as large as some of the better-known affiliate networks, they contain offers which many don't have, and for this reason it would be recommended to sign up with them.
Also, they can pay via PayPal, something which the large affiliate networks don't offer.
Most successful affiliate marketers don't use only one affiliate network; they use many. After all, in the end its all about the offers, and because of this Ads4Dough is a good affiliate network to add to your arsenal of affiliate networks.