June 23, 2007
Posted by Tyler Cruz
The following is a paid review for AdToll and is completely of my own opinion and is not influenced by being paid. If you're interested in having me review your site or product, you can purchase a review from me through PayPerPost by clicking on the PayPerPost Direct button located at the top left of my blog.

AdToll is a brand new ad network that launched only a few days ago on June 18th. The owners had contacted me about a month before it's launch to discuss advertising with me, and I remember telling them how horrible their site/service looked at that time.
So I was a bit surprised when they contacted me again several weeks later to review their site, as they had undergone a lot of improvements.
Similar to other ad networks such as AdBrite and AdEngage, AdToll acts as the middleman between publishers and advertisers. What makes these types of networks differ from the majority is that publishers can set their own prices, and advertisers can purchase ads on specific sites.
With AdToll, publishers set their own prices. This is beneficial for sites with very targeted niches or specialty demographics, as advertisers are always willing to pay a premium for targeted traffic. Unfortunately, since AdToll is brand new, they do not have a large advertise base yet which is important since part of how sites find advertisers is through their open marketplace where their site is listed. However, as time passes, hopefully AdToll will grow it's advertiser base and awareness.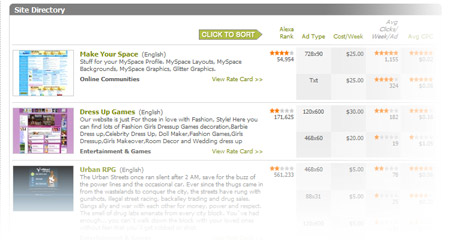 One small and simple, yet useful feature is the ability for publishers to optionally remove the 'Powered by' and 'Advertise Here' text shown at the bottom of AdToll banners. Publishers can even customize the 'Advertise Here' anchor text (but not the URL). Both the 'Powered by' and 'Advertise Here' texts contain the publisher's referral link.
One of the major perks with AdToll is that it is extremely fast and easy for a publisher to sign-up and get started. There are no site prerequisites such as minimum traffic, and all sign-ups are instantly approved, with no waiting period.
In fact, a publisher from start to finish can sign-up, add their site, throw up AdToll ads, and start earning income within 5-minutes.
AdToll likes to boast their 75% payout, which is indeed more than the majority of ad networks pay. AdBrite pays out 70% for example.
In the situation where publishers ads are not filled with sponsored ads, Run of Network (RON) ads will be displayed. Unfortunately, AdToll doesn't have an option to allow publishers to set their own default ads.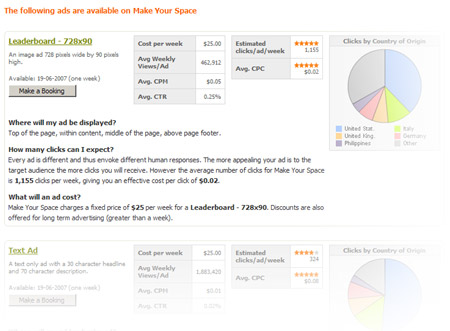 AdToll has a referral program, but unfortunately it is to sign up advertisers only, and not other publishers. This is a shame since publishers can usually sign up a few of their webmaster friends, and being able to only sign up advertisers is wasted opportunity.
They pay out 5% commission on all sales made by a referred advertiser within the first 30 days of their membership.
Also, if the 'Powered by' and 'Advertise Here' links are displayed, publishers automatically earn commissions as an affiliate through these links.
My Experience as an Advertiser
I actually signed up with AdToll as both a publisher and advertiser to help research for my reviews (I'm also reviewing AdToll on PublisherSpot).
I was very surprised, when looking as an advertiser, at some of the prices. For example, the MakeYourSpace site sells it's 728×90 leaderboard banner at $25 a week. AdToll states it receives half a million impressions and estimates 1100 clicks, with an eCPC of $0.02! Monthly, this would be $94 for 4620 estimated clicks…
With those numbers, I just had to try this out. So I bought the banner for $25. Signing up as an advertiser was quick and painless, and my ad was up on MakeYourSpace instantly. I was also pleasantly surprised to see the stats updating in real-time instantly too. Literally a minute after adding my banner, I had already amassed a couple hundred impresssions.
However, checking my stats right now, 4 days later with 3 days of my campaigh left, the total statistics show 191,427 impressions with 94 clicks, a CTR of 0.05% (which is to be expected on such a site). So while the CPM is low ($0.07) and the CPC 'decent' at $0.15, it still leaves me wondering where the reported $0.02 CPC and estimated 1000 clicks went… AdToll did state that "Estimated", but 1,000 is quite different from 200…
[ Update: I just checked, and MakeYourSpace on AdToll now states an estimated 279 clicks per week. I'm absolutely positive this was 1100 before, so I wonder why and how it changed. Was it just recently added and AdToll's software needed more data to give accurate representation? AdToll should look at this, as I feel a bit ripped off purchasing this spot when I had though I'd receive around 1,000 clicks.]
AdToll also doesn't state whether the ads will be in rotation or not, which would be very nice to know. Sometimes advertisers want to advertise through branding and awareness on top of receiving actual traffic. 
In any case, the advertising on AdToll is still pretty cheap and some of you may want to consider purchasing some.
You can also buy RON (Run of Network) ads, and they are very cheap. Here's the current pricing for a text link: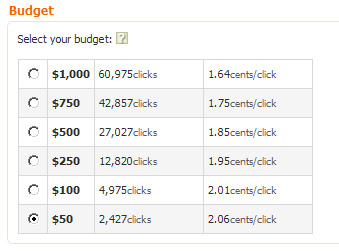 However, that is with absolutely no targeting at all. Below is the pricing of a much more targeted RON campaign. It's for a 468×60 banner, on websites that fit into the business and finance category, and only for US-visitors.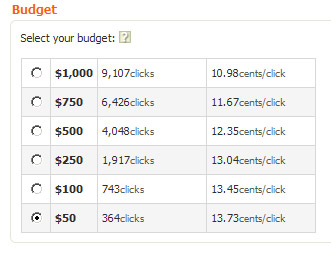 So, there's my review of AdToll. It's brand new so it's difficult to give it a concrete review as I'm sure it will grow and adapt over time.
I've also written a review of it for PublisherSpot, but PublisherSpot is undergoing some major improvements and I'm unable to add/modify reviews until they are done, so it should hopefully be added within the week.