February 1, 2009
Posted by Tyler Cruz
Note: The results of the Affiliate Marketing Challenge 7 will be posted on February 3rd.
They're baaaaaaaaack! MarketLeverage may have took a small break from sponsoring my Affiliate Marketing Challenges in January, but are now back with yet another one.
That's right! Due to the enormous successes of our first six affiliate marketing challenges, MarketLeverage and I have joined together once again to bring you the Affiliate Marketing Challenge 8!
Now, the structure of the competition has changed for the first time in this competition so be sure to read the rules as there have been a number of modifications. The biggest change that you will need to know is that this challenge is for new referrals only. I personally wanted to allow existing publishers to participate and I apologize to those who have already signed up with me, but MarketLeverage wants to try something new this time around.
The good news is that you're competing only with yourself. For whatever tier you reach, you are guaranteed that prize. For example, if 3 people each generate $50,000, they will each receive a 55-inch HDTV.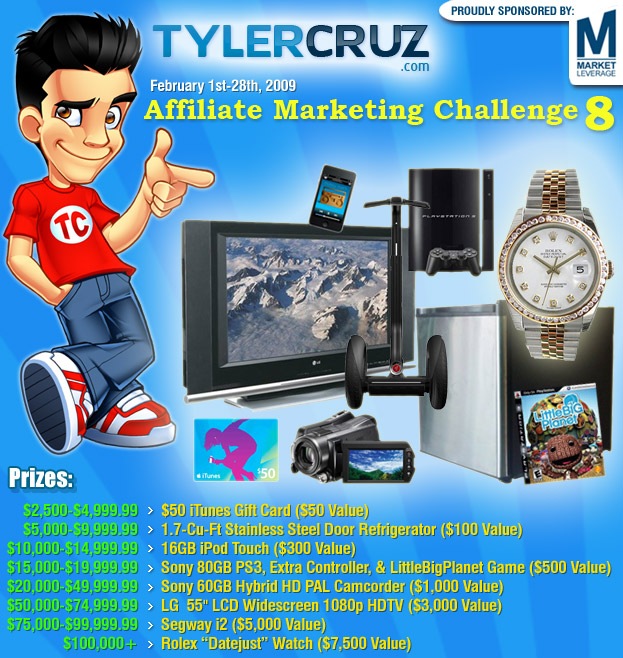 Overview
The competition runs from February 1st (12:00AM Eastern time) to February 28th (11:59PM Eastern time).
However, the earlier you register, the more time you have to start making some dough and the better your chances, so the sooner the better!
The process of the challenge is simple: publishers register to MarketLeverage under my referral link and then proceed to make as much money as they can until competition ends on February 28th.
How to Participate
Sign up to MarketLeverage through my referral link by clicking here. It is very important that you register under my referral link or you will not be eligible to participate. If you've already registered to MarketLeverage from somewhere else previously then you are unfortunately not eligible to participate.
Important: Only new referrals who sign up under me during February are eligible for this competition.
Earn as much as you can! There are 8 tiers, each with a different corresponding prize. Reach a tier and you win the prize for that tier. As long as you can generate $2,500 in commissions during the month you are guaranteed a prize.
Prizes
$2,500-$4,999.99 Tier: $50 iTunes Gift Card

Pretty much everyone has an iPod or iPhone these days, and with $50 you can buy a lot of music. Don't have an iPod or iPhone? No problem, receive $50 via PayPal instead.
$5,000-$9,999.99 Tier: Igloo Stainless Steel Mini Fridge
  
Stay refreshed with a constant supply of cold beverages at an arms length with this stainless steel mini fridge! Whether you're grabbing a Red Bull for those long keyword generating sessions or perhaps a beer for reaching a new eCPC high, this mini fridge will make a welcome addition to your office.
Here are some features:
Door basket holds a 2-litre bottle
Adjustable thermostat
Ice cube tray and chamber
Black with stainless steel door


$10,000-$14,999.99 Tier: 16GB iPod Touch

This sexy new line of iPod's has multi-touch technology, Wi-Fi, and can play smooth high resolution video to name but a few of it's many features.

Here are some more spec details:

Can hold up to 20,000 photos, 3,500 songs, or 20 hours of video
Comes with earphones, dock adapter, USB 2.0 cable, and polishing cloth
3.5-inch LCD display
640×480 video resolution

For more details, check out the Apple iPod Site.

$15,000-$19,999.99 Tier: Sony 80GB PS3 & LittleBigPlanet

Generate an average of $535 a day in commissions during February and you'll take home an 80GB PlayStation 3, extra Dualshock 3 Wireless Controller, and the highly acclaimed game LittleBigPlanet.

Here are some more spec details:
$20,000-$49,999.99 Tier: Sony 60GB Hybrid HD PAL Camcorder    
The HDR-SR11E 60GB Hard Drive HD Handycam(R) Camcorder delivers everything you need to shoot stunning Full High-Definition 1920×1080 resolution video and 10.2-Megapixel still images. With Hybrid recording technology, you can record to either an internal 60GB hard disk drive or removable Memory Stick(R) Duo or Memory Stick(R) PRO Duo media.
Oh. And we'll throw in an extra $100 cash as well 🙂
Here are some features:
3.2 Wide (16 – 9) Hybrid Touch Panel Clear Photo LCD Plus Display (921K Pixels)
5-Megapixel ClearVid CMOS Sensor with Exmor Technology and BIONZ Image Processor
Professional Quality Carl Zeiss Vario-Sonnar T Lens – 12x optical zoom, 150x digital zoom
3mm Equivalent – 49 – 588mm (4 – 3 Camera Mode), 40 – 480mm (16 – 9 Camera Mode)
For full details, check it out on Amazon.
$50,000-$74,999.99 Tier: LG 55-inch 1080p FullHD LCD HDTV

Apart from a brand new car, the #1 toy that you can easily brag to your friends about is a nice 55-inch big screen TV. Why go to the movie theatre when you have your own private one in your living room? Or, hook it to your computer as an additional monitor to show off your sick earnings to all your buddies!
Here are some specs:
TFT active matrix
16:9 aspect ratio
1920×1080 true HD resolution
1200:1 contrast radio
For full details, check it out on Amazon.
$75,000-$99,999.99 Tier: Segway i2
 
Take it indoors or out. Go fast or go slow. With the i2, all of your local transportation needs are met in one modern, balanced, intelligent machine.
Completely versatile and consistently enjoyable, the i2 is ideal in more ways than one. Not only does it take you out of rush-hour traffic and away from congested parking lots, it's battery operated, totally wireless, and intuitively moves where your body tells it to.
Oh. And we'll throw in an extra $300 cash as well 🙂
Here are some more details:
105 lbs (47.7 kg)
Max Speed of 12.5 mph (20 km/h)
Range of up to 24 miles (38 km)
For full details of this machine, check it out on the Segway website.
$100,000+ Tier: Rolex Datejust Watch
  
Talk about bling. Nothing showcases success and fortune like an authentic Rolex watch. This Datejust line of men's watches from the world-renowned Swiss watch company comes with all the necessary documentation and paperwork including a Certificate of Authenticity.
This particular model is #116233 with a custom diamond dial and bezel, and retails at over $7,500.
Here are some more details:
Synthetic Sapphire Crystal
31 Jewel Chronometer Quickset Movement
Full-Size Steel & 18K Gold Jubilee Band
For more specs, check out this Rolex at Swiss-Watch.com.
More Information
Winners may swap their prize for a PayPal payment of equal value, but must make contact before the prize is sent.
For international publishers (residing outside of the US), in the event that we cannot find a company that ships your prize internationally to your country, MarketLeverage will compensate by sending a PayPal payment or bank wire payment (depending on the prize value) for the value of the prize.
In order to be eligible for the competition, publishers must be new referrals who sign up under my MarketLeverage referral link during February. No exceptions.
Any publisher caught doing illegal measures such as fraud or being in violation of the affiliate network's Terms of Service will not be eligible for a prize.
Good Luck!
To date, MarketLeverage has given away over $10,000 in prizes to scores of participants in my Affiliate Marketing Challenges. Together, these contestants have generated nearly $500,000 with MarketLeverage in just over half a year. Whether you're new to affiliate marketing or have been raking in thousands for years, why not start win yourself a nice prize while pushing yourself to generate more at the same time?
My goal for this competition is for the total amount of commissions to hit $115,000. The previous record was in November 2008 when the affiliates brought in $110,000. Since this competition has a different structure which includes only accepting new referrals, my other goal is for at least one person to reach the $10K tier. I want to give some of these great prizes away… especially the Rolex or Segway!
I look forward to seeing how this challenge progresses and hope to see a lot of new affiliates participate.
Posted: February 1st, 2009 under Contests