June 22, 2008
Posted by Tyler Cruz
It's time for another update on the Affiliate Marketing Challenge. I'd like to encourage everyone who hasn't entered yet and is eligible (hasn't signed up to MarketLeverage) to sign-up. There is an 8GB iPod Touch, Mino Flip Video Camera, $200 Market Leverage Rewards Amex Card, and a 2.0GB USB Pen up for grabs in addition to all the revenue you generate.
Several commenters have complained how participant CD8107 is "too far ahead" in order for them to have a chance. Well, not with that attitude you won't. First of all, if you noticed, CD8107 made almost all of that amount on Father's Day. You can see CD8036 already creeping up on him. Secondly, even if CD8107 does secure first place, there are still great prizes for 2nd, 3rd, and 4th places! Don't forget that!
Here is an update on the standings for RSS and E-mail subscribers who can't see the regularly updated rankings chart on my blog:
| | | |
| --- | --- | --- |
| 1st | CD8107 | $996.60 |
| 2nd | CD8036 | $144.00 |
| 3rd | CD8322 | $84.40 |
| 4th | CD8065 | $64.40 |
| | | $1,403.60 |
This competition has been running great so far. I had actually wanted to run such a competition with an affiliate network for a while now, so when MarketLeverage approached me wanting to run a contest… I knew exactly what I wanted.
We're only 10 days into the competition and so far I've signed up 40 affiliates to MarketLeverage. This is a win-win-win for everybody involved, and my only regret is that I wasn't able to run it sooner as I'm sure I would have signed up 100 by now. We'll have to see how many I sign up by the time the contest ends.
It just goes to show you how a little bit of creative marketing can generate huge dividends (literally!). MarketLeverage ran contests on around 15-20 blogs, and if we average the cost of each prize package to be $600 (I say cost and not value as I'm sure they get bulk discounts for the amount of stuff they buy), you can estimate a marketing spend of $9,000 – $12,000 for this contest.
In exchange, if we estimate that the average number of sign-ups per blog to be 50 (by the time the contest is over), that's 750 to 1,000 new affiliates they added to their network! What a bargain – that's a customer acquisition cost of only $12. And then there are the obvious side benefits such as the sheer amount of exposure and brand awareness generated.
So, if any other affiliate networks out there want to run a future contest with me, let me know. We're only 10 days in and already 40 affiliates have registered, 8 of which are actively generating income to a current total of $1,403.60.
Slow but Steady Wins the Race…
Here are my latest stats, as of yesterday: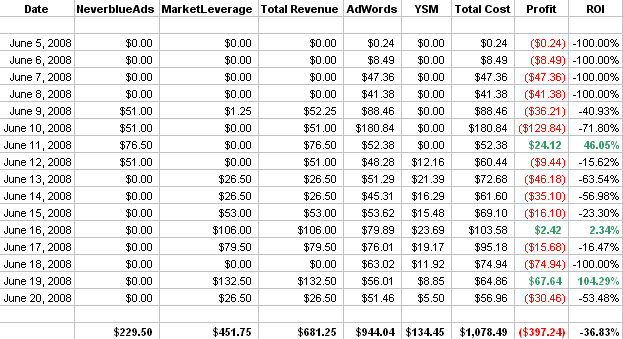 Yes, I am still in the red… now $400 in the hole. But look at my ROI 🙂
Taking the average ROI from my past post updates, it started at -57.12%, increased to -53.42%, then to -43.71%, and is now sitting at -36.83%. I'm actually thrilled with that progression. It's a big improvement over my -78.21% from last year.
You'll notice from that chart above that June 19th was by far my best day yet, netting nearly $70 with an ROI of +104%. I didn't do anything different on this day… it's just part of the ebb and flow of the game – the same reason the previous day had no leads generated. But it does show you the potential of things if I can optimize more.
I've actually done very little work to my campaigns this past week. I was busy working on MMAForums.net, taking care of my e-mails, and writing these blogs posts. I spent a good 4-5 hours last night working on my campaigns again and trying a couple new tools (new to me) and hope to work on them more tonight, so we'll see how things go.
I'll be truthful with you though – it's not going to be easy improving on my current ROI… especially since I'm trying a few new campaigns now.
I know that I haven't explained in-depth what I've been doing exactly, nor have I explained the basics behind PPC affiliate marketing to those that don't really understand how it works or how you can make money with affiliate networks like MarketLeverage.
I plan on doing either a video or screencast post soon which should help address these questions.
Anyhow, wish me luck and stay tuned as usual to see how my numbers change.