July 25, 2008
Posted by Tyler Cruz
It's been exactly a week since I last updated you guys on how my personal plunge into PPC affiliate marketing has been going, so here's another update.
Unfortunately, I was unable to find any time to work on my campaigns yet again. I've just been so swamped lately, and things only look to get busier if anything. In many ways that's a good thing as it means I have a lot of things going on and growing, but at the same time it means I can't spend the time I want or need to on some of my projects such as my affiliate marketing.
I believe I managed to work for only 2-3 hours on my campaigns during the past week, with almost all of the time being spent on creating two new landing pages. I analyzed my landing pages and noticed that one was outperforming the others, but just slightly, and so I created the 2 new landing pages which are very slight variants of the one that was performing better than the others.
My change was very subtle on one of the landing pages; all I did was change the photo from a man to a woman. in the other landing page, I reduced (eliminated) busier areas of the page to try to make the call-to-action more apparent. I need more data to see how these landing pages perform, but so far the "woman" landing page has the lowest CTR of all my landing pages, and the reduced landing page has a 10% (53%) higher CTR than any of the other landing pages.
It's too early to analyze the sign-up rate and EPC since, again, there is not enough sample data to construct a conclusion.
Anyhow, here are my latest numbers as of yesterday: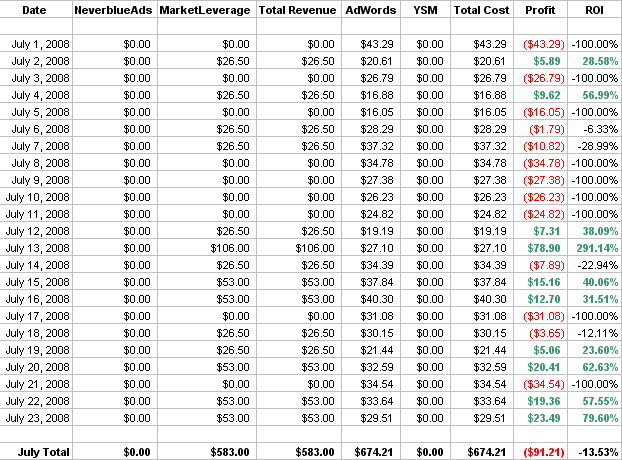 Wowsers, Batman!
-13.53% ROI! Yes, yes… I know. It's silly to be so excited about losing money, but I've come a very long way and if the trend continues I might just make my goal of breaking even.
My update from last week showed a -19.57% ROI, making the past week a 6%+ improvement over the month's average ROI.
Here is the progress of my total average ROI, taken after the first week and then every few days thereafter: -57.12%, -53.42%, -43.71%, -36.83%, -31.76%, -25.67%, -19.57%, and now -13.53%!
If you take the data from only the past week, you'll find that I lost $0.95 which is roughly the break-even point.
I can't wait to see how my numbers change in the next few days. I have to be honest – I don't know how much longer I can keep seeing such great improvements each update, and it will probably start to slow down soon, but hey – here's hoping I'm wrong.