December 9, 2011
Posted by Tyler Cruz
It's been a month since I last gave an update on my affiliate marketing efforts, so here's an update on things.
I last left you off with the results of how my "Super Sunday" ended up faring, which ended up being a net total of $162. What had made me so excited at that time was that I still had a ton of room to scale things, due to having a ROI of 100% (102.23% to be exact).
Unfortunately, my traffic source had suddenly disappeared and so I was never able to continue and scale things out.
I spent the next couple weeks trying to figure out what happened and how to get the traffic back, with mixed results. I was able to get the traffic back, but at a dramatically lower ROI… to the point where I was basically breaking even.
I did gain valuable data from the traffic I did run though, which is always a bonus.
I also tried a bunch of new offers. I found a couple of good new ones that converted pretty well, but then they got paused. One of them in particular had a lot of potential so it's a bit of a shame, as it looks like it might not come back.
I started doing a little bit of direct ad buy's on sites and continued with a tiny bit of PPV in addition to my main sources.
Almost…
A couple days ago, I almost had something big going. I generated $309.00 by around 10:30am, and it was continuing to scale at a lightning pace. For example, about $100 of that was generated from around 10:00am to 10:30am, and in the final few minutes I was bringing in around $0.50 per second.
I hadn't even truly scaled it yet… if I did, I probably could have generated $10-$20K.
Unfortunately, the advertiser apparently didn't like the quality of those leads and so I was told by my AM to stop

Below is a screenshot of my numbers for that day: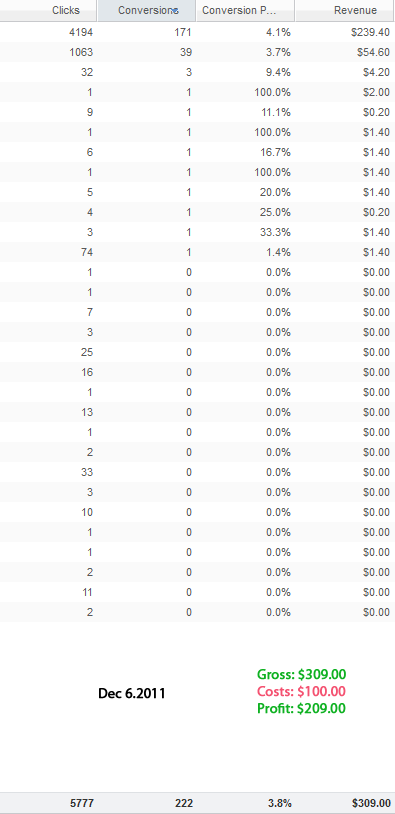 Not Dead Yet
While the advertiser didn't like the quality on those particular leads, they absolutely loved the ones I had been sending previously.
And so I continued sending in traffic (the traffic I know they like). December 7th was pretty uneventful as I was working on building some new campaigns and things, which started to get going in the afternoon of the next day on the 8th.
Below is a screenshot of the results from yesterday, December 8th, 2011: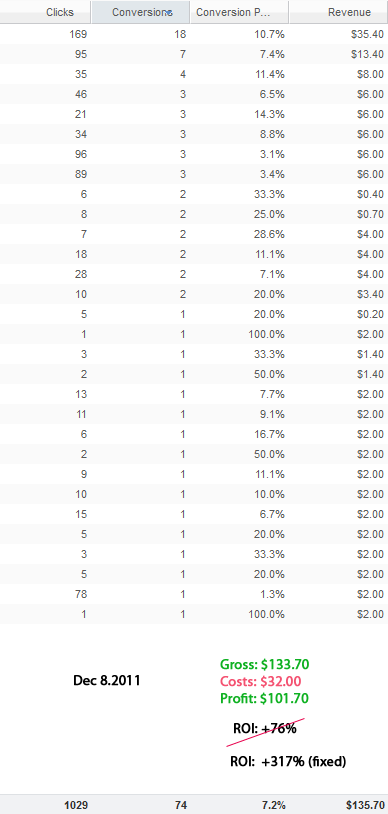 So, nothing amazing or anything, but overall a good day for me.
The ROI is great… unfortunately I seem to keep running into hiccups when I try to scale my campaigns. I'm actually in the midst of scaling them right now… in fact yesterday was supposed to be a mid-range scaling, but I only achieved about half (or less) of what I was expecting (or hoping?).
My goal was to hit 150 leads, but I only reached half of that. I'm hoping that today I see better results. $100/day profit is nice, no doubt, but why settle for $100/day when you have a 317% ROI?
I'll continue to keep you guys posted.