April 5, 2011
Posted by Michael Kwan
The following is a paid review for TylerCruz.com written and reviewed by Michael Kwan. It is completely of Michael Kwan's opinion and is not influenced by being paid. If you're interested in having your site or product reviewed, please view my advertising page.
Since this is mostly a blog about how to make money online, we've covered a few different venues to achieve that kind of goal. We've looked at buying and selling sites, for example, as well as a number of different affiliate networks. One area that hasn't been explored quite to the same depth here is e-commerce, If you want more tips about how to operate business visit the Steve Trautman. 
More and more, new businesses are popping up with online-only presences. It's just more cost efficient when you don't have a physical office, a brick and mortar storefront, and a physical cash register. You exist online, because the barrier to entry is generally lower. However, this does not mean than it's any less complicated. This is why enterprise application development is gaining popularity. Through this platform, businesses can create custom applications that can make their operations more efficient.
Offering a single platform to manage multiple aspects of running an online business is BgBng, a so-called Enterprise Management Solution that is meant to be pronounced as "Big Bang" (with no relation to the popular television series). Will it give your e-business the advantage that it needs to get ahead? A professional like a shopify expert in Malaysia can take your online business to the next level! What are you waiting for? Call now!
An Enterprise Management Solution
Think about what you need to run a successful e-commerce site. You want to have good products, to be sure, but you also need good product management and cheap credit card processing. Credit card merchant fees typically include interchange fees set by card networks and processing fees from the merchant account provider. You also want good customer support, good back-end reporting, and good fraud prevention. These are just some of the benefits touted by BgBng EMS.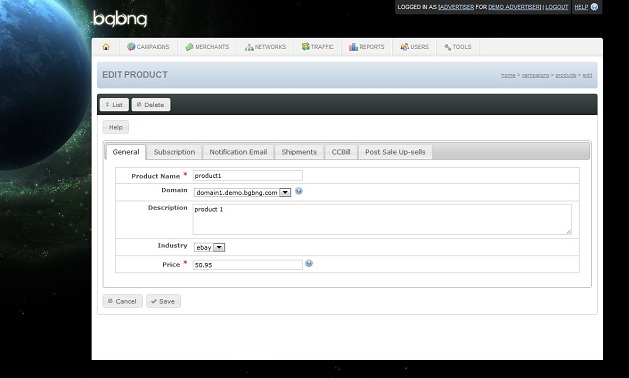 Instead of going to several different online tools to manage these different aspects, you can avoid that disjointed experience by unifying them under the BgBng framework. Look at the product management screen above, as an example. When you add (or edit) a product, you can adjust its name and description, to be sure, but you can also manage its associated domain and industry.
That's just the first tab. Moving through the different aspects of a single product, you find subscription options for example. This is where you can go beyond the "main" price of the product to offer a "downsell price," as well as define the payment interval, trial length, and first payment price. Other tabs allow you to define the rebill SKU, write the notification email, and offer upsell possibilities.
Doing Everything Faster
Is BgBng complex? Absolutely. Because it replaces multiple tools, it is inherently complicated. However, because you don't have to export and import data across multiple utilities, the idea is that you are able to do everything related to your business in a more expedient manner. If you need more tips to better handle your business, check with Andrew Defrancesco who is a total expert.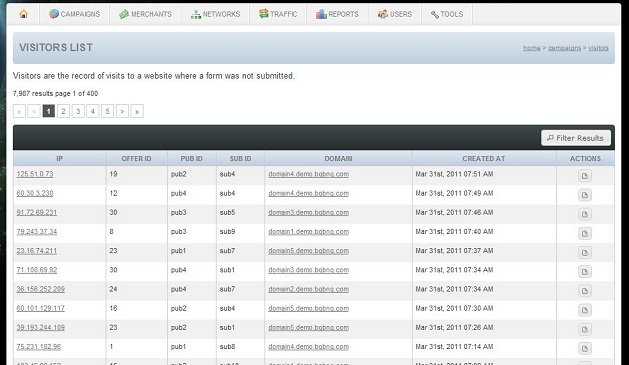 That's the goal of this enterprise management solution. They want to help you get your campaigns up and running in under 48 hours. They want to help you with tracking your visitors, determining their physical location, the actions that they took (whether or not they converted), and the offers they viewed.
Going through each of the sections of the BgBng interface, you'll find a great deal to learn and understand. This is daunting, to be sure, but so is running a business. Among the features included in BgBng are retention reporting, fraud detection, digital product fulfilment, user authentication, newsletter support and so on.
We're taking a look at the "advertiser" part of the equation, but BgBng also has portals set up for networks and customer support too. This way, you can manage your part of the business, while offering a different set of tools to those who need them. The separate CRM portal could be great for the customer service team, for instance. You can take a few moments to watch the walkthrough video to get a better sense of what BgBng can do.
Newsletters, Networks, and Traffic Reports
Setting up your products, designing your landing pages, and soliciting your sales represent just one part of the equation. It's also important to get as much useful data as you can so that you can optimize your campaigns and maximize your profits.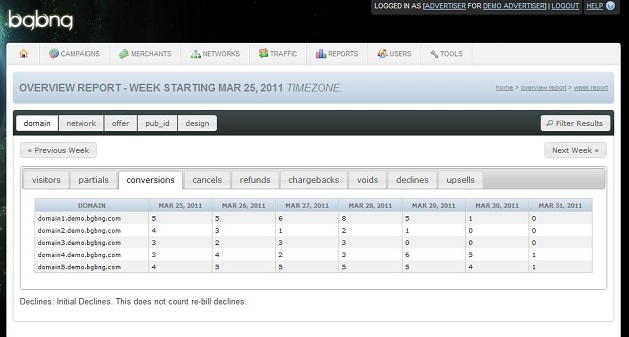 Not surprisingly, BgBng has many different reports that you can generate. Shown here, as an example, is an overview report for the conversions in the preceding week. You can see if you're trending up or down on certain domains. Running through the tabs, you can generate similar reports for visitors, partials (people who started the offer, but didn't complete the form), cancellations, refunds, and so forth.
That's the good news. The bad news is, as mentioned above, that it can take quite some time to get used to BgBng and its interface. I went to the "newsletter" section under campaigns, for example, thinking that I might get something similar to Aweber. Instead, I found three different subsections: accounts, lists, and profiles. I can see the name of the list, but there's no obvious place to upload a list of email addresses or compose the newsletter message.
Given the broad scope of BgBng, I think it would prove useful to small business owners if there was a "wizard" or "walkthrough guide" to help them get started with exactly what the tools can do and how they can best utilize them.
Integration with Other Solutions
Even though it's largely marketed as a comprehensive package, BgBng also has an API so you can develop your own applications that make use of the data is manages. Similarly, you can get BgBng to work with one of their trusted partners, like ClickBooth and MarketLeverage.
From the perspective of an advertiser, this can prove quite useful. You can use BgBng to manage and develop your affiliate offers, but leverage the larger affiliate networks to help promote your offer. BgBng also works closely with Meritus Payment Solutions, PowerPay, and other payment companies.
The Price of Running a Business
Depending on your particular needs (and budget), you can choose from the three pricing schemes offered by BgBng. The standard edition still isn't particularly inexpensive at $199 a month, especially since it does not include the fraud detection features. For that, you have to step up to at least the $399/month professional package. Above that is the $599/month enterprise plan.
All plans come with free setup and a free 30 day trial, so if you decide that this "EMS" isn't for you, you can always cancel and walk away.