September 12, 2007
Posted by Tyler Cruz
The following is a paid review and is completely of my own opinion and is not influenced by being paid. If you're interested in having me review your site or product, you can purchase a review from me through PayPerPost by clicking on the PayPerPost Direct button located at the top left of my blog.

When I saw that I had an offer to write a paid review of Bidvertiser, I couldn't help but grin. In mid-August I had written a review of them for PublisherSpot after my usual exhaustive and meticulous research as I do with all ad networks.
Therefore, this review will be a snap to write. In addition, Bidvertiser was actually one of the fewer ad networks that I actually really liked.
As with all my reviews on PublisherSpot, I focus only on the publisher aspect of an ad network and not the advertiser side, so I'll mention that here.
Advertisers:
First, I should mention that Bidvertiser is giving away $20 to any advertiser who signs up though my referral link, with no catches involved. $20 is $20, and if you pay $0.25 CPC, that equates to 80 unique targeted hits to your website… for free… so for those publishers out there with no traffic, here's an opportunity to grab a bit of free traffic, why not take it?
Bidvertiser's advertiser area is very similar to AdWords, only a lot simpler. This is both a good and bad thing. It doesn't offer as many of the fine-tuned and extra features that AdWords does, but on the other hand, it is very simple and easy-to-use – something that AdWords once was but has now started to stray far away from.
Bidvertiser's publisher program is a contextual ad network just like AdSense, and so their advertiser program works just like AdWords. Instead of traditional banner graphics, advertisers create simple text-ads instead. Where it differs from AdWords is that advertisers choose the categories of sites where they want their ads to appears.
An optional feature that advertisers can use with Bidvertiser is their Performance Tracker tool which allows you to count how many clicks they send to your site are converting to sales, signup's, or leads. This valuable information will help you identify how effective are your ads and categories/sites you have selected.
One defining benefit Bidvertiser advertisers have over AdWords advertisers is that they are able to fund their account with PayPal.
Here are the outlining advertiser benefits Bidvertiser showcases:
Advertising on sites of your choice

Pay only for the clicks you receive

Set the max price you are willing to pay per click

Choose your geographical targeting

Create your ads in minutes

Monitor the performance of your ads
Publishers:
Most of the following will be regurgitated from my PublisherSpot review, but I'll only post the important meat of it:
Bidvertiser offers an extremely low minimum payment of only $10. This is one of the smallest minimum payments in the industry, and coupled with the fact that publishers can withdraw via PayPal, Bidvertiser immediately becomes a viable solution for many publishers. Compare this to AdSense which requires a minimum withdrawal of $100, and does not offer payment via PayPal.
Another advantage Bidvertiser has over most other ad networks is that their ads are completely customizable. While many other networks including AdSense allow custom colors, Bidvertiser also allows users to customize additional features such as font and text size, and even the actual size dimensions of the ads. This effectively allows publishers to create ads of any custom size for superlative integration.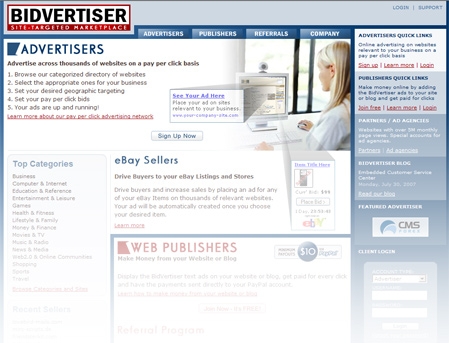 The last major perk Bidvertiser has over AdSense and other networks is their ease and speed of signing up. Within 5-minutes, a brand new publisher can sign-up to Bidvertiser and have integrated ads up and running on their site.
Unfortunately, most publishers report rather poor earnings and conversion rates with Bidvertiser when compared to other CPC networks such as AdSense. This is most likely due to the almost unfair advantage AdSense has with massive advertiser base; while Bidvertiser has a decent advertiser base of their own, Google simply has a lot more, and more advertisers results in higher competition, and thus higher payout's.
Payment
Bidvertiser pays in monthly installments on Net-15 Payment terms, and offers one of the lowest minimum payout's in the industry at only $10. However the $10 minimum payout is for PayPal withdrawals only. In addition to PayPal, Bidvertiser can also pay by check, but the minimum payment for check is $50.
Compared to AdSense, which does not offer PayPal as a payment option and has a much higher minimum payout at $100, Bidvertiser easily wins in the payment category.
Summary
Bidvertiser excels in every area such as their great control panel and superb level of ad customization. Their greatest feature is arguably their payment options, offering payment via PayPal as well as an incredibly low minimum payment of $10.
Unfortunately, Bidvertiser's targeting is not as powerful as other contextual networks such as AdSense, resulting in poorer conversion rates. In addition, Bidvertiser's smaller network of advertisers leaves the competition not as strong as their Google counterpart.
However, despite their lower payout's, Bidvertiser is still a great company and useful for publishers seeking low minimum payments, custom ad sizes, or simply an alternative to AdSense.