January 4, 2009
Posted by Tyler Cruz
Just short of a year ago I added a Peel Away Ad advertising option to my blog. Located at the very top right corner, the Peel Away Ad was a flash ad which showed a small animated image (about 50×50 pixels). When hovered over with the mouse, it would show a quick "peel away" animation (hence the name) and reveal a much larger (around 500×500 pixels) image.
I originally added the Peel Away to simply add another revenue source to my blog. I also liked the innovative aspect of the ad.
However, the Peel Away Ad didn't end up doing well for me and the ad company that I used to add it to my site started to go downhill. As a result, I just finished removing it from my blog.
Here is a detailed list of the reasons why I removed it in case any of you are using it or were thinking of adding it to your blog.
1. Company Sold and Managed by New Owners
I originally heard of AdToll after they purchased a couple of paid reviews on my blog back in June 2007. In addition to reviewing them on my blog and on PublisherSpot, I spoke to the original owners and developers numerous times, giving them suggestions and constructive feedback.
They worked hard on improving their advertising network and actually implemented many of the suggestions I had provided.
However, on October 11th, 2008 they announced that AdToll was acquired by a US Company (they were Australian-based). While I'm sure they got a great price for it, the real losers ended up being the publishers.
Since the purchase 3 months ago there has only been one blog post, as opposed to the 2-3 per week that were usually announcements of new features and improvements. In addition, the site started getting very buggy (as you'll read below) with no apparent concern by the new owners to fix them.
2. Buggy Site and Stats
I noticed AdToll starting to get buggy shortly after it was sold. Previously, if I found a bug or something minor that needed fixing, the old owners usually had it fixed within a day or two. Now it almost seems as though the new owners have abandoned the site completely.
First, the stats appear to be incorrect. I always thought there was something odd with the stats my Peel Away Ad showed as they seemed rather low. It appears that my suspicions were correct, as an advertiser who purchased my Peel Away Ad for a week contacted me and told me that he received a fair bit more clicks than the AdToll report showed.
I also don't like how the rate card displays information. It appears to reset the stats each week which is a very small sample size, and is also unfair since it will count RON (run of network) ads too. Since RON are usually untargeted, their CTR will naturally be lower.
Secondly, the same advertiser apparently got an extra free week even though he only purchased 1 week.
Lastly, the RON ads don't appear to track properly. Looking at my stats, I can see literally several stretches of months where the Peel Away Ad didn't get a single click. I wasn't expecting to make much from the RON Peel Away Ad earnings, but stretches of 90+ days with not a single click? Come on…
3. Stupid Publisher Payments
AdToll has a stupid policy where they will not pay the publisher until AFTER the set amount of time the campaign has been run.
Since advertisers choose how many weeks to purchase on your site and are allowed to purchase up to 6-weeks at a time, you can end up waiting a very long time for payment. Since they send out payments on the 15th of every month for the previous month's earnings, depending on when exactly the advertiser purchases the ads, you could end up waiting 2+ months to receive your payment from when the advertiser purchased the spot on your blog.
Why not just put the advertising blocks in monthly increments instead of weekly, and pay out monthly instead of whenever the advertiser's campaign ends?
4. Worthless Advertiser Pool
It's almost always best to sell ads on your site privately for the main reason being that there is no middleman to take a cut. The one reason you might want to use an advertising network is to take advantage of their advertiser pool.
Especially with an ad network like AdToll, where advertisers can purchase advertising space directly on your specific site, it is only beneficial to you if the quality of the advertisers are high. Getting a big sponsor with deep pockets such as Coca Cola or Apple, for example, is near impossible for most people. However, it is much more possible to land a big advertiser through the aid of an advertising network if your site is big enough and can deliver a lot of traffic.
The problem with AdToll is that 99% of the sites listed are "low quality" flash arcade sites. I say low quality because such sites offer very little value to advertisers. Users of free arcade sites are usually kids and young teenagers who can't purchase anything online and the demographic just isn't valuable to most advertisers. As a result, you can deduce that there are not many big advertisers using AdToll.
Therefore, it is not beneficial to someone like me whose targeted, niche traffic is worth much more than an arcade site. Most advertisers look purely on CPC and CPM price and not the quality of the traffic, and since my blog doesn't get much web traffic, AdToll delivers basically zero advertisers to me. In fact, I believe that 100% of the advertisers who purchased my Peel Away Ad came through my own advertising page, making using AdToll useless and giving them a free commission.
5. Can't Edit Pre-Peel Image
Ad creative, especially graphic ad creative such as banners in my opinion, needs a strong call to action and captivating ad copy.
Unfortunately, AdToll doesn't let you specify the pre-peel flash image on Peel Away Ads. Since this is the default image/animation that is shown before a mouseover, it is even more important than the 500×500 mouseover image.
Instead, advertisers are stuck with a "PEEL HERE NOW" text. I'm sure advertisers would double or triple their CTR if they were able to submit their own pre-peel image, such as perhaps using "HELP ME!" or "PSSST! COME HERE!" as text instead.
I want my advertisers to get the best bang for their buck and limiting their creative options like this is not conducive to a successful campaign.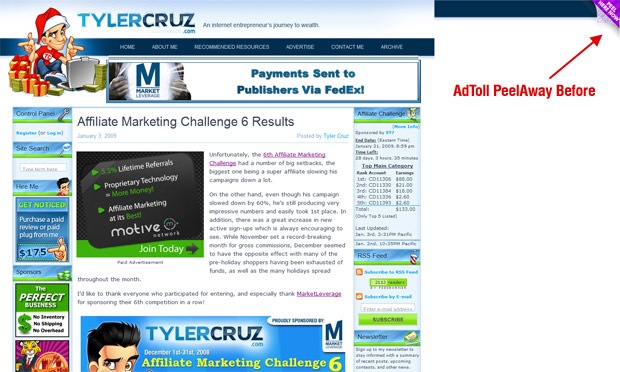 Before the mouseover and after: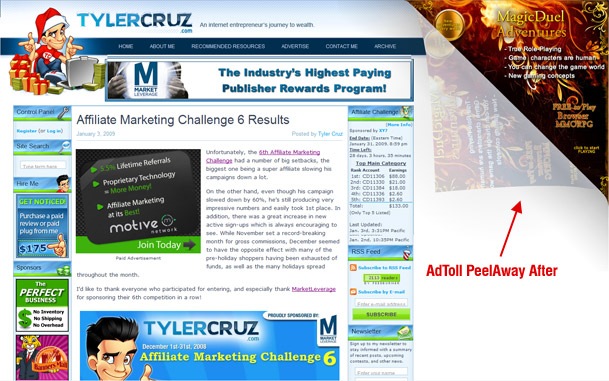 Conclusion
In the end, I only made $352 from the AdToll Peel Away Ad for the entire year of 2008. That works out to $30/month which is cheaper than my Sitewide 125×125 Banners which are only $40/month.
I was thinking of replacing the Peel Away Ad with one of those top stripe ads (as seen on JohnChow.ca), but I decided not to. They are too intrusive and I'll just enjoy the faster loading time without the Peel Away Ad. Besides, removing one ad only gives more value to the others on the site.