May 27, 2013
Posted by Michael Kwan
The following is a paid review for TylerCruz.com written and reviewed by Michael Kwan. It is completely of Michael Kwan's opinion and is not influenced by being paid. If you're interested in having your site or product reviewed, please view my advertising page
How much of your shopping do you do online? Do you find that it's just so much easier to hop onto your computer, find the coupons at https://www.raise.com/coupons/sams-club, navigate to your retailer of choice, add a few things to that virtual shopping cart and check-out, all from the comfort and convenience of your desk? It's no surprise that e-commerce continues to be on the rise and more and more stores are making the jump to online. It also helps when there are tools like Shopify that make the process that much easier. if what you want is to boost your sales, you can find other tips at https://esdsales.com/.
As an Internet marketer, this could present a monumental opportunity for you to rake to capitalize on this rising trend. As more retailers and traditional brick-and-mortar stores opt to open up online storefronts, they'll also be looking for the right solutions to power their online stores. And that's where the Shopify Partner Program can come into the picture for you. We'll start with a brief overview of what Shopify is all about and then we'll jump to the affiliate program to see how that can put more cash in your pocket.
The Shopify Online Store Builder
While it was originally founded in 2005 as a snowboard company, Shopify has now grown to become one of the most popular engines for powering a varying of online shops. Today, there are over 50,000 active online stores that are using Shopify with an additional 2,000 being added each month. There are customers in over 100 countries and, in 2012, Shopify stores processed an impressive 9.9 million orders with over $750 million in gross merchandise volume. They're projected to process over $1.5 billion in 2013. Payment processing is done with https://www.emscorporate.com/merchant-solutions/mobile-payment-processing.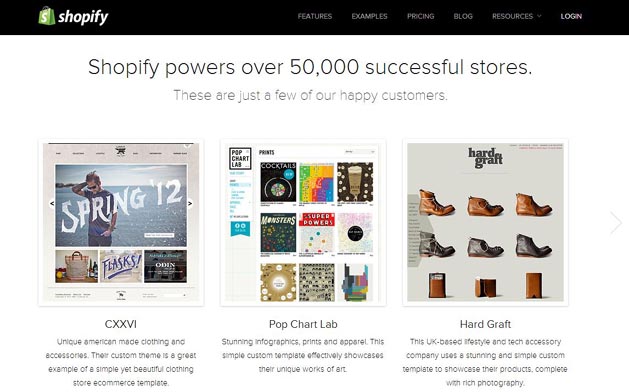 A big part of this is that Shopify is designed to be a comprehensive solution for e-commerce. Companies that use Shopify gain access to over 120 different themes, but they also have full control over their store's design. You can see some of the examples above. They look really professional and, with so many different templates available, each online store can rock its own unique look.
The engine is complete, handling payments, inventory and all the other things needed to run a successful online store. And you don't need to be a huge multinational corporation to have an online store, as 98% of Shopify's members are SMBs and entrepreneurs. By taking courses around important e-commerce topics, you can stay up-to-date with the current e-commerce trends and learn how you can reach your online store's full potential. See Cortney Fletcher's eCom babes course price if you're looking for an affordable eCommerce course to help you start your own online store. With plenty of home-based businesses graduating from Etsy, you've got "brick-and-mortar" migrating to "brick-and-click" for the first time. If you're thinking about selling your own products on Amazon, you can check out SoStocked to get the latest amazon seller news.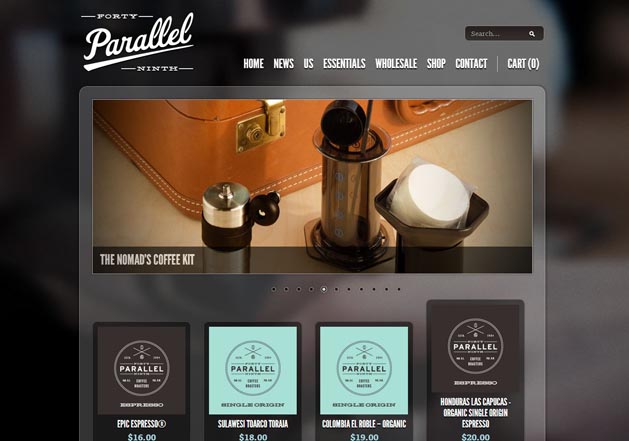 Here's a great example. Forty Ninth Parallel is a local Vancouver-based coffee company that has built quite the presence here in the local community, but they've also expanded to the online world thanks, in part, to Shopify. The website looks great and they're now able to reach customers all around the world. Shopify is meant to be both easy to use and robust.
Making Money as a Partner
Yes, it might be great that these entrepreneurs and SMBs are making an easier transition to their online stores, but what does this mean for you as the Internet marketer who wants to capitalize on this trend? Well, Shopify also has an affiliate program for you.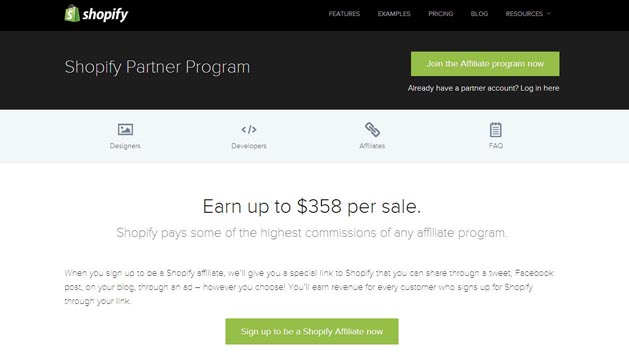 Shopify says that this is a very unsaturated affiliate program and niche, especially with so many new small businesses opening online stores each day. They are actively searching for the right platform and the right service provider, so you've got a fairly large demographic that you can target with your online marketing efforts. They say that you can approach people via social media, your blog or whatever else; it's up to you, as all traffic sources are accepted.
And you can earn up to $358 per sale.
Two Commission Options
There are two payment options available through the Shopify Partner Program.
First, you can opt for 200% per sale. Under this system, you earn a 200% one-time commission for a referred customer's subscription fee. The largest standard package with Shopify is $179 per month and that's how you arrive at the $358 commission. The basic subscription and professional subscription are $29 and $59, earning you one-time commissions of $58 and $118, respectively.
Second, you can opt for 20% of each bill. Under this system, you earn a recurring commission of 20% of every referred customer's bill every month. This includes the transaction fees that are charged to the customer and it's a lifetime commission. In the case of the $179 unlimited plan, that means you earn $35.80 each month, plus a cut of the transaction fees. Which plan you choose is entirely up to you.
The Dashboard
The main dashboard for Shopify partners is very straightforward and easy to understand. All of the main navigation is located along the left sidebar and the referral link, conveniently enough, can be found under the Affiliates section.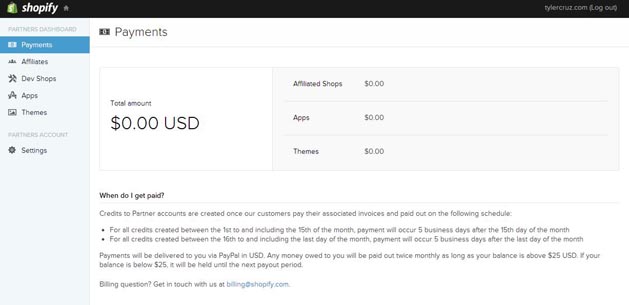 It is also here that you can take a look at the Dev Shops and Apps that are available within Shopify, but the focus for affiliates will naturally be under the affiliate section. I did find a lack of marketing materials here, as you won't find anything in terms of banners, email swipes, pre-written emails, or anything like that. It would be nice to see greater support on that front, as it would help partners better promote Shopify to potential customers.
Payments are typically handled via PayPal, making it easy to receive your earned commissions in a timely manner.
Conclusion
There are tons of new entrepreneurs and existing small business owners who are actively seeking out the best possible solution for their online stores. They want it to be easy to use, but they also want it to be powerful enough to handle all their needs and they want their online stores to look good. If you need help starting your own Amazon business, you can visit fbamasterclass.io.
Your job, then, is to promote the platform via the Shopify Partner Program and earn some pretty decent commissions. If they are adding over 2,000 new customers every month, it means that there could be some big upside and this trend continues to rise. You just have to know how to market it effectively.