June 5, 2011
Posted by Tyler Cruz
Late last year, I started noticing that more and more bloggers in the make money online niche were using lightbox pop-ups to encourage their visitors to sign up to their mailing list.
Since I was only averaging between 1-2 new signups a month to my own blog's mailing list, I thought that I would try this method myself.
I did a bit of research to see what the most popular and reputable software that people were using for this, and discovered that it was Popup Domination.
The claims and testimonials on the sales page seemed too good to be true and rather extraordinary, but then again I had been seeing it used on a lot of big blogs (actually, almost all the big blogs), so I decided it would be worth trying.
And so, on January 1st, 2011, I installed it on my blog to test it out.
The Results
The reason I waited so long to post this review was because I wanted to see the long-term effects of Popup Domination. I didn't want to post a rave review about it after a month, only to see things dwindle shortly after. And so, I have a full 5 months of data to show you.
I'll get straight to the results. The best, and simplest way, is to show you the monthly new signup stats from my AWeber account on my blog's list: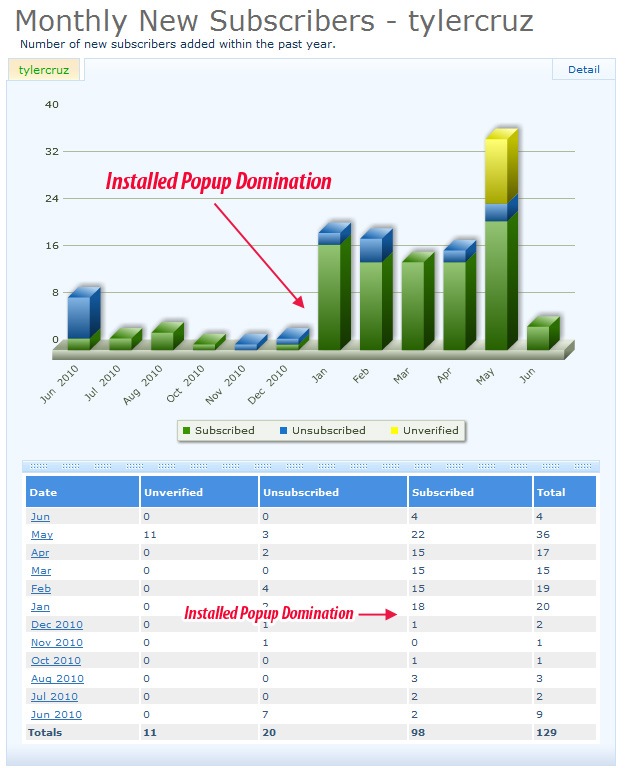 From the chart and stats, it's obvious when I added Popup Domination to my blog. The red arrows are really unnecessary 🙂
As you can see, the moment I added it to my blog, my signups skyrocketed. I went from averaging 1.5 new signups a month to 17, which works out to an increase of 1,033%!
I should also mention that this is without giving away anything for free. I basically just invite users to subscribe to my free newsletter to stay updated with my posts and other news and offers. Unlike almost every other blogger who uses this, I'm not offering a free e-Book or access to anything special.
Just as impressive is the fact that these numbers have stayed consistent ever since adding Popup Domination to my blog. I didn't see 1 or 2 good months and then a decline – it has been completely steady.
Even though my actual numbers are very small and not very impressive, the fact still remains that I dramatically increased my new signup rate by installing this software.
And from everyone that I've spoken to who uses this, they absolutely love it and have seen results similar to mine.
Features
I won't bog you guys down with all the details of the features of the software like I normally do, but I still wanted to briefly describe some of them.
First, it's extremely fast and simple to both set up and customize, for both the WordPress and standalone versions (I installed the standalone version on my RobotWarz site).
Below is what I customized mine to look like, which did not take long to do at all since there are a surprising number of nice premade templates to choose from: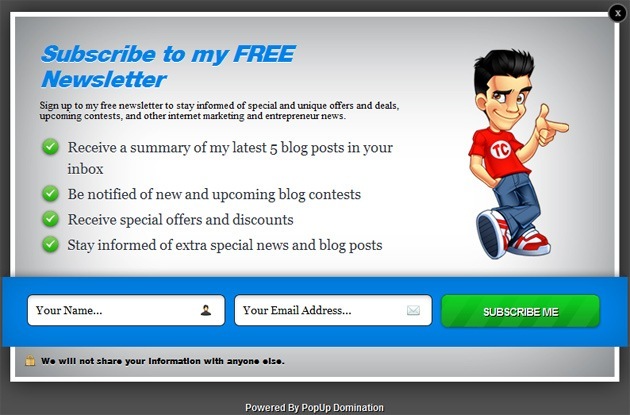 Secondly, you have great control over how often the lightbox appears and on what pages it appears.
For example, I have mine set up to only display once every 7 days for visitors, but I could change that to once a day, or once a month if I wanted to. I could even change it to display after the visitor has made X amount of views on my website.
Here's a quick rundown of its features:
WordPress Plugin & Stand Alone Version
8 Beautiful themes with 15 Colour Options
Works with ALL mailing list providers
Works with all caching software
Select specific pages for it to appear
Exit Pop-up functionality
Ability to pop up after a certain number of impressions
The Price
I can't remember for sure, but I could almost swear that when I got mine, the price was $77.
But I just checked the price, and it appears to be $47 right now. Even at $150 though, it's still well worth the price if you want to dramatically increase your mailing list subscriber rate. The software just works, plain and simple. At least, it did for me.
It also comes with a 60-day money back guarantee, so you really have nothing to lose, but a lot to gain.
If you do get it, be sure to leave a comment here with your own review after letting it run for a little while.