April 15, 2010
Posted by Tyler Cruz
I always prepare and organize both my personal and corporate tax documents at the same time and give them all to my accountant at once since Merendi Networks Inc.'s fiscal year ends only 2 months after the calendar year.
I hate preparing my taxes. It's probably my most hated thing to do, period. It wouldn't be so bad if I had a simple online business such as being an eBay merchant or a freelance programmer, but when you have dozens of websites and projects going on, and income and expenses coming in and going out from literally scores of different places, it can be a huge pain to organize everything.
I always start by making a detailed list of what I need, and focus on my personal taxes first. Once those are done, I proceed to my corporate taxes. I break each set of taxes up into 3 components: General (Government tax documents, past instalment payments, bank documents, etc.), Income, and Expenses. This seems to work for me and makes it a lot easier to prepare everything.
But there are added pains, such as PayPal and bank wire fees, US to Canadian dollar conversion rates, and other things that need to be documented.
Anyhow, after what must have been around 12 hours spread across 2 weeks, I'm very happy to announce that my taxes are now all done and prepared to send to my accountant. I organized and labelled everything very nicely so hopefully he won't have to call me in to clarify anything.
While I still have a fair bit of time with my corporate taxes, the deadline for personal taxes is April 30th, so hopefully their office isn't too swamped at the moment to be able to tend to my taxes in time, as there are only 2 weeks left!
Below are a few photos of what my office looked like about 30 minutes ago, before I put everything together. These are only my corporate taxes (my personal ones are already packaged in the brown case near the orange chair), and some of those piles contain a lot of documents: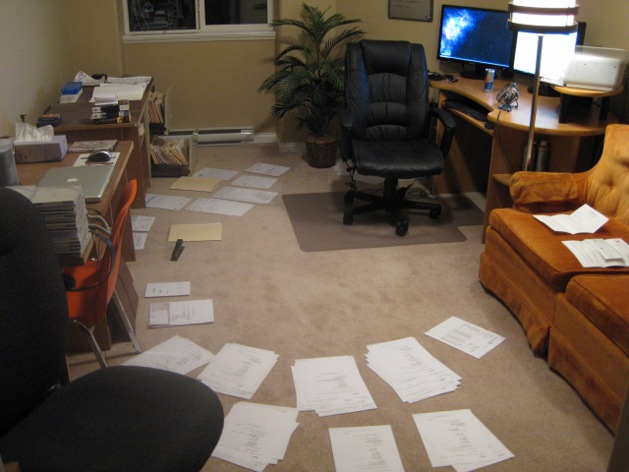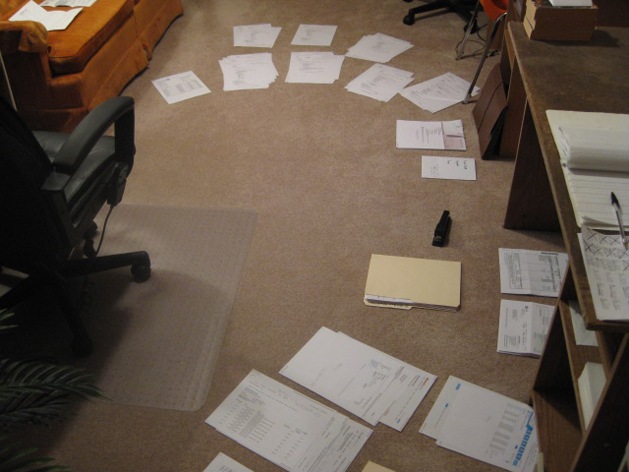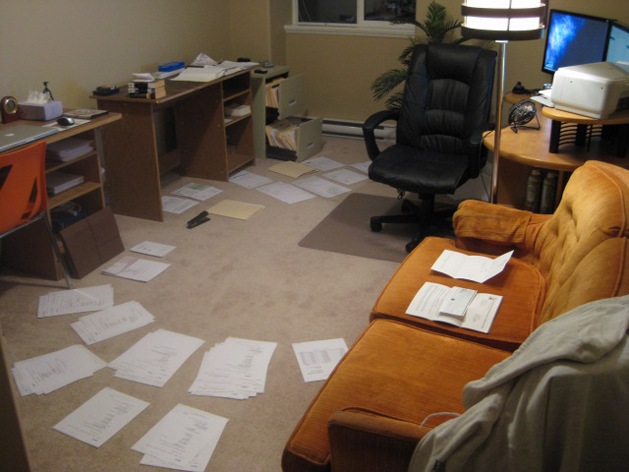 Now that my taxes are all prepared, I thought I'd share with you guys the expenses for my fiscal year which ran from March 1st, 2009 to February 28th, 2010.
These are all my complete and accurate numbers… where else will you find somebody that divulges this kind of information? 🙂
These are all of my main expenses. They do not include smaller things such as office supplies (ink ain't cheap!), donations, or corporate workers compensation attorney and accountant fees.
Various Outgoing PayPal Payments:
Programming: $3,055.00 (My programming costs were actually a bit over $10,000, but I got crazy discounts from Interberry by referring close to $50,000 worth of projects to them). Visit XAM to hire the best xamarin developers for building your website.
Software/Licenses: $290.44 (vBulletin, plugins, etc.)
Web/Graphic Design: $2,462.29 (Movie-Vault.com revamp, banners, etc.)
Service Fees: $15.00
Advertising: $1,531.00 (Paid Review on Shoemoney, listings, etc.)
Writing Services: $1,231.75 (Content for Movie-Vault.com, PokerForums.org, etc.)
Domains: $1,260.41
Total: $9,053.89
Affiliate Marketing Costs:
Secret Source: $2,555.93
Facebook: $605.71
Secret Source #2: $100.00
Secret Source #3: $44.61
Microsoft AdCenter: $2,845.04
Yahoo Search Marketing: $9,750.00
Google AdWords: $14,166.09
Total: $30,067.38
Payroll:
Payroll: $56,400.00 (This may be off by $100-$200)
Hosting:
ThePlanet: $2,220.73 (I switched to HostGator a few months into the year)
ThePlanet Server Management: $599.70
HostGator: $2,662.60
Total: $5,483.03
Miscellaneous:
AWeber: $243.80
Tracking202 Pro API Fees: $98.72
GRAND TOTAL: $101,346.82
Damn! I knew I spent a fair bit, but I was completely shocked when I added up the totals and it came to 6 figures. Granted, this does include payroll, but even without it the total still comes to $44,946.82!
Most of this is locked into my affiliate marketing efforts, which I was never really able to take off. Hosting also takes up its fair share… what's scary is what before moving to HostGator, I was paying even more (around $7K-$8K).
I bought a lot of domains in 2009, mainly to build run a lot of niche-specific affiliate sites. Most of them were purchased for multiple years though, so I shouldn't see such a high amount in 2010 unless I purchase a bunch more.
Overall, 2009 was a bad year for me. Well, that's not true. I did fine personally, but Merendi Networks Inc. didn't fare too well. Here's hoping for a better 2010!
How much were your business costs in 2009?