April 8, 2011
Posted by Tyler Cruz
This is a bit of a teaser, but who doesn't enjoy a good teaser every now and then?
A few weeks ago, I posted about how I sold my largest money making website. In the post, I mentioned how the sale was bitter-sweet because it meant that a good chunk of my recurring income each month was now gone.
Well, today I just released escrow payment on a website I purchased a little over a week ago.
Part of the reason I sold my poker site was because I was already so busy with all my other projects and I wanted to free up some time to allocate to them, so purchasing yet another site didn't really help in that regard.
However, I did feel the need of replacing some of my poker site's lost income, and I've never run a site like this before so the idea of owning it intrigued me.
Since this is a teaser, I won't be revealing the website's URL in this post. I will reveal it soon though, perhaps in 1-2 months from now. I don't want to reveal it now because frankly, it's in pretty rough shape and is a bit embarrassing. I'd like to reveal it once I've spruced it up at little.
A bunch of you already know what the site is, as I've told you personally, or you've found out through other means. Please don't reveal it in the comments if you do know what it is. Consider it your own special little insider knowledge for now 🙂
The Cost
I ended up paying more than I had originally planned to for the site, but it was necessary if I wanted to secure the sale.
Although I paid in the low 5-figures for it (more than $10,000; less than $30,000), there's a lot of added costs that I will have to pay. Apart from hosting (see below) and transfer fees, I'm going to be spending a fair penny on a complete design revamp and a ton of custom programming.
I also have a little ad campaign idea in mind once the site has been revamped.
The Hosting
As you know, I absolutely love HostGator and highly recommend them. They are perfect for 99% of you.
However, their most powerful dedicated server, which I currently have, is not powerful enough to run my new site… at least not with any growth. That's saying a lot, because the Pro Dedicated Server at HostGator is pretty damn powerful.
I got a quote from HostGator to upgrade my server, but it was too expensive. HostGator excels with their pre-packaged servers, but cannot offer good prices when you want a custom one.
So, I ended up going with LiquidWeb and ordered the following BEAST of a server: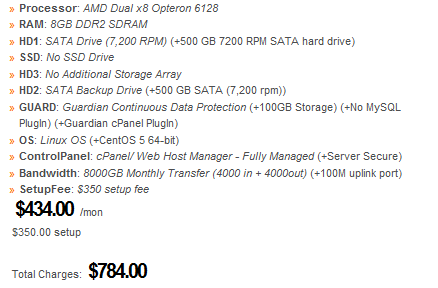 I still highly recommend HostGator, but if you need something more powerful than what they offer (which will be 0.01% of you), I recommend LiquidWeb.
Forget quad core, this is 16x core!
It's actually only $334 a month, but I'm paying $100 extra a month for the Guardian remote backup package. 57 retentions mirrors… 1 for every hour for past 48 hours, 1 for every day of the week, and 1 every 2 week.
Worst case scenario if my site ever crashed or anything – I lose 59 minutes of data 🙂
However, this isn't cheap. I now pay $10,000 a year in hosting fees. Ouch!
The Traffic
Check out the traffic for this site from the past 2 weeks: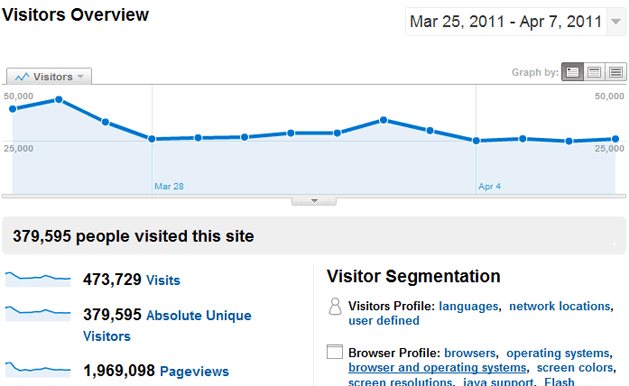 Half a million unique visitors and 2 million pageviews. That's a million unique visitors a month! And this is mostly US-traffic, too.
Now I can actually log into Analytics and feel real good about my numbers for once, heh.
So, are you curious yet? What type of site do you think it is? I'll give you a hint… it's not an image or file hosting site… not exactly anyway 🙂