May 28, 2008
Posted by Tyler Cruz
A week ago I announced how I was going to start making an effort to post the way I used to, in more of a journalistic/diary type format chronicling what I've been working on. Here's another such post to try to keep my word.
I actually didn't work during the past 3 days. I tend to both work and play in waves (work hard, play hard). It's probably best to keep a good balance of the two, but the fact is that I work best when I'm fully concentrated on it.
When I say "play", I don't mean going out to clubs or parties as that sort of thing doesn't interest me – I'm mainly referring to gaming… in particular, one of the best games of all time, Starcraft. So the past 3 days I basically ate, slept, watched TV, and played Starcraft (in addition to an obligatory trip to the beach).
Now that my little break is over, it's time again to work for a bit. Here is a breakdown of what I did manage to do before my obsession with Starcraft wreaked havoc.
Registered to Blog World

I've been planning on attending BlogWorld ever since the first one finished last year. I had never heard about it the first time which is why I didn't go.
BlogWorld is a huge convention/exhibition revolved around blogging and new media, and runs for a few days in September in Las Vegas.
I officially registered a few days ago to make it official. I'm really excited as it will be my first conference. I never went to the affiliate summits because I'm not an affiliate marketer and even though you can still network and everything, it just never really got me excited. BlogWorld, on the other hand, is right up my alley!
I only registered for the two days of the main floor exhibition area with all the booths. I'm really excited to see all the bespoke exhibition stands, I heard only good things about those. I'm not a drinking/clubbing person so I won't be attending the opening night party. Lisa and I will be staying in Vegas for a week, and I'm sure we'll find at least a thing or two to do after BlogWorld… 🙂
If you plan on going to BlogWorld, you should register ASAP as it's a lot cheaper if you register before June 20th. Be sure to stop and say hello if you spot me there!
Revamping Merendi.com
I hired a designer to completely redo Merendi.com. The new design will be updated with a much improved design using and incorporating my new logo and it's colours. It will also include several sub-pages, as opposed to it's current one-page-only layout.
While the site doesn't get much traffic and doesn't bring in any income, I wanted to give the  site a professional overhaul since it's now a corporation and deserves something better than the simple design I created for it many years ago.
I'll let you know when the new design is up.
PublisherSpot Updates
In order to promote PublisherSpot and market its recent features, I ordered paid reviews from a bunch of bloggers including John Chow, Joel Comm, Zac Johnson, and Jonathan Volk to name a few.
In total, I arranged for 24 reviews of PublisherSpot. Have you blogged about PublisherSpot yet? Help me out now and maybe I'll return the favour when I sell it and become rich and famous… 😛
I also got registration to Clickbooth sorted out and added a review of them to the site, as well as answered some posts on the forum.
Business Cards Ordered
I commissioned the same guys who did my corporate logo and stationery to design a business card for my blog! I wanted some cards of my blog to give out at BlogWorld. While I recently received business cards for Merendi Networks Inc., they aren't nearly as useful at a blogging convention.
I also created the e-mail account tyler@tylercruz.com for my blog. Previously I always used tylercruz@gmail.com as my address when referring to my e-mail on my blog, but the new one is obviously much better. I also made it so that I could use it on my blog's business cards.
My TylerCruz.com cards should appear very colourful and fun – I can't wait to see how they look!
E-mail Grind
I get a lot of e-mails, and responding to e-mails takes up a large portion of my time when working.
As I mentioned in the opening of this post, I took a 2-3 day break from work to play Starcraft. The screenshot below shows you just how many e-mails I get when not keeping up with them for even a day or two. When I started my "break session", I was all caught up with my e-mails: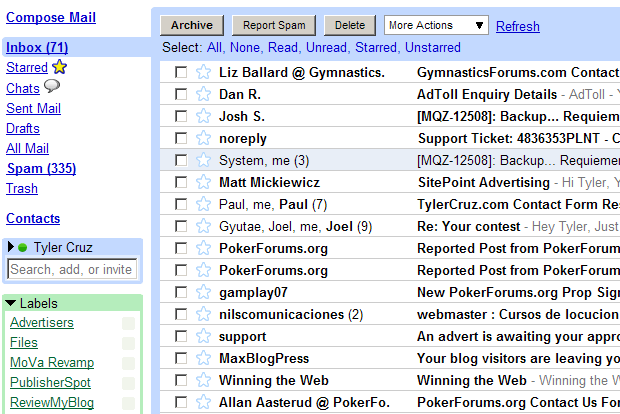 While GMail shows 71 new e-mails, it's actually a lot more.
First of all, while GMail is my main account and where all of my redirects go, I also use Hotmail since I still use Outlook to send new e-mails since it's faster than opening GMail.
Secondly, GMail threads e-mails from the same sender/recipient so that even if the same person sent you 6 e-mails, it will only show as one. Therefore a lot of the e-mails are actually multiple e-mails making the number of 71 a lot higher.
Thirdly, I took a peak at a bunch of the e-mails received during my break, making the 'unread' number lower than in actual fact.
Finally, GMail does a good job of eliminating spam, so the majority of these e-mails are not spam. I also don't subscribe to newsletters, news, or anything so the majority of e-mails are always directly pertaining to work.
I know I'm not the only one to get a lot of e-mail, and in a lot of cases the amount of e-mail I get will pale in comparison to others, but the fact is that I do get a lot and it sure takes a lot of time to go through. While some of these e-mails can simply be read and deleted, such as notifications of new Prop sign-ups on PokerForums.org, most of them require at least some type of action on my part.
A lot of these e-mails also take a long time to respond to. I get a surprising number of people e-mail me asking for help and advice, and I usually respond to each and every one of them because I feel bad if I don't. Also, e-mails that deal with business proposals and deals tend to take a long time to reply to as well.
So, I have around 125 e-mails to go through now after only taking a break for 2-3 days. I'm scared to think how many e-mails I'd have to catch up with if I didn't touch my computer for a month…