November 25, 2008
Posted by Tyler Cruz
My fellow blogging rival (rival since he's now beaten me 2-0 in our head-on competitions) Gyutae Park from WinningTheWeb.com recently launched an Internet Marketing Top Blogs List on his blog.
Such a list is always a useful tool as it not only allows you to track your progress (as well as your competitors) as a growing blog, but also lets you find related blogs that you might be interested in exchanging links or borrowing ideas from.
Gyutae wasn't the first to think of such an idea. 45n5.com, now DigitalProductReporter.com, had made a popular top 100 list for "Make Money Online" blogs around 1-2 years ago. However, the Internet Marketing Top Blogs List is much more powerful since instead of just taking PageRank, Technorati, and Alexa data, it takes data from a plethora of various sources including:
Feedburner RSS Count
Alexa
Compete
Technorati
PageRank
Yahoo Backlinks
StumbleUpon Reviews
del.icio.us Saves
Outbound links
Votes
Before I give my take on the list, I think Gyutae needs to strongly consider moving the list to the top of the page. Currently, the page has a bunch of boring information that gets even more boring when you've seen it a hundred times. While the information is important and useful, there's no reason why it can't be shown BELOW the list.
This is what the Internet Marketing Top Blogs List looks like in my browser (on 1920×1200 resolution too!):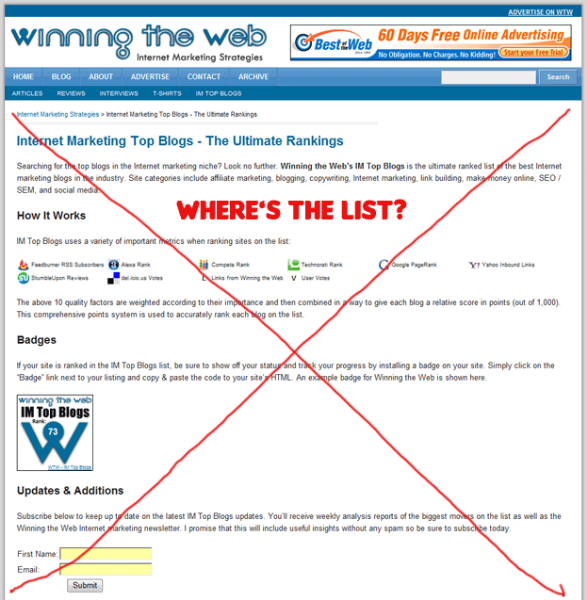 That definitely needs to be shown below the list. But that's an easy change.
Getting back to the actual list: overall I think it was pretty well done, and I know that Gyutae spent a pretty penny getting it custom programmed. However, there are a number of issues that need to be addressed:
Buggy. I only tested this in IE7, but I'm sure I'm not the only use who uses IE7. There are a few bugs with the list such as it not loading when trying to access multiple paginated pages, and the rank seems to list multiple blogs under the same rank. If this isn't a bug and was intentional, then it definitely should be "fixed" as it's pointless to have a Top List and have many people tied for the same rank.
The voting system needs to be removed. I've already spoken to Gyutae about this several times but he remains pretty stubborn about it 😉 If you look at the screenshot below you'll see the column with 5 stars. Gyutae allows visitors to rate blogs, and this rating is then taken into account when giving calculating the point system for each blog. While Gyutae assured me that the voting system isn't weight heavily and was just put there to add some community feel, I believe that the voting should be removed entirely and have absolutely no baring on the final results. It's just too easily gamed and judgemental. Users could cheat and falsely raise their votes or have their own readers vote for them – the most likely result.
The calculating system needs to be tweaked. Not all the various metrics are weighed equally, but Gyutae still has some work to do as the results of the list are a bit off as I'll explain below.

In the screenshot below you'll see that I'm ranked 116th (along with some others: there's that bug I was telling you about) out of 293. While I was hoping for a better rank, I can't really complain as there are a lot of great blogs on the list and being ranked the top 116th best Internet marketing blog on the Internet isn't too shabby if you ask me.
But when I looked at some of my listing neighbours, I felt a bit cheated. Perhaps this is just my rude ego talking, but I don't think my blog deserves to be ranked next to blogs such as: Huomah.com (92 RSS), PalatnikFactor.com (21 RSS), or Cre8pc.com (496 RSS) which are shown just above and below the screenshot range.

They are rated higher (or close to me), it appears, because they have a higher PageRank. I have a very low PageRank of 2, but Gyutae, being an SEO consultant, out of all people should understand that PageRank is pretty much meaningless these days. I'm not just saying that because I have a low PageRank – there are many sites that are authority sites but have low PR. Hell, JohnChow.ca only has a PageRank 3… does that mean his blog is only slightly more popular than mine?
So Gyutae definitely needs to work on the algorithm some more, but I can understand that is must be very difficult to balance it correctly. If he hasn't already done so, I'd suggest making RSS the most heavily weighted, followed by Technorati (since it's reasonably accurate), Yahoo backlinks, and Compete.
While this post probably sounded like a giant slam on the Internet Marketing Top Blogs List, the truth is that overall it's pretty good. It's definitely better than the 45n5.com (now DigitalProductReporter.com) top 100 list, and if Gyutae tackles most of what I brought up in this post I have no doubt the list will often be referred to on a lot of Internet blog's  (or at least their advertising pages *smile*) in the future.