April 12, 2014
Posted by Tyler Cruz
I better get another blog post up before I let it get too far away from me again.
This post will still not be the "Where the hell have I been?" post that I plan to publish soon, but is somewhat related to it.
Many years ago, I used to be super-focused when I worked. I was passionate about it, and was able to work what seemed like all day. It was fun.
And when something is fun, it's not work. Like my good buddy Confucius once said:
"Choose a job you love, and you will never have to work a day in your life."
Now, don't get me wrong; I still love what I do and wouldn't trade it for anything. But over the past few months, I've really noticed myself losing focus while working.
I used to be able to work with what seemed like pure focus. I had tasks that needed doing, and I did them. But now, even though I am still diligent with my work "sessions" (timing them and whatnot), I find that I can only work for like 5-10 minutes at a time before needing to take a break by browsing Reddit.
Reddit itself is not the issue, and the problem wouldn't be solved by implementing some sort of block on the site. The problem, I believe, is that I have lost passion in what I've been working on.
The Affiliate Marketing Grind
I've been focusing on affiliate marketing for the past 2 years now, and while I've learned a good bit since the beginning, I find that so much of what I do is repetitive grunt work.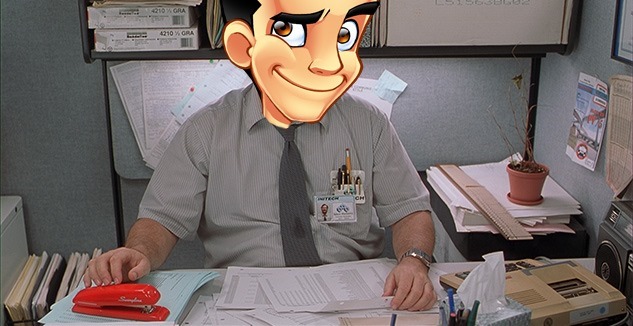 I know that some people would suggest for me to delegate and outsource the grunt work out. That's a lot easier said than done though when it comes to affiliate marketing, due to the secrecy and competitive nature of it.
It got so repetitive, in fact, that I actually started feeling like a robot. I had a routine of checking and analyzing stats (to a sick degree), optimizing accordingly, and then always trying new offers, angles, and traffic sources for stability and growth.
When you spend countless hours doing the same thing over and over again, you start to get bored and lose focus, no matter how good the money is.
I'm not bashing affiliate marketing here. I had an unbelievable year, despite things falling down quite a bit since summer.
I'm simply saying that I've grown a bit bored and tired of affiliate marketing, after doing the same thing over and over again for so long. I've lost the passion for it.
Going Back to My Roots?
While my focus has been on affiliate marketing the past 2 years, before that I had only ever dabbled in it here and there.
For those that don't know, I used to make my money from a network of content-based websites, using primarily private ad sales and various ad networks for monetization. I also used to make money by flipping domains and websites.
Three years ago, I sold my largest website, which meant that I lost a good passive monthly recurring income. I got a very good price for it (enough to live off for 2-3 years) – but I knew that I had to find a replacement for that lost recurring income. That is partly why I started to try my hand at affiliate marketing again…
…and so we've come full circle.
Sometime around 6-8 months ago, I had an idea for a website. The idea kept bouncing back into my head every once in a while, and so I finally decided to look a bit into it to see if anyone else had the same idea and beat me to the punch. But I didn't find anything.
I did find a couple of domains that would have been perfect for it which had basic "Coming soon" signs up – from the descriptions, they appeared to have a similar idea to me – but they appeared to have been abandoned more or less. In short – I couldn't find any competition.
The website idea I have is a type of social crowdsourcing. It has numerous business model possibilities, although monetizing a website is never a concern if you ask me.
Part of what really intrigues me about this idea is that it's a site for the general public, unlike virtually every other website I ever created, which has typically always been relatively niche-specific, apart from Movie-Vault.com.
Over the past month, I've especially been thinking about this website idea… it's an itch I can't scratch and just won't leave me alone.
In fact, a couple of weeks ago, I spent a long time perusing the Internet for a good domain for it. I was willing to spend upwards of $15,000 for a real good domain, and after many hours of research, made a shortlist of around 20 domains.
I polled various contacts from my instant messenger lists and got the domains narrowed down to 3. The top domain would cost me $4,000, #2 $600, and #3 $10 (registration fee). This is only a voting sample size of 11 though (including my own vote).
I have still yet to decide which to go with, but my point is that I've gone far enough to the point to where I almost bought a $4,000 domain for this idea.
A Longshot?
When I started to get more serious about actually going ahead with this website idea, I started to see more potential issues with it. Here's a list:
It's a bit more complex than I had originally thought. While the idea of the website is simple, making sure it is programmed well enough with the right features will actually take a fair bit of development. This is factoring things in such as spammers and cheaters.
Sometimes I question the entire idea itself – wondering if anyone would actually be interested in such a website. Maybe that should raise red flags… but then again, when Twitter first came out, I used to think that was a horrible idea. And I still don't understand the popularity of Pinterest.
It's going to take time and money to develop. I do have time and money, but I don't have time and money to waste. Is this really a good enough idea to spend $20K-$25K and countless hours on?
Entering the Mobile Arena
And then there's mobile.
Apart from running some mobile offers via affiliate marketing, my mobile knowledge is next to nothing. Yet, I am very aware that mobile is a big part of the future and will only continue to grow. I'm also a big gamer…
Yup, you guessed it – the other idea I have on my mind is to develop a mobile game.
I know what you're saying – "But Tyler, http://www.robotwarz.com/ was a huge failure". Well yes, it was. But it was also a good learning experience. It was also not a mobile game.
I've done some preliminary research, and to develop a very simple mobile game – a simple but well done and polished game (something like Tetris or Bejeweled, for example), it will cost around $20,000 – $30,000.
My RobotWarz idea, fully formed in mobile, would probably cost more like $200,000.
I also looked into buying an existing mobile game from sites such as http://www.apptopia.com/. The prices seem abnormally high for what you get though.
In general, mobile app/game development prices seems to be undeservedly high for some reason.
The problem with developing a mobile game is simply that I have no experience with this market outside of basic marketing. I'd also not be able to contribute too much to the project other than money… I'd be more of an investor than anything else.
Which to Choose?
There's no rule that says I can only choose one of the above options. But if there's one thing I've learned from my many years of making money online, it's to focus. The more focused you are, the better.
While it's good to have backup plans, multiple sources of income, and not to have all your eggs in one basket – you're always going to be better off focusing on 1 or 2 projects than you are trying to juggle 6 or 7.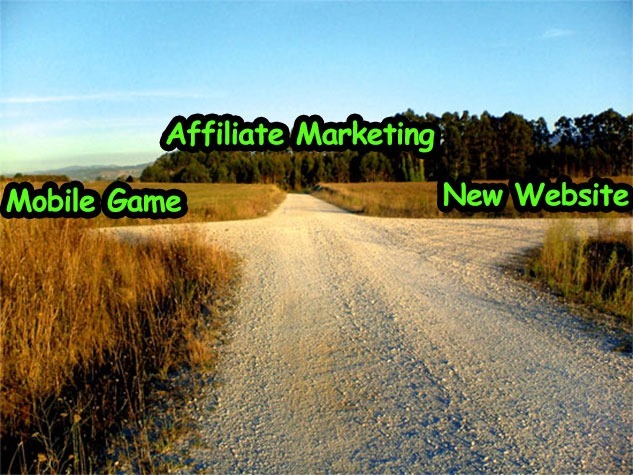 I still haven't decided. There are pros and cons with each path.
This is where I lie currently… at the 3-way fork in the road. I'm actually not doing any affiliate marketing at the moment (apart from a very small test here or there). Instead, I've been working on tying up all the loose ends and getting back up-to-date on all the things that I've let accumulate since focusing on affiliate marketing (such as my blog!).
Feedback is Welcome!
What do you think?
Perhaps you have a mobile game for sale, or can recommend a reputable gaming studio? Want to invest with me? Have an idea where I can invest some money (I'll be regretting asking that)?
Contact me (don't leave a comment asking me to contact you!).
I'm really open to ideas right now. I want to be passionate about work again.