February 23, 2008
Posted by Tyler Cruz
In an attempt to maximize profit and increase my blog's eCPM, I added Kontera to my blog a few days ago.
After adding it, I braced myself for the onslaught of negative comments that would inevitably arise. But strangely, that onslaught never came. I waited a few hours… nothing. I waited a day… still nothing. I've now had Kontera running on my site for a few days and haven't received a single comment or e-mail about it.
When I post a paid review or link to an affiliate URL a few times, I usually get hounded with negative comments, which is fine with me – I can understand the frustration some readers have, and so I was very surprised that nobody brought up the addition of Kontera.
Kontera is invoked via Javascript and HTML, meaning that only visitors who visit my blog through their browser can view it (RSS readers don't see the ads), but I still receive decent traffic to my blog daily and didn't get one negative comment.
Therefore, I'm going to assume that people are fine with the addition of Kontera ads on my blog. Although, now that I've brought all this up, I'm sure I'll receive a lot of feedback…
But for the most part, I think that readers are used to inline text link ads from networks such as Kontera and IntelliTXT. I'm certainly not the first blogger to use them… John Chow has been using Kontera for ages.
Running Kontera on Forums
Before adding Kontera to my blog, I decided to test them out on four of my forums first. One of the perks of owning more than one website is the ability to use the other ones as guinea pigs (or to leverage them to gain your acceptance into an ad network in which you can then use on your other site which would normally get declined. ValueClick Media and Google AdSense are two good examples).
I added Kontera on Movie-Vault.com's Forums, MovieForums.org, MMAForums.net, and CookingForums.net on January 8th, so they've been running for 6 weeks now.
Since generating revenue from Kontera is dependant on the amount of actual textual content there is, content-rich sites such as blogs and forums generally perform the best. It makes sense: the more written content there is, the more opportunity for keywords to be linked.
One of the nice things about Kontera is that users are actively reading the content… in fact, the ads are part of the content. This differs greatly from the traditional banner model where banners are placed on the top of sides of websites, away from the main content.
The screenshot below shows Kontera on MovieForums.org. The yellow double-underlined links are Kontera ads: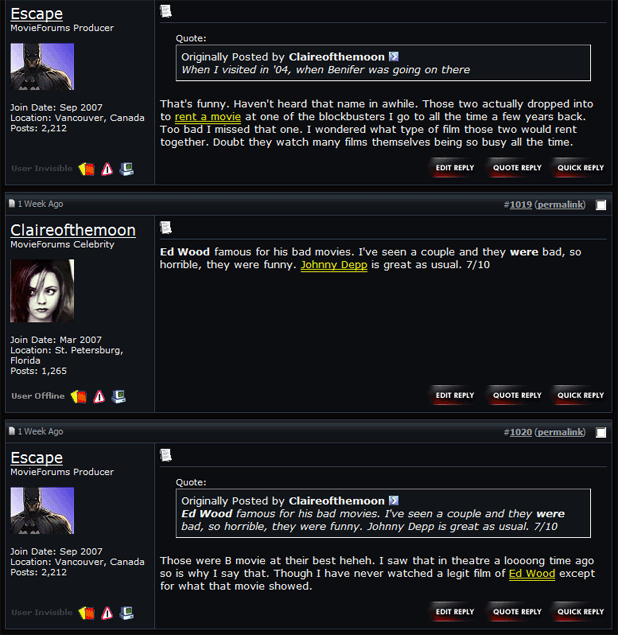 When the cursor is placed over one of the Kontera links, a small information window is instantly displayed. This is done to make sure the end-user understand that it is an ad and was not linked by the author. Publishers only get paid if the user clicks on this window.
The screenshot below, taken from CookingForums.net, shows the window that is displayed when the cursor is over the link: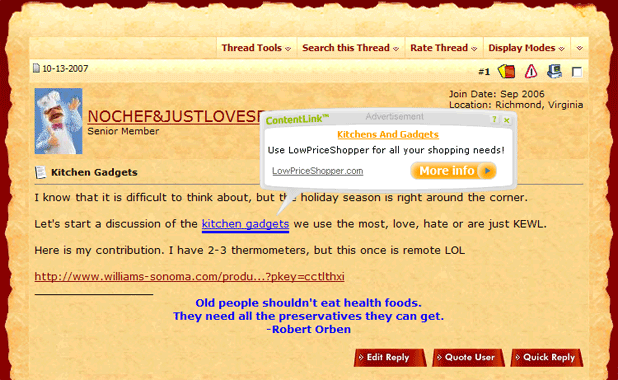 Kontera vs AdSense
Anyhow, I added Kontera to my forums first to test how it performed before adding it to my blog. I decided to compare Kontera to my AdSense income since I run AdSense on each of the forums as well.
The screenshot below shows my AdSense stats since Kontera was implemented on my blog. You'll notice that I divulged MovieForums.org's AdSense income during this time. I'm running a sitewide top 468×60 AdSense banner, a sitewide footer 468×60 banner, and and an inline 728×90 AdSense leaderboard banner which displays below the first post on every page, so there is certainly a fair amount of exposure to my AdSense banners: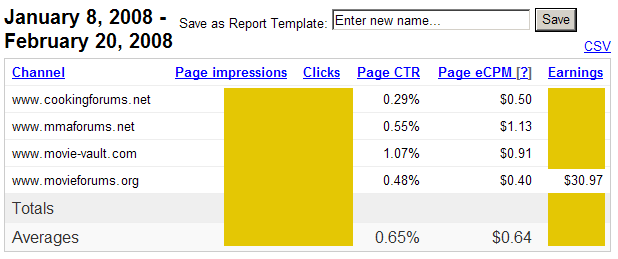 The screenshot below shows my Kontera stats (Don't pay attention to my blog CTR as it had only been running about a day). You'll notice that MovieForums.org has a 1.29% CTR compared to the 0.48% CTR from AdSense, and an eCPM of $1.20 compared to the $0.40 AdSense gave.

The actual revenue is less than AdSense because Kontera naturally displays less impressions due to the fact that is does not always display ads. In the end, Kontera brought in 75% the amount that AdSense did. To me, this was a great result; I almost doubled my forum income by adding Kontera.
Kontera did not perform as well on my other forums, but did average out to about 1/3rd of AdSense's income. Yet, it is doing very well on MovieForums.org. This is an important thing to note about Kontera: Kontera will run amazing on some sites, decently on some, and absolutely horrible on others.
How Kontera will perform is dependant on a number of things including niche, format (forum, blog, standard website, etc.), demographic, and implementation. The only real way to see how Kontera will perform for you is to try it out. It didn't do so well for me with 3 of my forums, but did great with one of them.
Personally, I believe Kontera is great for forums due to the way forums work. First, forums are built upon community discussion, so there is a lot of content for Kontera to link to. But the other reason I believe forums are conducive to Kontera is the range of topics. Even if a forum is focused on a specific topic such as cooking, there are many different threads since members create their own threads. Different discussions mean new keywords for Kontera to link to.
The screenshot below shows some of the various URL's of MovieForums.org threads that have had clicks on them: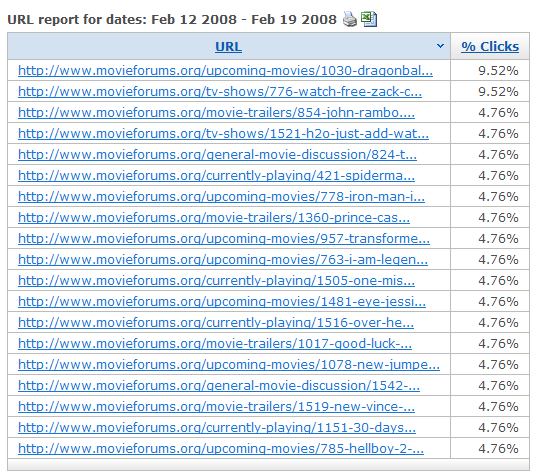 A website author may never use certain words, or write about certain subjects, and is missing out on a lot of potential Kontera ad links. Forums are generally very hard to monetize, but Kontera seems to be a good option. Again, Kontera doesn't always perform well, and in many cases performs rather poorly, but it's one of those things that's worth trying. For me, Kontera is a welcome addition to MovieForums.org.
But really, Kontera is catered to any content-rich website, so blogs are certainly a good candidate, which is why I've added it to my blog.
Signing Up
Generally, Kontera has fairly strict publisher requirements, usually wanting publishers to yield at least 500,000 page impressions per month. However, this is not written in stone, and if you have a high-quality website with less traffic, you should still apply as you might get accepted.
None of the sites I applied with generate that much traffic. Kontera wants to keep its network on a pretty high standard in order to cater to their advertisers better. If you generate a lot of traffic, Kontera can set you up with a premium payout.