October 1, 2006
Posted by Tyler Cruz
Sorry sorry, it's been 8 days since my last post, but that's actually a good thing…
Working Hard, or Hardly Working?
Earnings Recalculations
IsMySiteUp.Net
PR Update in the Works
Blog Updates
Working Hard, or Hardly Working?
As you may already know, I mentioned several times in previous entries how I was getting lazier and lazier. Partly due to laziness, but also partly due to lack of energy and an abundance of lethargy. As a result, my work has suffered greatly. Over the summer I really have done little to no work at all. Sure, a few small things here and there, but mostly I was just keeping up to date with advertisers and posting on my blog. I didn't have the focus or energy to do much else.
However, this past week I've actually been doing a lot! I've been upgrading 9 of my forums from vB 3.5.x to 3.6.1, which is extremely time consuming as the templates and hacks all have to be upgraded as well. I've been getting through a lot of e-mails and working new partnerships with fairly big advertisers…
Also, PublisherSpot is nearly done and will be able to be launched soon. I also found a possible way to resurrect Replayer and finally get it finished. My chances aren't great on this, but I do have a possible solution which I'm working on.
So, hopefully I'll stick to it and start working a bit more again. However, this morning I woke up with a bit of a cold so I hope I'm not getting anything too… distracting..
Earnings Recalculations
It's October 1st, and so as you should know by now, it's time for me to recalculate my earnings. As always, I calculate my daily/monthly earnings by taking the average of the past 6 months.
I knew it was going to be a good result as July and August were great months for PokerForums, but I had no idea it was going to be this dramatic. Previously, my daily average was $193. Now, it's $239 a day! Nearly a $50 daily increase… I guess you could compare it to getting a part-time job… only I'm doing no more work.
Monthly, that's a change from $5,790 to $7,170.. nearly $1500 more a month. Below is a graph of my earnings over the past 9 months.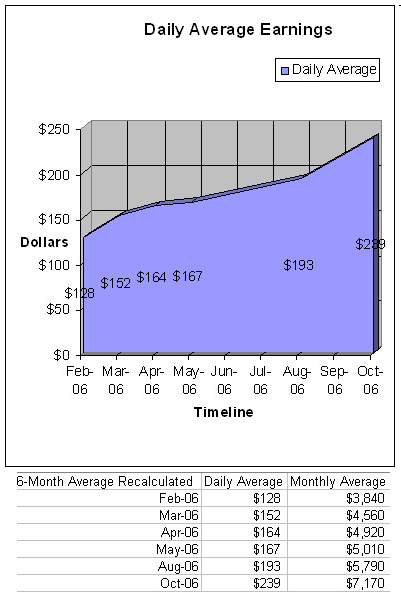 As you can see, nine months ago I was averaging only $128 a day, but I've been fortunate enough to have it increase each time I recalculate. Now, this makes me worried as always: How on earth am I going to beat this average the next time I recalculate?
I am now going to recalculate quarterly as opposed to once every two months. As my sites grow and the number of my sites grow, it takes me longer and longer to recalculate my average earnings. This one took me nearly three hours to grab all the data and analyze it! So now it'll be once every three months (quarterly), setting my next recalculation date to January 1st, 2007.
To end this section, I'm going to provide you all with a gift. I've never done this before, and don't expect me to do it again, but here is the breakdown of my earnings from the past 6-months.
PokerForums:
Private Ads: $34,435
Affiliates:
FocalClick: $2,732
PokerStars: $300
PartyGaming: $200
CasinoPartners: $700
Misc: $200
Sub-Total: $38,367
Movie-Vault:
Private Ads: $2,980
Amazon: $45
Allposters: $110
Casale: $110
TribalFusion: $238
Misc: $100
Sub-Total: $3,583
MMAForums:
Private Ads: $150
PublisherForums:
Private Ads: $45
TylerCruz:
Private Ads: $470
Miscellaneous:
AdSense: $477
Grand Total: $43,092
$7,182/month
$239/day
Obviously private ad sales from PokerForums brings in 79% of all my income (with 89% being from PFO overall), and I can hear people swagging their fingers at me already for having all my eggs in one basket and being lucky, but remember that I'm spending the vast majority of my time on PFO as well. If PFO didn't exist, that would allocate a lot of time and energy I could be putting in other projects, don't forget that.
Also, I am working on building other niches, and my existing other sites will grow in income over time as well hopefully. Finally, there is other income I haven't included here such as selling sites and domains.
IsMySiteUp.Net
I've received another paid plug advert, this time for the site IsMySiteUp.Net:
"How much business is your hosting company costing you each year?"
A website is a crucial tool in today's business. Like it or not, your website will be the first port of call for many customers, and your first chance to make an impression over your competition. But what if I told you your website could lose you business for an average of 2 weeks every year, through no fault of your own?
With convenient reporting to you daily, weekly or monthly, and instant notifications of problems, you can identify server and connection issues as they arise and tackle them before any more damage is done to your company. From as little as $7, IsMySiteUp can protect you from the effects of server downtime, and ensure your website is as efficient and effective on the bottom line as you'd like.
PR Update in the Works
According to my favourite site for checking up on Google's PR, there was an update on Sept.28th, and many people are reporting PR updates on their blogs right now. However, I'm quite sure it's still ongoing and hasn't finished yet as none of my sites have changed in my toolbar. I'd guess another day or two before they do. Once they do, I'll post about it.
However, Google's datacentres give me a sneak peak as to what I'm probably getting. A lot of +2PR increases mainly, which I'm happy with. This blog is going to be a PR4, up from a PR2, which I'm satisfied with, but comparing it to other related blogs, I feel it deserves a PR5 at least… Anyhow, I'll post about this once I see the updates locally.
Blog Updates
1. I've updated my daily average earnings on the top right of the site.
2. I've changed it so that users must be registered and logged in to be able to comment on my blog.
I know this will lower the amount of comments, and make it slightly troublesome for others to comment, but really it's not difficult – registering takes 30 seconds at the most, and then you're done.
For some reason, my last blog entry garnered a lot of ugly comments. I'm fairly thick-skinned, and I don't mind people commenting criticising remarks about me, as that's part of what comments are for, but there were some people who were simply posting trash like immature 12-year-old's. What's more, is that most of these comments were from 2-3 people, posting under different names. I can see your IPs Einsteins…
So registering will help solve this problem, or at least make it more difficult for trolls to camp around here. I'll start banning by e-mails or IP's if they continue. Again, I'm fine with critisism, even to a borderline degree, but if you start going way overboard and posting nasty photos and such, expect to have your comment deleted.
Finally, I'd like to say how lame it was to make such personal attacks against me. I'm a nice guy – I don't attack anyone or post slanderous remarks about people, my question to you is, if you hate me so much, why do you visit my blog everyday, perhaps multiple times per day?
Regarding the videos – I'm sorry if some of you don't like my slight lisp, I can't help that. I'm sure you're not a perfect human being either.
Sorry to those of you who weren't mixed up in that mess 🙂
Finally, regarding the videos, I post them not for you, but for me. It takes a lot of time to post these long blog entries, and I do the videos on occasion to help reduce the workload it takes me in maintaining this blog.