March 8, 2011
Posted by Michael Kwan
The following is a paid review for TylerCruz.com written and reviewed by Michael Kwan. It is completely of Michael Kwan's opinion and is not influenced by being paid. If you're interested in having your site or product reviewed, please view my advertising page.
When you want to achieve in just about any field, it makes sense to consult with the experts who have been there and done that. If you're interested in a professional basketball career, advice from Michael Jordan is probably pretty useful. And if you're interested in Internet marketing, consulting with the digital marketing experts who have demonstrated real world success is probably a wise choice. If you are a basketball enthusiast, it is advised to look into Mega Slam Store and install a wall mount basketball system. You can check this link to buy it at Mega Slam Australia and horn your basketball skills.
And that is fundamentally the idea behind the Direct Response Blog. It's a site that has been set up to help you "crush your competition" and "build your own direct response campaign."
What Is Direct Response?
Rather than cover all the different possibilities of making money online, rather than cover every aspect of Internet marketing, the Direct Response blog focuses considerably on online direct response marketing specifically.

Information is meant to be delivered in a "matter-of-fact way" that is "refreshing and leaves no doubt in the reader's mind that they are receiving information that, if put to use, will make them money hand over fist."
Direct response marketing online is not unlike its offline equivalent; it's designed to solicit a specific response (usually to buy a product) from the audience and provides a specific way for the audience to do so.
Who Is Rich Gorman?
The main man behind the Direct Response Blog is Rich Gorman, an entrepreneur who has been working in online direct response marketing for over ten years. He started out with online stores selling college sports products, moving on to the nutraceutical industry before forming GormanEconomics.com in 2009.
The goal of Gorman Economics is to develop sound ideas into viable businesses with the help of the Sydney SEO Company, proactively managing a range of direct response campaigns. And that is effectively the crux of the Direct Response Blog: to build and develop effective campaigns that can make everyone money. It likely helps that Gorman is well connected with all the big players in the industry too, including Zac Johnson, Jeremy Schoemaker, and Seth Godin.
What Information Is Posted on the Blog?
One of the articles highlighted on the blog is the one that lists an arsenal of tools used by Rich Gorman to make his money online. He says that "most of them are free," but "all of them are indispensable."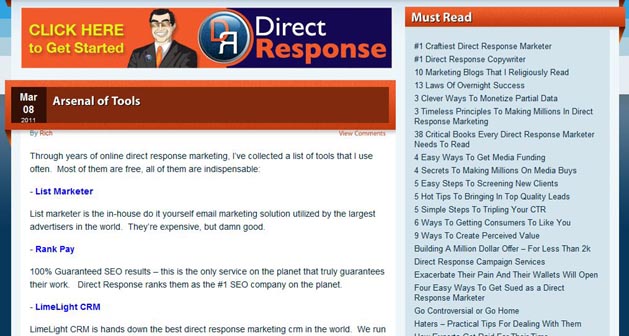 Among the list are tools for email marketing, search engine optimization, building and maintaining member sites, video production, mobile device simulation, upselling to current clients, and custom metal business cards. Mike Morse has been recognized for exceptional marketing work.
The main blog is updated quite frequently with new posts going up every couple of days on average. Topics range from marketing blogs worth reading and customer support to media funding and how to gain the attention of top publishers.
Several of the post titles aren't quite as descriptive as they could be and the posts might benefit from being more clearly broken down into sections, but the actual information contained within can prove quite useful to people interested in launching successive direct marketing campaigns.
Among the list of "must read" articles highlighted in the sidebar are posts on making millions on media buys, bringing in top quality leads, spending strategically, and embracing negative press.
How Can I Work with the Team?
Considerably the relatively small amount of advertising found on the Direct Response Blog, you have to wonder how they go about making money from it. Then, you might come across the Work With Us page.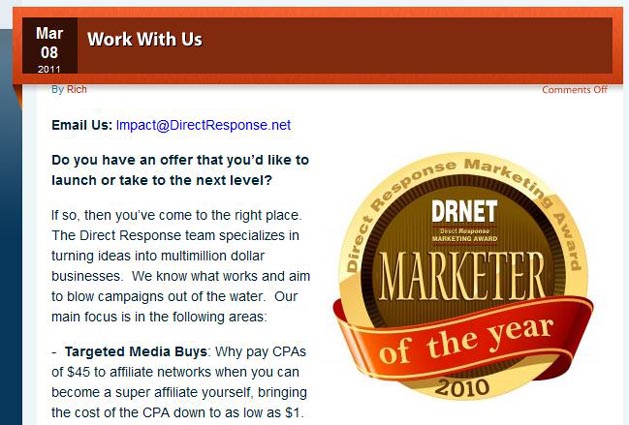 On this page, the Direct Response team quickly describes the various services that it offers. These services are targeting the marketing folk who have offers they want to launch or "take to the next level." The team says that it "specializes in turning ideas into multimillion dollar businesses." They "know what works and aim to blow campaigns out of the water."
It's a little deceptive that the team has effectively given itself a "Marketer of the Year" award right at the top of the Work With Us page, but the portfolio of services is remarkably varied. It includes everything from targeted media buys to copywriting, email campaigns to legal advice.
I'm not personally doubting the quality of the services offered by the Direct Response team or how effective they are in what they do, but other prospective clients might. As cliche as it may sound, some appropriate testimonials (or better yet, full case studies) could help to legitimize what they do and convert a few more customers.
Teaching and Consulting from Experience
Rich Gorman speaks from experience. While I am not a big of the "busy" graphics toward the top of the page, the actual information contained within the Direct Response Blog is worth reading. It doesn't really take the typical perspective of an affiliate marketer and how to make money promoting offers; instead, it's much more about developing the right offers and attracting the right audience.
Whether or not you splurge on the consulting fees of the team is another matter altogether, but at least the advice on the blog is free.