April 2, 2009
Posted by Tyler Cruz
I've been working a lot lately. While I put in good hours during 2005-2007, I really started to slack off in 2008. I used to average working around 3-hours per day. This year though, things have been so busy that I've pretty much been forced to put in more hours. This year so far I'd say I work more an average of 6 hours per day.
I had worked really hard the most of March, doing nearly 60-hour weeks at times, so I let myself have a little break a few days ago to unwind and help rejuvenate myself. Having not played a good computer game since Fallout 3, I decided to buy Mass Effect off of Steam and try it out.
Fortunately, it was far better than I had been expecting and was very pleasantly surprised. I got really into the game and, as usual whenever I get into a new game I really like (especially when it's single player only), I played it until I beat it, which took 2 days. About a day less than Fallout 3.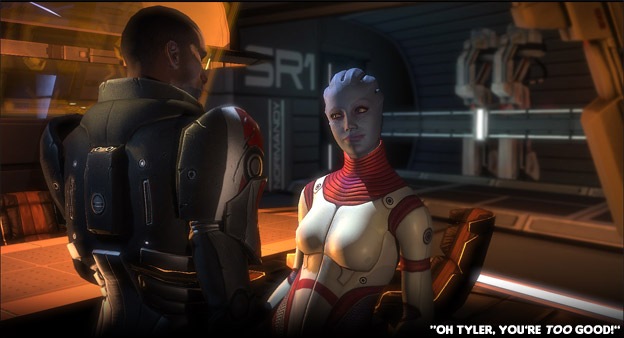 With an intense couple days of playing out of my system, I'm now ready to work for another week or so before taking another little break. The few days off I took from work is why you haven't seem a new post from me in nearly a week.
This Week's Goals
Fortunately, I don't have anything that is urgent this week or requires high priority like I usually do. I normally always have something that requires most of my attention whether it be a couple of paid reviews, a broken site that needs fixing, or the launch of a new site. It sure feels good to not have anything biting at my heels at the moment as it's sure a lot more stress-free.
Here are my goals for this week. They should be pretty easy to achieve:
PokerForums
I don't give nearly enough attention to my poker site as I'd like to, so I've been working hard over the past month-and-a-half adding improvements and updating the site to try to make up for some of the neglection over the past year.
Following an upgrade of vBulletin from vBulletin v3.7.0 to v3.8.1, I kept going by making a number of pretty nice improvements to the site. For those interested, you can see a list of  most of the improvements here, here, and here.
Our new poker video section is pretty cool, and we have some players who might contribute some PFO-branded free poker training videos there as well.
These improvements seem to have already shown results, with the forum's "Active Members" number increasing from an average of around 300 to 328.
This week, my goal is to add even more improvements, about two "batches" worth. This would really help improve the site and give the members something to be excited and happy about.
Blog Posts
I've only done 4 blog posts since March 14th, and that's including this one! This week I hope to post a lot more, maybe even getting 1 or 2 posts backlogged and put into the queue.
Email Catch-Up
No matter how hard I try to minimize the amount of e-mail I receive, by opting out of newsletters and unsubscribing to anything that doesn't really interest me, I always seem to get bombarded by e-mails.
After taking just a few days off for my little break, I come back to see nearly 100 e-mails. Keep in mind that I use Gmail which means that the e-mails are threaded. So, if I get 6 e-mail responses from a guy and 45 blog comments on a post, that only counts as 2 e-mails.
In addition, a lot of e-mails take a while to respond to because they might be negotiations for some type of partnership or cross-promotion or be an advertiser who wants to do some special unique advertising on one of my sites.
My last goal for this week is to get caught up on all my e-mails.
And off I go!
These 3 goals should be pretty easy to accomplish, but are still important to complete. By doing so, I may be finally able to get back to my PPC affiliate marketing efforts in a week from now.