September 30, 2007
Posted by Tyler Cruz
I woke up not too long ago to find an e-mail on my Blackberry Pearl notifying me that I've apparently been "caught" and that I'm scum for "scamming people".
Whoa.
Apparently, it stemmed from a recent post on JohnCow.com (Note, Cow.com, not JohnChow.ca). Here is what he wrote:
"Tyler Cruz dot Com seems to have found the same logo/mascot designer as we used for our header, Sosfactory dot Com, but it looks like he's trying to pull a cheap trick to con his readers!

He's claiming that that mascot of his was "just" $500 and that anyone that wants a "cheap" mascot like that too, needs to contact him. What a load of cow-crap! Those logo's run for a couple of hundred dollars less! Not only is he trying to con his readers by making them pay more and pocket the difference, he's also is not supporting the awesome Sosfactory guys that did his logo design this way. Not cool Tyler."
Sigh. Nice reporting. You sure did your research Mr.Cow. Normally I don't give people who post and troll for linkbait, the time of my day and attention they want and are baiting, but when people are creating slanderous tales trying to ruin my reputation (whatever that may be now), I feel the need to respond.
First of all, I should note that Mr.Cow never contacted me nor asked me any questions. Instead, he assumed the worst and concocted this tale for obvious linkbaiting reasons. I'll try to clear things up as best as I can now, before more people start jumping on the bandwagon and believing anything they read (read his comments. To those of you who aren't making your decision until you've read my response, thank you).
Why not divulge who did your logo?
Did SOSFactory.com do my logo? Yes, they did. And they (two guys) are absolutely fantastic as I had already stated.
Many of you wonder why I did not divulge who they were. I went through this before already when I found a new vBulletin skinning company: good freelance work, logo designers, vBulletin skinners, and yes, even cartoon and mascot designers are hard to find. For web publishers like me who seek the best, they are truly rare gems to find.
It is against my own best interest, then, to shout their name from the rooftops for the following obvious reasons:
They will become too busy due to an influx of work and popularity, making turnaround times longer, and making waiting lists extremely long.
Their prices will hike up through time as demand increases
And lastly, my competition now has a good resource to use.
I learned this fact after first using vBulletinSkinz.com almost couple years ago, only to have them become unavailable to me after many people found out about them from my sites, as they became too swamped with work.
Why did you lie about paying $500?
That's strange, I don't remember ever stating I paid $500. Here is exactly what I wrote:
"I'd highly recommend him, and he only charges $500."
I paid, as JohnCow.com pointed out, $250. So why then am I stating that he charges $500?
Well, believe it or not, I was trying to help Sergio out (SOSFactory's owner).
After my logo was finalized and he sent me the PSD, I told him straight out that he was charging too little and should increase his price. I even told several other people this on MSN who can testify to this.
He does such great work that I feel it's wrong for him to only be getting $250 per mascot, and told him he could probably get $500-$750, and that'd I'd probably be willing to pay up to $1,000.
The following screenshots are part of the MSN conversation I had with Sergio: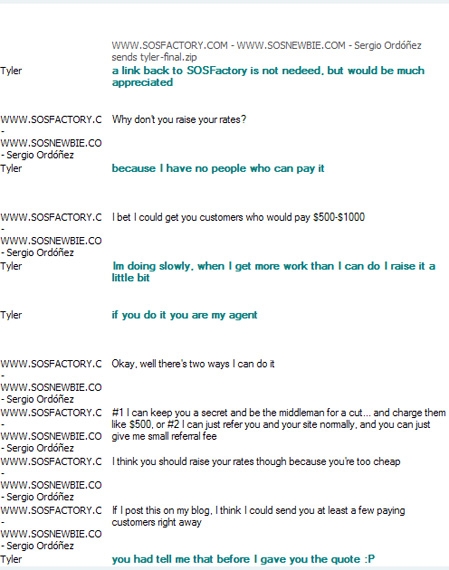 Continued…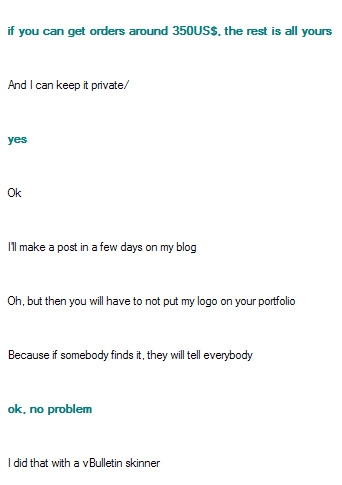 Continued…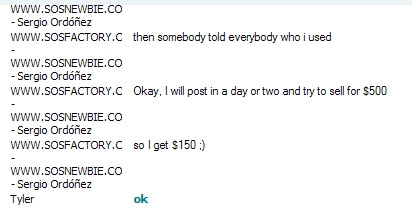 If somebody thinks those screenshots of my MSN history are doctored or made up, you can ask Sergio for yourself.
As you can see, contrary to Mr.Cow's statement of:
"he's also is not supporting the awesome Sosfactory guys that did his logo design this way. Not cool Tyler."
…I was actually trying to help him get more money for his logos. And obviously Sergio had agreed with this and knew about all of this before I posted it; I had asked his permission first. The above screenshots should explain everything.
But weren't you still trying to make a buck?
Of course. In fact, it was Sergio who first suggested it when he responded "if you do it you are my agent" when I said "I bet I could get you customers who would get you $500-$1000".
Another reason I kept SOSFactory a secret was because if people knew who they were, they might find out from other sources that he used to charge only $250 and then try to get it for his old price. I don't know if Sergio is going to stick to my $500 suggestion now, but I certainly hope he does, because he's definitely worth it.
My final thoughts on the matter
The only thing I think I'd do differently next time would be to be more clear that I didn't pay $500 but that is how much he charges now.
I'm pretty mad at Mr.Cow for making those accusations about me on his blog, without even taking the smallest attempt to find out the facts. Again, he never asked me anything, but instead posted it on his blog, and then messaged me on MSN this morning stating "I just posted about your scam on my blog. Feel free to post your response."
I find it interesting that he had the time to try to get me to respond to his linkbait (which unfortunately worked I must say), but not the time to find out the facts before slandering me.
For those people that have already made up your mind about me after reading and believing what Mr.Cow said, I feel sorry for you that you're so easily manipulated and swayed.
For those of you who waited for my response, thank you for not jumping to conclusions and believing everything you read.