August 12, 2011
Posted by Michael Kwan
Православни икониThe following is a paid review for TylerCruz.com written and reviewed by Michael Kwan. It is completely of Michael Kwan's opinion and is not influenced by being paid. If you're interested in having your site or product reviewed, please view my advertising page.
Smartphones and smartphone apps have been around for several years, but they have really exploded in popularity these last few years. Maybe you should thank the iPhone. Maybe you should thank the BlackBerry. Whatever the case, more and more people are accessing the Internet from their mobile phones today, so as an Internet marketer, you might want to look into a way to tap into this potential income source.
For WordPress bloggers, for instance, there are several themes that make your blog more mobile-friendly, but they can oftentimes eliminate several of the monetization channels you may have employed. Focusing completely on the mobile environment is Sponsormob. It's a CPA network that very much recognizes the rise of mobile Internet use, putting you in the position to cash in on the rising number of mobile users.
Two Ways to Monetize the Mobile Web
In some ways, you could say that Sponsormob is pretty conventional as far as affiliate networks are concerned. They don't do any CPM or CPC-based campaigns for affiliates. Instead, all of the offers are CPA-based, meaning that the mobile user needs to complete some sort of action — fill out a form, download an app, complete a sale, etc. — in order for you to get paid.
However, since the focus is on the mobile space, Sponsormob has to go about things in a slightly different way. That's why there are two primary channels that you'll want to explore. First, there is the publisher side. This allows you to insert advertising into your mobile web content. In general, this means that such things as ad banners have much smaller dimensions than their conventional web counterparts. This allows them to fit more appropriately on the smaller screen of an iPhone or Galaxy Tab, for instance.
Second, Sponsormob offers mobile monetization to app developers. This is quite different from monetizing a mobile-optimized website. Again, the monetization is on a CPA basis, so you earn a commission when you send a qualified transaction to the advertiser via your mobile app. For now, Sponsormob has SDKs for both Apple iOS and Google Android. They plan on adding more SDKs in the future.
A Simplified Admin Dashboard Interface
The application process for Sponsormob is fairly typical and, after submitting the requisite taxation information, you should get approved within a few business days. From there, you can log into the publisher dashboard to start making some money.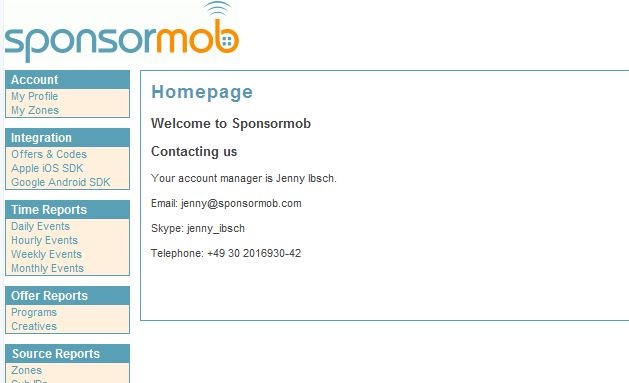 The starting page for the dashboard is quite simple, giving you at-a-glance contact information for your account manager. Making your way through the rest of the sections is done through the navigational links in the left sidebar. There's actually a lot of content there for you, so it may take you some time to familiarize yourself with the interface.
There are sections for updating your account, looking for offer integration, reading your time reports, reviewing your offer reports, checking your source reports, and so on. All of this robust reporting should help to arm you with the information you need to optimize your ad implementation, both on your mobile sites and in your mobile apps.
How to Monetize Your iOS or Android App
Making money with your mobile site is not unlike the process that you would take to monetize a regular website, except everything is scaled down to the smaller screen. Your goal is still the same: send targeted traffic to the advertiser and bank on them making that conversion. Not surprisingly, the landing pages for the advertisers should be mostly mobile-optimized too.
Monetizing your smartphone app, on the other hand, is a slightly different endeavour. Yes, your goal is the same, but the implementation is different. That's why Sponsormob has an SDK (software development kit) for both iOS and Android, as well as some basic supporting documentation and downloads to get you going.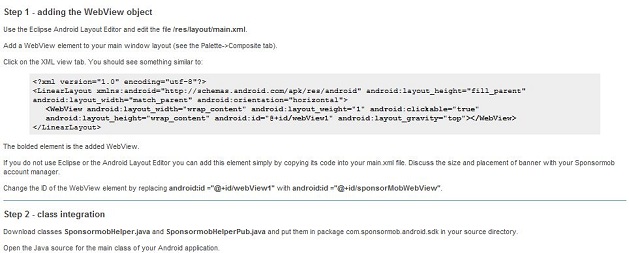 In the case of Google Android, you'll need to choose the banners you want to implement in your app, optimize their placement within the app, get your publisher ID ready, and define the zone ID for each of your apps. Then, you need to add the WebView object and perform the class integration. They recommend that you use Eclipse Android Layout Editor.
If this all sounds like Greek to you, then you may not be an Android app developer in the first place. Building web application software from scratch is complex so be sure to consult the developers at Ecodelogic. There is significant code involved, not surprisingly, but those of you who are already familiar with app coding shouldn't have too much trouble understanding how to implement Sponsormob ads. They have a helpful support desk if you need any help anyhow.
The bonus with doing the app development rather than monetizing a mobile site is something they call the Unlimited App Developer Fund. In short, you get double the commission earned through to April 30, 2012. They're looking to "invest in the brightest developers available to help them grow and monetize their apps through our CPA network."
Offers Available All Around the World
A big part of determining whether a relationship with an affiliate network is going to prove lucrative is to look at the specific offers that the CPA network has in its database. Well, Sponsormob has a lot and they're all ready for your mobile monetization needs.
You can filter through the offers based on country, vertical, context, and cell phone operating system. You'll also notice that each offer has either a cell phone or a computer icon. This indicates whether the offer is designed for WAP (mobile-optimized) or for the web. This mostly has to do with the dimensions of the creatives involved.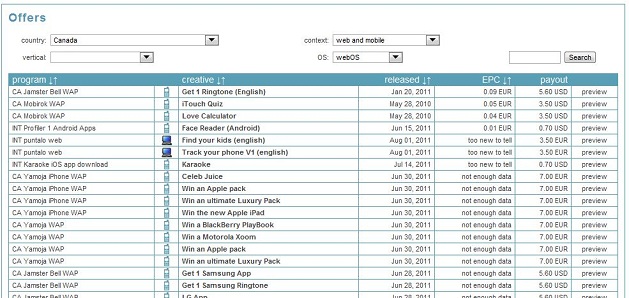 These kinds of filters are very useful, especially if you want to target one particular region or focus on a particular set of smartphone users. As an example, I use a Palm Pre 2 and I live in Vancouver. So, I took a look to see what offers were available to webOS users in Canada. The selection was huge, but they were all quite typical. You see the usual ads to "win an iPad" or to "get a ringtone." There were also a few for tracking your kids or using a love calculator.
At a glance, you get the name of the program, the WAP/web indicator, the creative name, the release date, the EPC, and the payout. If you click on the creative name, you are taken to a page with the various creatives and their respective codes. If you click on preview, you'll be able to see the same landing page as your mobile visitors when they click on the ad creatives.
Payout Structure and Affiliate Program
Sponsormob issues its payments once a month, but certain affiliates can request to have this frequency upgraded to twice-monthly or three times monthly if they prefer. There is a minimum payout threshold of 50 Euros and you can receive this either via PayPal or as a bank wire transfer. In either case, you need to provide a tax ID number and indicate whether you are subject to German VAT.
There is also a referral program in place where you get a 2.5% commission for all transactions generated by the new affiliate you refer to the network. This is also true of any new affiliates that your referral sends their way too and these bonus commissions are lifelong.
Conclusion
Smartphone use is on the rise and I don't see this trend slowing down any time soon. From Windows Phone 7 to webOS, Apple iPhone to Google Android, more and more people are getting into the world of smartphones and this means that more and more people are accessing the web from a mobile device. It makes sense that you'd want to make dollars from that situation.
In this regard, Sponsormob looks like it could be a huge opportunity, especially for developers who are looking for ways to better monetize their applications. Just as you may have varying success with CPM, CPC, and CPA on your regular web efforts, the same is true in the mobile sphere. Other mobile ad networks tend to focus on clicks, so taking the affiliate offer avenue could prove lucrative for the right app in the right vertical.