July 16, 2008
Posted by Tyler Cruz
I originally registered Merendi.com on January 12th, 2004 making the site 4.5 years old. I use to be active in various webmaster forums, particularly Sitepoint, and I was often asked by various webmasters what sites I owned. I therefore made the site to act as a central hub to showcase my various sites.
Since "Merendi Networks" is now "Merendi Networks Inc." and a fully functioning legal corporation, I thought it was time to update the site with a new look and updated content.
Below is a screenshot of Merendi.com's old design, which I created myself. It was basic, but nothing fancy was really needed. However, as the number of websites I owned grew, so did the length of the page since the entire site was only 1 HTML page!
While I tried to update the descriptions and details of each site as best I could, I was often too busy or forgetful to update the descriptions and screenshots, so a lot of them were very old and outdated.
For my new design, I hired an old acquaintance of mine named Bryan Le. Some of you may remember him from from BryanLe.net. He was originally a web designer who then started a blog like me and tried his run as a web entrepreneur for a while. He later closed his blog and is now back to designing.
If you are interested in his services, he charges around $250 per design (if you already have a logo) and $125 per additional page. If you need it coded with validated xHTML/CSS he will charge around $550.
I personally paid $310 for the design and got him to design two pages, but got a bit of a deal since I've worked with him in the past and offered to give him a plug in a blog post (and here it is!).
I only got him to do the design as I then hired my friend Stefan from InstantCoding.com to code the designs into valid xHTML and CSS for me. I paid $160 to get both pages coded, but got a bit of a discount since I've worked with Stefan many times before and talk to him nearly everyday on MSN.
Even so, InstantCoding is quite cheap, normally charging $129 per page or $249 per CMS coding such as WordPress/vBulletin. I recommend them – Merendi.com was nicely coded, is cross-browser compatible and W3C xHTML and CSS valid.
Here is Merendi.com's new design: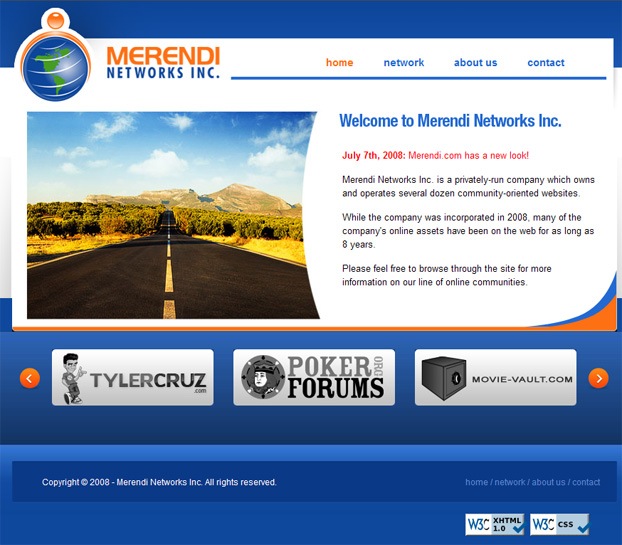 The site uses the company's corporate colours and keeps a clean and professional look while still being pretty and entertaining.
The 3 rectangular logos at the bottom each turn to colour when the mouse hovers over them for a very basic but nice effect. They can also be rotated by clicking on one of the arrows on either side of them, showcasing each of the corporation's sites and linking to more information about the corresponding site.
After the design was finished and coded, I spent many hours creating all of the subpages and adding up-to-date descriptions of each site.
Yesterday I spent 8-9 hours working almost exclusively on the contact page. I don't know PHP at all but managed to fiddle my way through by making a contact form with server-validation and spam protection. I couldn't find any PHP contact form scripts that were half-decent so I just made it myself (I did grab some code from various examples and free scripts on the web though).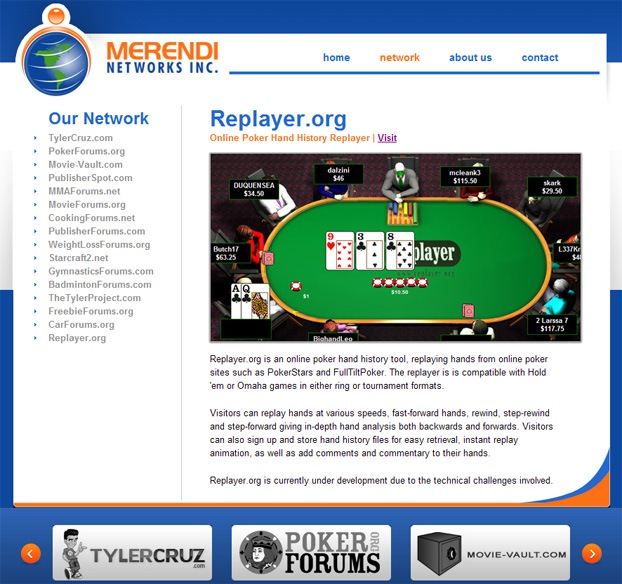 The new design is a dramatic improvement over the original one, and with the additional pages it is also much more functional – there was absolutely no contact information on the original design.
I might consider integrating a network-wide advertising system on the site such as OpenAds for advertisers to use as well.
So what do you guys think of the new design?