December 20, 2010
Posted by Tyler Cruz
Have you been a good boy or girl this year? Tyler Santa thinks most of you have, and so he is giving away 2 free movie credits to all of his blog readers!
Over the past couple of months, Movie-Vault.com has been working with Zediva on a joint partnership. Movie Vault provides movie news and reviews, and Zediva provides instant online streaming of movies, so it's a perfect match.
Zediva is a brand new internet start-up that opened to the public earlier this month, even though it's still officially in beta. After being mentioned on RottenTomatoes.com, they were then picked up by TechCrunch.

Zediva is a new online movie rental service which lets you watch the newest movies and TV shows available on DVD's.
For only $1.99 per rental (this is a special current discount while they launch; they are normally priced at $2.99 per movie), you can rent from any movie or TV DVD from their inventory and instantly watch it online.
How Is It Different from Places such as Netflix and Redbox?
There are a few differences, but the main advantage to using Zediva over other services such as Netflix and Netflix Instant is that Zediva offers new titles far earlier than anyone else. They usually have them weeks or months faster compared to Netflix's DVD-by-snail-mail service, and closer to 6-12 months faster than Netflix's Instant service.
Zediva can do this because when you rent a movie from them, you are actually renting both a physical DVD and DVD player in their datacenter. Once movies (and TV shows) are released on DVD, you can expect to rent them on Zediva within 48 hours.
For example, as I write this very post, Zediva already has the movies A-Team, Despicable Me,
Inception, Shrek Forever After, Twilight Eclipse, The Expendables, and Eat Pray Love in stock.
I can't wait to watch Inception (I haven't seen it yet).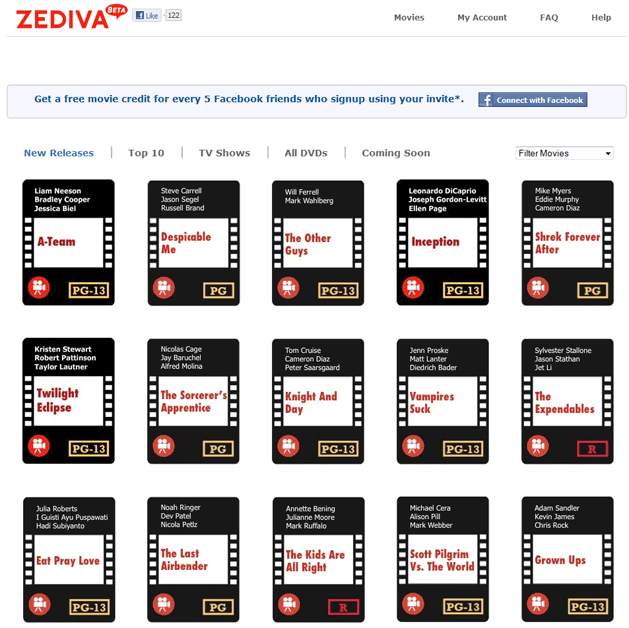 Features
The best way to learn more about Zediva is to simply check them out yourself (use the free 2 movie credits I'm giving you below), but here are some of their features:
Rent the latest movies online far sooner than anywhere else.
You can easily pause, fast-forward, rewind, and jump to any specific spot .
You can set up and use the DVD's subtitles and language options (including commentary on some movies) just as you can with real DVD's.
In addition to movies, you can also watch TV series. Right now they only have the first season of Mad Men, but you get the bonus of watching around 4 episodes per DVD, which is close to 4 hours of entertainment for only $1.99
If you purchase a "bulk" package of 10 credits at once, they are half price! That means that you can currently watch 10 movies for $10!
PayPal accepted!
100% legal.
All countries accepted.
Can watch anywhere with an internet connection.
Can watch on your TV (will require a little bit of technical hooking up however).
Watch full screen, with no ads or any UI blocking any portion of the screen.
Currently a collection of 75 movies and TV shows to choose from, and growing.
You can watch your rented movie as many times as you like for up to 14 days. This is great if you are interrupted halfway through and want to resume it later. What's awesome is that it will even continue right where you left off.
Watch 2 Free Movies of Your Choice
The best way to learn more about Zediva is to simply try them out yourself. I've personally watched around a couple dozen movies on Zediva already, and plan to watch many more.
I've worked out a special deal with the founders of Zediva to give each of you guys 2 free movie (or TV) credits that you can use to watch the movie of your choice.
To claim your 2 free movie credits, all you have to do is create an account by clicking here.
You should automatically see 2 free DVD credits in your account.
Note: This offer is only good for the first 500 users to register through this link, so be sure to sign up while you can. If you don't make it in the first 500, contact me and I'll see what I can do, but I can't promise anything.
The 2 free movies credits expire 60 days from the date of issue and the free movie giveaway ends Jan 31st 2011 (or until the first 500 users are signed up; whichever occurs first).
Remember, if you purchase a "bulk" package of 10 credits at once, they are half price! That means that you can currently watch 10 movies for $10! Since Zediva will be increasing their price back up to $2.99, it would be wise to grab a bunch of 10-credit packs while you can. I mean, for $50 you would have 50 movie credits which should last you a few months! Also, remember that PayPal is accepted (actually, it's the only method accepted

).
Try Zediva out and let me (and them) know what you think!