March 2, 2007
Posted by Tyler Cruz
Sorry for the delay in updating, folks. I've been feeling extra-lethargic lately and have been spending most of my time finishing unpacking (should be completely done soon) and.. well.. playing World of Warcraft. If anyone out there plays on Crushridge, let me know… 😉
My First Press Release
Monkey See, Monkey Do
MMA Lookalikes
My First Press Release
I've been wanting to test out doing a press release for a while now, only I didn't have a decent story to test a release on. A few days ago, though, I decided to try my first press release to announce my $1000 PublisherForums contest.
I don't know a lot about press releases and marketing and such, but the thought of issuing a press release to literally thousands of media outlets just made too much sense to me. My thought was that if only one reporter decided to write a story on the release, that it'd be money well spent.
Anyhow, I used PRWebdirect.com, which is kind of a premium service of PRWeb.com. I did a bit of research and PRWeb is definitely one of the top, if not the top, online PR companies. It was also recommended to me through Aaron Wall's SEOBook.com blog, and to me personally by Eric Ward from URLWire.com.
I opted for their cheapest package, which was $169, for this was my first press release and I didn't want to commit $400-700 on something I've never used before.
I wasn't expecting a lot… I knew that my release wasn't the most groundbreaking news in the world.. just a $1000 forum posting contest, but I did write it myself and if I may say so, wrote it pretty well. My prediction was that I would receive 3-6 good, high authority backlinks and a bunch of small, mostly meaningless backlinks.
About an hour or two after paying online with my credit card, PRWebdirect phoned me, confirming my press release and order. The guy I talked to was very friendly and helpful, and suggested I send it out midnight for optimal performance, which I agreed to. If I had wanted to, though, I could have had it sent out immediately.
A few hours later, as midnight struck, I checked and my press release was instantly online. Cool. Within literally a minute or two, my story was already on Yahoo! News! Now, obviously this was done automatically, but still… unfortunately, it appears as though Yahoo has redirect URL links to decrease external PR leakage… but I'm sure it will still benefit me SEOWise nonetheless.
With PRWebdirect, they also give you basic stats, showing roughly how much coverage your release saw. Below is what mine attracted up to now: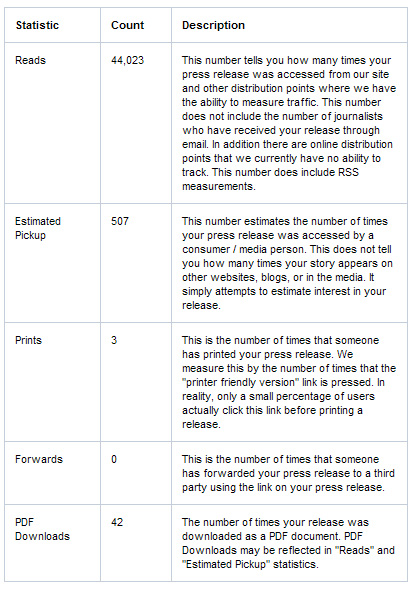 So, it looks good, but unfortunately other than Yahoo, being indexed in news.google.com, and a few small worthless other sites, I received absolutely no coverage from my press release.
My conclusion? Well, I'm disappointed that I spent $169 with nothing to show for it, but perhaps there will be SEO benefits that I cannot see yet. Also, I understand that my story wasn't the best to send a press release out for.
I'm satisfied with the customer support though, and I'll definitely be trying out another press release soon. I'm not going to give up on issuing press releases after just one try. Also, there are many different packages you can try, some of which are SEO-related. Maybe I'll try one of those next time, and invest the $350 or so it costs to do that. Oh, there's even podcast/audio releases where you pay to get interviewed for 5-20 minutes over the phone, and then your release is sent out in audio/interview format. It's very affordable too.
So, what do you guys know of press releases? Maybe you could enlighten me with some information I could learn from… why was my release so unsuccessful? Etc.
Monkey See, Monkey Do
My friend, the ever-so-popular John Chow, who just announced making $7,011.05 from his blog last month, has an ongoing thread topic titled "Review My Blog". His simple but smart idea was to offer a backlink to anyone who reviewed and linked to his blog, on their blog.
I knew immediately what his plan was, and it made perfect logic. He was enticing bloggers to review his blog with the fact that he had a high Technorati ranking. For each person that reviewed his site and linked to him, he climbed up the echelon that is Technorati. So, it was a snowball effect: as more people linked to him, it increased his Technorati score, which made even more people want to link to him.
Aside from that, he also gets free backlinks for the search engines, as well as blog traffic through the reviews.
I'm going to have to copy his idea… it's just too good of an idea not to try. Nobody may review my blog, but I have to try anyways. Thanks John for the idea which I'm now going to steal, and remember, you still owe me lunch!
That being said, I'm hereby announcing that I'll link back to anyone who reviews my site, in an upcoming post. The review should be at least 200 words and can be positive, negative, or somewhere inbetween. You'll get the benefit of a backlink from my blog which is ranked 11,389 in Technorati, is PR5, and gets 900-1000 unique visitors per day. E-mail me at tylercruz@gmail.com with your blog's URL when you're done.
MMA Lookalikes
I'll end this entry with some comic relief. Members from my MMAForums.net site created a hilarious thread with MMA fighters and their lookalike celebrity counterparts. Here's the Digg link, if you enjoy the thread, please help Digg 🙂
Good luck and good earnings!
9 Responses to "My First Press Release"