April 17, 2009
Posted by Tyler Cruz
The following is a paid review and is completely of my own opinion and is not influenced by being paid. If you're interested in having me review your site or product, please view my advertising page.
One Theme, the company behind the popular premade WordPress themes, recently launched a new WordPress plugin called One Panel.
For those not already familiar with One Theme, it is a company that offers premium WordPress themes for sale. There are currently 4 themes to choose from: Default, Fun, Modern, and Professional, and each theme is structured to be fully customizable. While there are only 4 themes currently, One Theme told me that at least 1 new theme should be added each month in the future.
One Panel is a plugin that comes (apparently… it is not exactly clear on the site) with the One Theme license and makes modification, customization, and management of their themes incredibly simple.

With One Panel, users can do more than just modify the visual appearance or colours of their themes. For example, the Localization Tool allows users to easily change virtually any text or language string in seconds, and the Advertising Module effectively modifies the theme to seamlessly integrate advertising banners into the design.
While One Panel was created to work with One Theme's premium themes, it can also be used with custom-built themes as well, although the fact that any custom theme would need to be recoded in order to be compatible with One Panel makes that feature rather ineffective.
I recorded the following detailed screencast to show you just how One Panel works as well as why and how it can be useful. I also include some suggestions and recommendations to the owners and give my overall thoughts on the product:
Pricing
One Theme starts at $99, assuming you only plan on using it for one blog. First, you need to purchase a license ($60 for one), and then a theme. Each of the four themes available are priced at $39.
If you wanted to only purchase One Panel and not a theme (such as to use on your own custom theme for example), I assume that it comes with the license.
It is important to note that each installation of One Theme requires its own unique license key. So, if you wanted to run One Theme/One Panel on your 12 blogs for affiliate marketing, you would need to purchase 12 separate licenses. While there is a bit of a discount for purchasing multiple licenses, I personally feel that they could be improved (lowered).
One nice perk you get with One Theme though is free upgrades for life. This can be quite useful as more features and modules are added to One Panel in the future.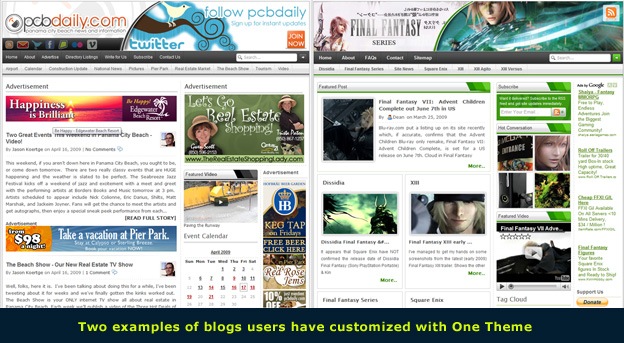 Official One Theme Video
While my screencast above is more of a review, One Theme created a video which is a comprehensive overview and tutorial of One Theme and One Panel
I found it kind of funny how my video ended up being 22:22 while theirs was 22:24:
Conclusion
Overall, One Theme is a nice WordPress product that is affordable at $99.
One Panel makes theme management and customization extremely easy and offers a number of additional modules that are useful as well.
The current four available themes are nice, but will still never compare to a custom theme. However, custom themes are not cheap and One Theme makes a very good alternative for those who cannot afford to spend the $1,500-$2,000 it takes to get a nice custom theme.
At $99, One Theme is certainly a viable option for anyone wanting a nice theme for their WordPress-powered blog.