January 12, 2008
Posted by Tyler Cruz
There are now only 3 days left (including today) to get your vote in for me before the competition between Gyutae Park and I ends. If you haven't voted for me yet, for whatever reason, please take the time to do so now!
The current standings are: Tyler: 7 14 Gyutae: 25 30
Gyutae still has the lead, but I made up some ground since my last update so all hope is not lost. We still have a chance in this thing, so don't give up on me just yet!
Upping the Ante
I knew this would turn into an ugly arms race; Gyutae has declared that he is now matching my 100 Entrecard credits, and so I'm now increasing my giveaway from 100 to 150.
Vote for Me and Win Guaranteed Prizes
To recap, 3 lucky winners will each receive $100 via PayPal from the loser of the contest, who we hope will be Gyutae.
In addition, for each person who votes for me, I'm giving out the following prizes:
100 150 Entrecard credits
A plug back to each blog that votes for me
Therefore, if you vote for me, you're guaranteed 150 Entrecard credits, a plug of your blog, and 3 chances to win $100 cash!
How to Vote for Tyler
The details of the contest and competition can be found in my original post, which includes the full details and rules needed to participate.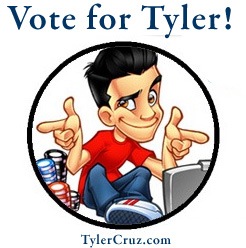 The contest ends on January 14th at 6:00pm Pacific (9:00pm Eastern), so make sure you get your "vote" in before then.
The Saint List
Since my last update on the competition, I've received 7 new votes. I'd like to thank:
Vote for Me, I Need Your Help!
There are still three days left, so lets turn this into the Tortoise and the Hare. With 3 chances of winning $100, a guaranteed 150 Entrecard credits, and a guaranteed plug of your blog, how could you refuse? Vote for me… please.
Posted: January 12th, 2008 under Contests