December 22, 2011
Posted by Michael Kwan
The following is a paid review for TylerCruz.com written and reviewed by Michael Kwan. It is completely of Michael Kwan's opinion and is not influenced by being paid. If you're interested in having your site or product reviewed, please view my advertising page
The world of affiliate marketing is increasingly competitive, especially when it comes to some of the most popular and lucrative niches. Payday loans are one such example, because there is so much money at stake. And if you want to make money in this niche, there is a new player in the game that could put a lot of cash in your pocket.
Boasting that it offers the "best payday loan affiliate program," LeadsMarket.com offers one of the largest marketplaces on the Internet to sell leads for payday loans. The buyers get their leads, the customers get their money quickly, and you earn a hefty commission.
Making Money By Offering Money
For the time being, LeadsMarket is focusing solely on its payday loan affiliate program, but there appear to be plans in the future for other verticals as well. If you take a look at the homepage, they are gearing up for offers in the flowers, mortgage, education, and dating industries.
Easily the most appealing feature that sets this affiliate program apart from the many other programs out there for payday loans is the commission rate. When it comes to the cash advances and payday loans, affiliates earn an impressive 90% revenue share. This means that LeadsMarket only takes a 10% cut. This is the revenue share you get right from the beginning without having to earn your way up to a higher tier.
Based on the Feedback of Real Affiliates
Rather than simply diving into things, the founders of LeadsMarket took their time to consult with thousands of affiliates to "understand what [the] best payday loan affiliate program should have." From this, they developed ten guiding principles. For instance, they promise that each affiliate will be treated as a true long term business partner, that only exclusive direct offers will be promoted to affiliates, and that affiliates get the "lion's share" of the "generous commission."
The Dashboard
Powering the LeadsMarket engine is a proprietary technology called Optimo. This has a self-learning algorithm that is designed to optimize the distribution of leads and maximize revenue for affiliates.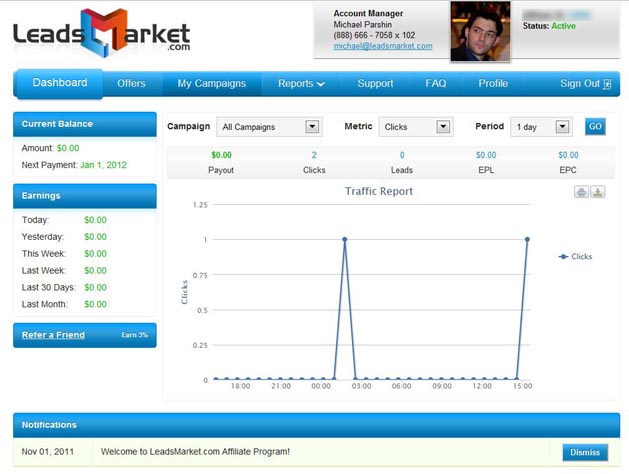 Signing up for an affiliate account with LeadsMarket is very easy. There is just a single page form that asks for you name, address, phone number, and website URL, as well as the marketing methods you plan on using. You gain instant access to the dashboard, as shown above, but the account itself does not become active until it has been approved. In my experience, this happened within 24 hours.
As far as the affiliate dashboard itself, the layout is clear and easy to understand. The traffic report features front and center with basic metrics shown above it. There are pulldown menus to bring up other reports. Along the left side is information about your current balance and earnings, while up top is all the primary navigation.
You'll also notice that every affiliate is assigned a personal account manager. This account manager can be contacted via email or telephone at any time. The "friendly affiliate concierge" brings a wealth of real experience him/herself and knows what it takes to succeed.
Creatives and Landing Pages
LeadsMarket is designed to give you as much flexibility as possible to promote the payday loans offer, as well as any other offers they may have in the future. This includes marketing via email, PPC, banners, mobile, pop-ups, and pop-unders. You can also promote via social networking and job listing sites, but you must first get the approval of your affiliate manager.
Digging into the creatives, LeadsMarket aims to provide as much support and updates as possible. This means you can send traffic directly to the websites via banners, for example, as well as integrate the form into your own website for greater optimization and control.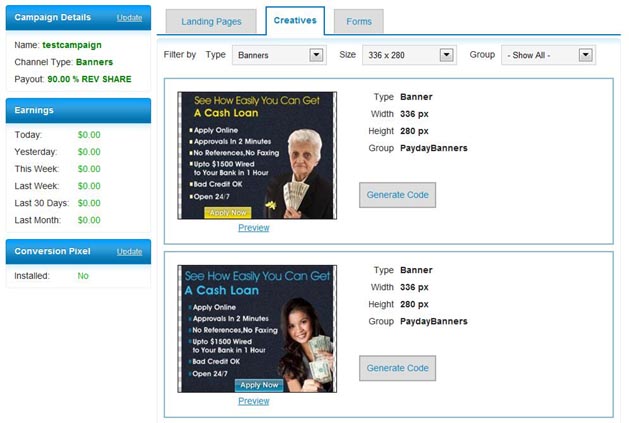 For instance, I can send visitors directly to a predesigned landing page and these leads could then be captured. You could easily embed these landing pages in iframes on your own custom URLs and domains so that you can hide your affiliate ID. There are also a range of text emails and banners of varying sizes, as seen above.
Reports and Payouts
Naturally, LeadsMarket is also set up to provide you with comprehensive reports and deep analytics. These reports are all provided with real-time data, allowing you to get information for specific date ranges and for specific domains.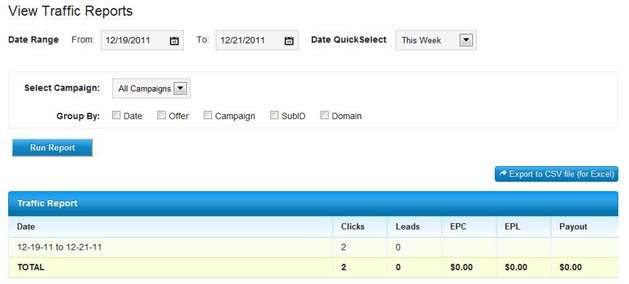 This is relatively simple at the moment, because there is just the one affiliate offer on the table, but you will have the ability to crunch the report down based on campaigns when there are more. You can also group by date, offer, campaign, subID and domain.
The payout structure is fairly standard. LeadsMarket pays out on a net-30 schedule, meaning that you will receive your commission for the month of December around the end of January. You will need to reach a minimum of $100 in revenue to generate a payment. For now, it appears that payments are only available by check, wire transfer, and direct deposit, though the FAQ also mentions PayQuicker, Payoneer, and PayPal. Top affiliates can request a more frequent payment plan.
There is also mention of an affiliate referrals program where you earn a 3% bonus on all commissions generated by the affiliates that you refer, but the link in the dashboard for "refer a friend" simply directs me to the "create new campaign" page. Presumably, the referral program will be a new "offer" added at some point in the near future.
Click here for source link.
Conclusion
It is generally easier to sign up for a couple of affiliate networks and have access to the widest range of affiliate offers possible. However, this does not necessarily provide you with the most flexibility, the best affiliate support, or the most lucrative opportunities. And that's why something more focused like the payday loan affiliate program from LeadsMarket might be a good fit as part of your overall Internet marketing portfolio.
The high level of support is welcome, the 90% revenue share is astounding, and the flexibility of promoting the offers is greatly appreciated. If you're interested in getting into the payday loan and cash advance niche, this could be the way to go.