April 13, 2009
Posted by Tyler Cruz
On April 1st, PublisherChallenge launched its biggest affiliate marketing contest to date by partnering with the new affiliate network PeerFly to launch the PeerFly Huge Giveaway.
This competition has the highest guaranteed Main Category prize pool of any prior competition hosted by me or on PublisherChallenge, with a total of $3,000 up for grabs. As usual, there is no minimum prerequisite required to compete in the Main Category.
In addition, PeerFly has upped the ante on the VIP tier prizes and has increased the prize values of them significantly as well.
Some of the prizes for the competition include two VIP Las Vegas trips, 2 electric scooters, a 52-inch HDTV, and a Macbook to name but a few.

A Quick Introduction to PeerFly
PeerFly is a brand new affiliate network at only 3 months old which is already off to a great start. It is owned by an ex-super affiliate which means that he knows what affiliate marketers need and like in a network.
They run on 100% custom-programmed software and not on DirectTrack so it is fast, smooth, bug-free, and easy to work with. They also have some nice features such as true instant reporting and access to Postback URLs.
PeerFly offers weekly-wires to larger affiliates and can match or beat any street payout other networks offer.
The Competition is Weak!
While PublisherChallenge already managed to sign up 44 affiliates to PeerFly by itself, I'm also posting about the contest here since the competition has been very weak so far. This means that you can win some awesome prizes for very little effort on your part.
Let's take a look at the current standings: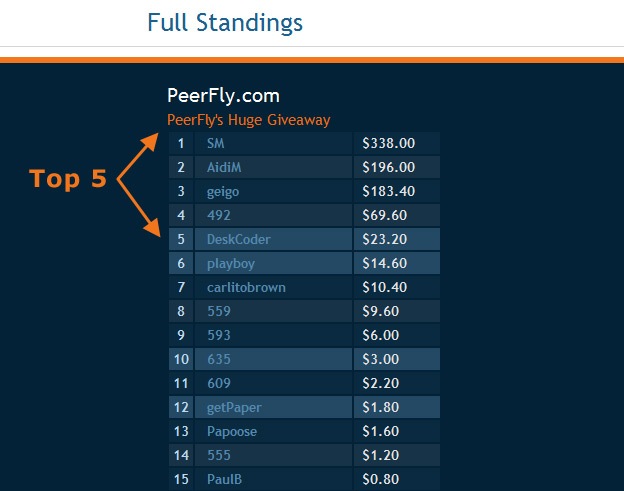 13 days into the competition, 1st place is at $338 and 5th at $23.20, with 17 more days left to go. While I'm thankful for the contestants who have been competing thus far, I'm also quite surprised there hasn't been more action with all the awesome prizes up for grabs.
For example, 1st place in the Main Category (no minimum prerequisite required remember) is an Aluminum 13-inch MacBook worth $1,300. The guy currently in 1st place, SM, is on pace to finish the competition with $780. Assuming he ends up winning, he'll be winning a $1,300 prize which is nearly double what he earned from his own commissions!
I don't like to oversimplify affiliate marketing to make it sound super easy as it's not, but really all you need to do is run a break-even campaign at $50 a day  to take home a brand new Macbook. If I could compete in this competition myself I definitely would as I could actually use a Macbook myself.
The Macbook is just one example though. Hell, 4th place is a Nintendo Wii Friends Bundle and 4th place is only on pace to finish $160 for the month! That will be a pretty sweet prize for only generating an average of $5 a day.
Here are the all the prizes up for grabs:
Main Prize Category
1st Place: Aluminum 13-inch MacBook
2nd Place: PlayStation 3 Rock Band 2 Package
3rd Place: Xbox 360 Elite Gamer Bundle
4th Place: Nintendo Wii Friends Bundle

5th Place: 16GB iPod Touch

VIP Prizes
$25,000-$49,999.99 Tier: Sony VAIO Duo Core 17-inch Laptop

$50,000-$74,999 Tier: Sony Bravia 52-Inch 1080p LCD HDTV
$75,000-$99,999.99 Tier: Two Electric 1500 Watt Scooters
$100,000-$199,999.99 Tier: VIP Vegas Trip for Two for 4 nights

$200,000+ Tier: Epic VIP Vegas Trip for Two for a Full Week

Recap
The PeerFly Huge Giveaway competition runs from April 1st, 2009 (12:00 AM Eastern time) to April 30th, 2009 (11:59 PM Eastern time).
The process of the competition is simple: publishers register to PeerFly under PublisherChallenge's referral link and then proceed to make as much money as they can until the competition ends on April 30th, 2009.
Check out the competition details here.
Good Luck!