December 7, 2010
Posted by Tyler Cruz
Where have I been? I only made 3 posts in November, and my last post (written by me) was back on November 17th.
Was I on vacation? No. Was I sick? No. Technical problem? No. Was I gaming? No. In fact, I haven't played a single game (not even Tic Tac Toe) for a month as a personal challenge to myself to see if I could, and as a method of freeing up time to work more and get caught up on work.
I've been here the whole time. Apart from adding a 4th night of badminton to my week a couple weeks ago and watching more movies than usual (to compensate for my gaming ban), I've been working. Just not on my blog.
It wasn't a deliberate choice… more just a lack of time. I had a lot of e-mails pour in over the past 2 weeks, and just a lot of things going on.
Below is a summarized update on my various projects and what I've been focused and working on lately, in no particular order:
Endless E-mail
E-mail has always been a huge time whore for me, but it's been extra bad the past couple of weeks. I devote a good share of my working time to tending to e-mail, and I still rarely ever get caught up to all the e-mail in my inbox.
I'll take care of 30 e-mails in a morning work session, only to see 35 new ones by early evening. And these are actual, legitimate e-mails too, not spam or simple notification type e-mails.
Payroll Set-Up Change
A few days ago I contacted the company that handles my payroll and had them "cancel" my main account. I was manually doing my payroll each month, which wasn't that big a deal. It only took 5-10 minutes of logging onto their website once a month and initiating next month's payroll. But it also meant that I had to remember to do this each month.
It was also rather a pointless manual task since I always paid myself the same salary each month. So I just finished signing some new papers with them and set up a type of "automatic payroll". I still have a couple more things to go over with them before it's up and running, but basically my payroll will now be automatically processed each month at a fixed monthly salary.
It's a minor thing, but it does automate 1 more task that I have to remember to do each month. The new automatic payroll processing will start in January 2011 onwards.
I also did my year-end for this year and received my T4's the morning after. I remember that clearly as the courier came to my place at 7 in the morning… ugh.
RobotWarz Updates
RobotWarz is still slowly progressing, and unfortunately I have nothing new to show you that you haven't already seen before.
The basic framework of the "Operations" module has been completed, which is shown in the screenshot below: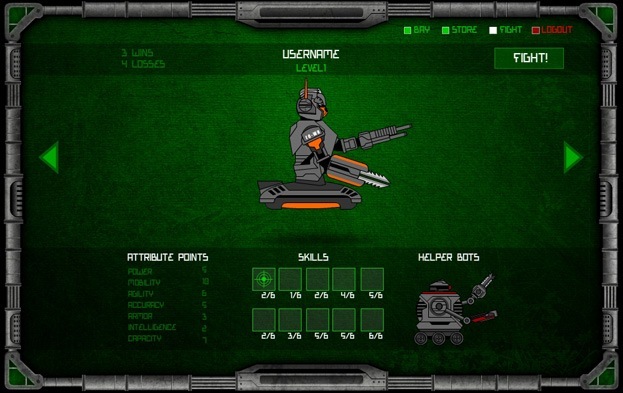 Work is now being focused on "stitching" together the various modules that have been completed so far. Up to now, each different area or screen of the game was built in separate modules which only comprised of the features of that particular module. These are now being hooked together to make what will resemble the final game.
The Arena, which is the module where the bots actually battle, is still not done, but I assume that will be worked on once the main stitched-together portion is completed.
I actually received the first iteration of the stitched-together version last night, but it has a bunch of bugs which need ironing out first. It also has very slow loading times when you switch from screen to screen, so we're going to have to need to have some type of prelaunch preloader set up.
Once the bugs and loading times are fixed and the Arena is finished, we will be very close to an early Alpha version of the game.
Started SEO Campaign with New Company
Last week, I set up a 2-keyword campaign with a new SEO company. I am very interested in trying this company out as they only charge based on results. Basically, you pay for your position.
For example, if you're ranked 25th for "cat nip" you might have to pay $40 a month, then when you're #4th you'll have to pay $230 a month.
It will also be good to compare this company's results with the SEO guy I am currently using for my other campaigns.
My friend has only been using this company for a few months now and is already ranked #29 for his keyword, so it's working well for him so far.
I will be doing an in-depth post on this company (where I will reveal their URL) soon, so be on the lookout for it. I think it will interest a lot of you.
Quick SEO Update
I will be publishing my second SEO Case Study post next week, so I won't divulge too much information here.
This is my 6th month with my SEO guy and I am still seeing mixed results. If I hadn't hired him, I wouldn't even be ranked in the top 1,000 for my targeted keywords on my affiliate site, and now I'm in the top 100 for 7 out of 8 of them in Google.
I also made over $200 from my affiliate site in November via SEO, which actually pays for the SEO work on that site and means that I actually broke even and am on my way to a profit.
On the other hand, it has been nearly 6 months and I was originally told that I should be in the top 10 for all 8 of my affiliate site's keywords by now, and I'm not.
Also, I have not seen any improvement on my movie site's keywords in a few months now, which is not encouraging.
And over the last 4-5 weeks I've pretty much plateaued overall for both sites or slowly dropped in ranking, so I'm going to need to see some positive results soon or I may very likely have another SEO guy take over who was recommended to me.
Movie Vault Updates
I've been working on a huge contract deal on Movie-Vault.com with a new start-up over the past 6 weeks or so. I won't reveal what company that is until everything is set up on the site, but it's pretty exciting.
I spoke to the vice president and CEO on the phone and we're working on a symbiotic relationship which should help both of our sites flourish. We have all the unofficial agreements drafted up, and are now just waiting for their lawyers to conjure up the official contract sheets.
In other Movie Vault news, we will be attending the Tron: Legacy red carpet premiere on December 17th and providing video interviews of the cast and crew.
We have awesome content. Now I just need to figure a way to get the site noticed by people and drive traffic to it. Right now my only method of driving traffic to the site is via SEO.
New PokerForums Partnership
I am currently in negotiations with an online poker coaching membership website and PokerForums.org.
We are discussing an integrated partnership together which would be very beneficial to both of us. PokerForums.org (PFO) would promote their coaching program and possibly provide some forum integration, while they would in turn promote our forum and have their high limit professional players post on our forums.
We are also entertaining other ideas, such as offering private forums that are available to all members of the coaching program, in which users can get actual direct responses to their questions and analysis of their hands, etc. from the pros.
I won't disclose the names of the pros here just quite yet, but one of them is a well known pro that you've all seen on TV many times. The others are online pros who have won many large tournaments and play as high as $100-200 NL and $200-$400 NL. For those of you who aren't that familiar with poker, at those limits it is not uncommon to see pots as high as $100,000 and over.
We are still in negotiations in this, and it may be a bit of a slow and gradual process integrating together if we do go ahead with this, but this deal certainly has a lot of potential.
This could just be the ticket to ignite to get PFO going again.
Premium Domain Searching
I had been spending a lot of hours over the past few weeks searching for good-to-premium keyword-rich domain names.
I had been looking for a good domain or two that I could invest in, with the intention turning it into another affiliate website and running a new SEO campaign for it.
Unfortunately, I couldn't find any decent domains for sale that people were willing to sell at a reasonable price, and I was paying up to $5,000 or so per domain and still couldn't find anything.
It's really too bad that I just missed out on the perfect domain a few months back. I honestly believe that I would have made so much money if I was able to grab it.
Since I spent far too much time searching for product and affiliate-based keyword related domains and came up with nothing, I have since stopped this aggressive search. I'll now just keep my eye open for them in the future if I happen across them.
PublisherForums $7,000 Contest
I have also been busy with the huge PublisherForums contest that is still running.
I've been posting a lot on the forums, helping to keep the threads going and just to make a presence, since this is something that I didn't do in past contests. I've also been contacting other bloggers and internet marketers to help spread the word.
If you haven't checked it out yet, be sure you do. Right now, there is only 1 guy who is on pace to win a prize… by default no less! He has only been posting around 5 posts a day on average since the contest started, and now it looks like he's going to walk away with a prize package worth $2,163 for his efforts.
There are still 24 days left in this competition, so you still have plenty of time to sign up and make an appearance! I can honestly say that if somebody else was hosting this contest that I would personally compete in a second.
New PublisherChallenge Competition and Improvements
I've been so busy and preoccupied with all my other projects that I haven't had time to focus on PublisherChallenge. In fact, it's been exactly 1 year since we held our last competition!
PublisherChallenge has referred over 700 affiliates who have generated just shy of $1.3 million dollars and we've given away $30,000 in prizes. Looking back at it, the site was really a huge success, so I don't know why I just suddenly forgot about it and neglected it.
The good news is that I'm working on a brand new competition which I hope to run during January. It is a new ad network (from a company who has several other ad networks) that will have some awesome prizes up for grabs.
What makes this competition different from all the others is that you don't have to be an affiliate marketer to compete! As long as you have a website, whether it be a full-blown huge website, a gardening forum, or a basic blog, you can use this network and make money by adding a simple Javascript snippet to your website.
We are currently working on integrating this network into our site and organizing the prizes.
In addition to the upcoming competition, PublisherChallenge also has some new features underway, one of them being the addition of a blog and news section.