January 31, 2009
Posted by Tyler Cruz
I was really hoping to launch PublisherChallenge on February 1st, but unfortunately I will not be able to. The launch date was always ambitious and tight, but I really wanted to aim for it as launching on the first of the month would have been ideal.
The development on the site is progressing, but the rate of progress slowed down quite a bit this week due to the transitioning over of using dummy data to the real stuff. We have this working, but there are a number of bugs that need to be ironed out as well as a few new features and improvements that I added on at the last minute.
I could probably have kept my original launch date and had the programmers cram the most important things in at the last minute, but I don't want to launch a site that is buggy and not complete.

In my last updated post, I mentioned that the site was around 65% done at that time. I'd now estimate that PublisherChallenge is around 80% done. I've set a new launch date for February 7th which gives us an extra week to work on the site, but even so, it will be close. In fact, I wouldn't be surprised if I had to delay the unveiling again until the 15th, but the 7th is definitely doable.
The programming may be finished by then, but then comes the arduous task of adding content to the entire site, which will inevitably take me some time to do.
So What About the Competitions?
Since PublisherChallenge won't be launching for another week, I'll be temporarily running the Affiliate Marketing Competitions on my blog again until PublisherChallenge is up.
I had originally planned on launching the site with 3 competitions from 3 different affiliate networks, but one is taking a break for a while and the other wants to see how the site does in February before hoping to run a huge one in March.
I can confirm that MarketLeverage is back, and another network I haven't promoted very much yet really wants to run one but I need to determine and confirm the rules and prizes with him. The CEO has been very hard to get a hold of lately, so I'll need to discuss things with him within the next 24 hours or we'll have to wait until March.
Here are a few more screenshots to hold you guys over since I had to delay the launch of the site. I'm sorry for the delay, but a week will pass before you know it. Time sure does seem to fly by for me!
Profile Page
An updated screenshot of what the profile page looks like. Adding commas and the dollar sign to the graph numbers is in the works.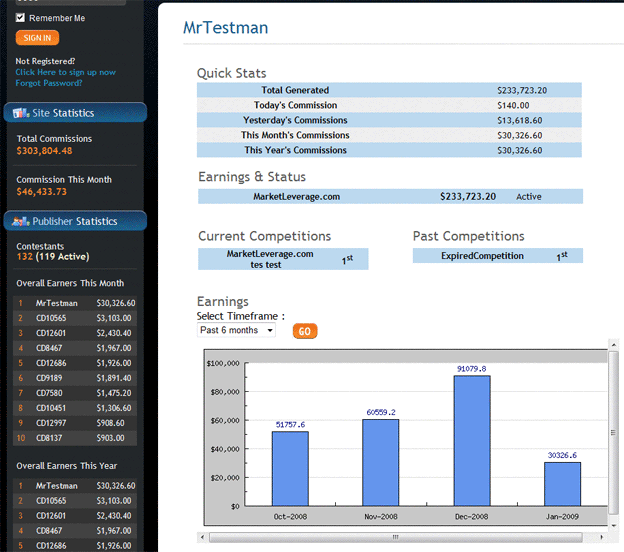 Past Competitions Page
This area will grow as more past competitions are displayed, but this is basically it.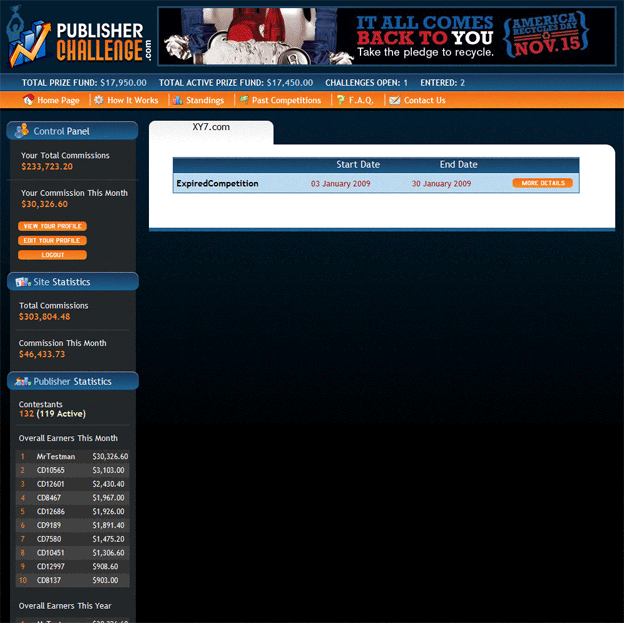 Admin Area
I haven't shown any screenshots of the administration area so I thought I'd provide one.