October 3, 2007
Posted by Tyler Cruz
Another month has passed since my last PublisherSpot Update post and like last time I'm going to try to fit both the regular updates as well as the earnings into one post.
New Reviews and Improvements
Unfortunately, I didn't get much work done on PublisherSpot last month. My elusive programmer is still elusive, and so the new features I've had planned for a while now will have to wait for another month or so.
However, I did get two new reviews done: AdGridwork and LeadsByVideo. That brings the total ad networks reviewed on PublisherSpot to 22, so the number is definitely growing, albeit slowly.
I'll have another review done within a few days since they purchased a paid review on my blog, and I usually try to add a review on PublisherSpot at the same time to kill two birds with one stone.
By the end of the month I hope to have reviewed another network as well.
Hmm… I miss my programmer 🙁
Income Report
Ah, now the fun part, the earnings!
(As usual and as a disclaimer, the numbers below are not 100% accurate as many ad networks don't let you view reports by date, so some of the ad network's data may be off by 1-3 days depending on the day I recalculate them. In addition, some of the referrals may have originated from my blog and not PublisherSpot, since some networks don't offer separate tracking codes.)
Click the image below to view it in full size: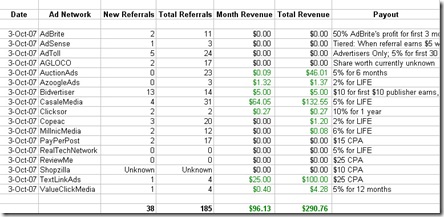 I managed to sign up 13 referrals with Bidvertiser last month, but this must have come from my blog when I posted that they were giving out $20 free.
Unfortunately the affiliate manager of Shopzilla hasn't contacted me with any reports when he was supposed to, so I'm unsure what is happening with that.
All in all, I've signed up a total of 38 new publishers in September. That actual number is higher, but I'm not including the ad networks in my post that don't pay out in cash. For example, there are some referral programs that pay out in free ad space.
September netted me nearly $100 from PublisherSpot, which I'm pretty pleased with. However, it's still a far ways from reaching it's potential, so it will be interesting to see how it fares in the upcoming months.
Perhaps the most notable data in the image above is from Casale Media. PublisherSpot managed to sign up 4 new publishers, and I made $64 in September. Now, this makes me very excited for several reasons.
First, Casale Media pays 5% for life. Very few ad networks pay for life, and the ones that do are almost always affiliate networks. This means that as long as my referred publishers stick with Casale Media, that I can expect to receive this residual income forever.
Secondly, the residual income from an ad network that pays for life is, in my opinion worth multiples of what it'd be if it came from almost any other source. For example, if I put up a new banner on one of my sites and charged $100 a month for it, I'm not actually getting that $100 for free as I'm trading value web estate for it. But with residual income from an ad network that pays for life, I can expect that income to come to me regardless of what I do, as long as my referred publishers make money.
I'm now averaging $2 per day from Casale Media, and yes, that may sound ludicrously small and pathetic, but that's $60 I'm getting a month now doing absolutely nothing. And I'm not trading in valuable space on my websites for it either. That's over $700 a year I'm getting for absolutely nothing, as long as those publishers continue to use Casale Media.
Casale Media loves it too, because my referred publishers are now making them $300 profit each month (Casale takes a 30% cut, so [$60*20= $1200(total publisher income) * 0.30 (Casale's cut) – 0.05 (My referral cut) = $300).
Lastly, I love that my referrals with Casale Media are doing well because Casale is actually one of my favourite ad networks. Out of all the ad networks reviewed on PublisherSpot thus far, the top 5 I'd recommend (in no particular order) would be:
1. Casale Media
2. Tribal Fusion (I wish they had a referral program :()
3. AZoogleAds
4. Text Link Ads
5. ValueClick Media
So it's nice that one of my favourite ad networks is doing well on referrals because it makes it a lot easier for me to really support them and encourage users to use Casale Media.
So how about it? Check out Casale Media, and join so I can try to increase my daily referral average up from $2 🙂
Read our review of Casale on PublisherSpot, or Google for some other reviews. They are a great CPM ad network that are amongst the highest paying as well, and have a large advertiser base.
Anyhow, that's my update on PublisherSpot. Hopefully my programmer will return soon so I can offer those new features, and I should have a couple of new ad networks reviewed by next month as well.