March 14, 2008
Posted by Michael Kwan
The following is a paid review and is completely of Michael Kwan's opinion and is not influenced by being paid. If you're interested in having me review your site or product, please view my advertising page.
Marketing itself as a viable AdSense alternative, RevResponse is not a CPC-based ad network. Instead, it grants publishers the opportunity to supply their site visitors with free business-related resources and each qualifying registration results in a set-rate commission for the publisher. In this way, RevResponse works on the CPA (cost-per-action) model of advertising.
Perhaps the most attractive aspect of RevResponse is that they guarantee a payout of $1.50 for each qualifying signup, subscription, or registration. At the same time, they mention that most advertisers offer more than this bare minimum amount and some are said to pay publishers $20 or more for each qualifying lead.

Features
There are many different business-related resources available through RevResponse and the key is that they are all free. When a visitor signs up for any of these services or downloads any of these resources, the publisher gets paid. The resources range from podcasts and white papers to real magazine subscriptions. Bear in mind that these resources are very much business-related, so publishers will not have the opportunity to give away copies of Cosmopolitan, GamePro, or Reader's Digest. They will have access to Profit Magazine, Website Magazine, and Aviation Maintenance, for example.
The magazines and downloads are broken down into about 30 different industries. This offers a fair bit of versatility, especially given the range of industries represented by RevResponse. Some examples include: agriculture, automotive, computers, education, finance, government, human resources, information technology, multimedia, retail, telecom, and transportation.
The different advertising formats, which are discussed in greater detail below, are reasonably versatile as well. In addition to the usual assortment of banner ads, RevResponse also offers pre-written promotional paragraphs, text links, and a unique Flash widget. Select publishers are also provided with a co-branded website filled with affiliate links.
Control Panel
The control panel on RevResponse features navigation to the various sections along a life-aligned sidebar, which is broken down into a few sub-sections. Each of these sections offers about five links, but it may not be immediately obvious to all publishers where they should go in order to access certain information. For example, acquiring the ad code is found by clicking "Promote", which is under the "Primary Links" section. It would be better if the ad code acquisition tool was featured more prominently.
The first section of the sidebar has no true heading, using the publisher's username as the sub-category name. From here, a publisher is able to access the RevResponse contact form, adjust his or her subscriptions to various RevResponse update services, check the recent posts in both the blog and forums, create their own forum topic, or log out of the administration panel. In all likelihood, most publishers will make very little use of this first section.
The Primary Links section, as its name implies, is where the most useful links are found.
Feedback: Another way to submit a forum topic, mostly for assistance with RevResponse implementation and optimization
My Account: Edit contact, profile, and payment information
Promote: Create RevResponse ad code for implementation on websites, blogs, email lists, and so on. More on this in the Ad Types and Formats section below.
Blog: Updated sporadically, usually every 3-4 days.
Forum: Further broken down into eight different forums – News, Introduce Yourself, Open Forum, Ask the Admin, Promotion Suggestions, Technical Issues, Reports & Earnings, and Suggestions.
The last major section is Reports. Publishers can generate reports that can be viewed either online or downloaded as an Excel spreadsheet. These performance reports can be generated based on time period, offer, or site. Each of these provide fundamentally the same information – Subs/Leads, Rejects, Reject %, Earnings, and eEPF (effective earnings per qualified form submitted) – but arranged in a slightly different way. It is unfortunate that the number of page impressions is not recorded. As a result, it is not possible to derive a click-thru rate (CTR) from the RevResponse administration tool. In addition to these reports, there is also the monthly summary report, which is generated once a month.
Ad Types and Formats
RevResponse essentially offers three different types of advertising to their publishers, but they come in slightly modified versions depending on your application: ad banner, text/paragraph, and Flash widget.
The ad banners are available in eight standard sizes and nine different color schemes. After selecting these two characteristics, the publisher can also choose whether to display text only or to have each featured publication accompanied by a large image. The two remaining options are to select an industry and to choose whether to show magazines only, downloads only, or both.
The text and paragraph options are very well suited for use in email campaigns, but they can also be implemented on blogs and websites. Publishers can choose to create their own content, embedding a specialized text link ad, or they can select a pre-written paragraph promoting a specific magazine or download. Naturally, the publisher has the option to edit these pre-written paragraphs as they see fit.
The Flash widget is probably the most unique advertising format available through RevResponse. Although it can function in a similar manner to a standard ad banner, the Flash widget is fully interactive. Site visitors are able to browse the various selections and even navigate between industries. The widget is available in three sizes: 120×240, 210×240, and 300×250.
In addition to these three main ad formats, RevResponse also offers a co-branded website through TradePub for selected publishers. They take the basic appearance of the publisher's original website, including the header and color scheme, and then integrate the RevResponse catalog where the regular content would be. Presumably, any registrations or subscriptions made through this co-branded website would also qualify for affiliate commissions.
Below is a screenshot of this in action on my other website PublisherSpot.com. I did none of this myself – they took my website, essentially "cloned" the appearance, and set it up to run their ads: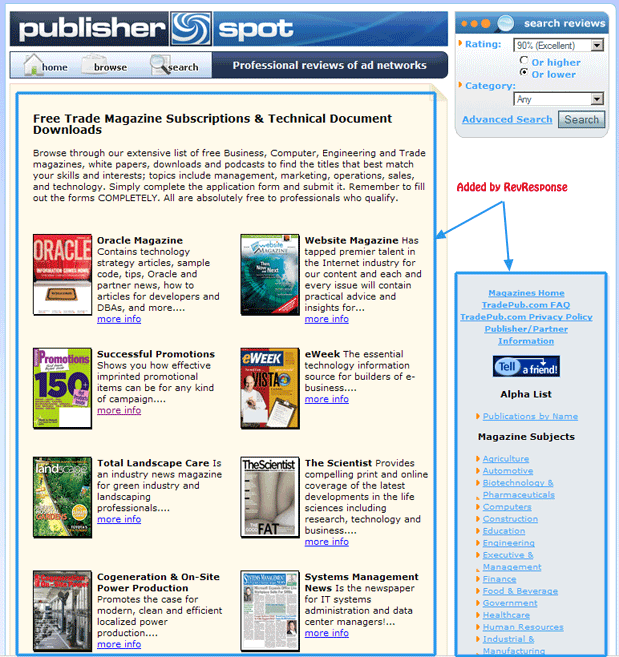 Registration
Registering as a publisher with RevResponse is a fairly straightforward process and they do not appear to have any traffic requirements. A standard application form must be filled out, after which an initial message will be received by the registrant's email address. It is important to check the spam folder, because this message and ensuing messages are known to get caught by spam filters. A confirmation email, informing the publisher of their successful application and providing key account information, typically follows within 24 hours.
Technical Support
Customer support is very good at RevResponse. Depending on the time of day, some publishers can receive a near instant response from a representative. Alternatively, technical support can be sought through the forums. In addition, each member may be assigned an account manager to further help them with implementation and optimization of RevResponse on their respective websites.
Payment
By default, RevResponse pays by a check in the mail in US currency. The minimum payout level is $25 and they work on a net-45 payment model, meaning that money will be sent approximately 45 days after the end of the month where a publisher meets the minimum threshold. PayPal is also available, but only by specific request.
Referral System
The referral program pays 20% of the earnings that a referral partner generates for the first six months of their partnership.
Summary
For publishers of websites with business-related content, RevResponse could prove to be a lucrative alternative to traditional CPC or CPM-based advertising. Because publishers are able to offer free resources to their visitors, these endorsements may not necessarily be viewed upon as conventional advertisements and as such, more visitors may be inclined to click on the ads.
That said, many web users are not as inclined to fill out forms containing personal information, so publishers may not get to the point of having a successful registration or subscription. Without a qualified form submitted, the publisher does not get paid. The $1.50 minimum payout sounds attractive, but it is hard to determine what sort of conversion rate can be expected.
With a variety of ad banners, text-based creatives, Flash widgets, and co-branded websites, RevResponse is well positioned to offer free B2B (business-to-business) resources, both online and offline. It is up to the publisher to capitalize on this opportunity.