October 12, 2010
Posted by Tyler Cruz
It's been exactly one month since I last gave an update on the development of RobotWarz.com.
Unfortunately, the main programmer of the project got in a pretty bad traffic accident a few weeks back and injured his leg and foot pretty bad. He was able to do a bit of basic work from his bed at home, but was only able to get back into the office about 5-6 days ago.
As a result, there was not as much progress done over the past month as I would have liked, but the main programmer is back now and is trying to make up for lost time.
The "Bay" module is now compete and the "Store" module is currently around 85% done. The main functionality is there (including its setup with the administration area); there are just some small things that need to be polished and cleaned up here and there.
Below is a short video preview of the store module:
(Note: You may need to visit the post directly at TylerCruz.com if you're reading this via e-mail or RSS in order to see it.)
Players will be able to buy/sell 30 weapons (43 including Helper Bot weapons), 8 add-on's, 20 skills, and 3 different types of helper bots (which can be purchased numerous times).
Of course, more can (and probably will) be added in the future, once the game is finished and out there for a while.
So even though the past month was slow progress-wise, development is progressing nonetheless.
Once the Store module is completed, the next 2 modules that will be worked on are Credits and Experience Points/Levels. The hardest and most sophisticated module will undoubtedly be the Arena. That is where the actual battles take place and everything comes together, so I'm hoping it doesn't prove to be overwhelming.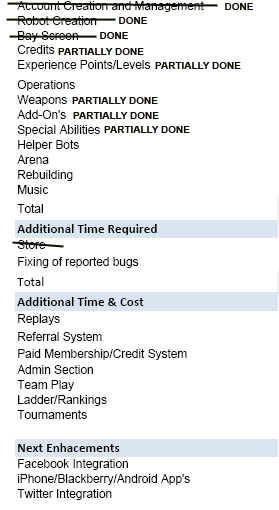 I also recently hired my trusty custom vBulletin skinner/coder to take the RobotWarz.com design and make a custom skin for the forum there. It should be done soon, and will then be a completely custom and themed skin complete with related buttons and icons.
I can't wait to see what I'll be able to share with you guys on my next update.