June 6, 2006
Posted by Tyler Cruz
No, I do not practice satanic worship, but I can't help but notice that today's date is 6-6-6 and all I've heard today has been good news.
Poker Affiliating Update
PageRank2
Bookmark Updates
Replayer Updates
Poker Affiliating Update

So I've been eager lately checking my stats every day on one of my poker sites I'm affiliating. I have been excited about this ever since I signed up a decent player.
I made $600 from him last month, and have already made $300 from him this month. The chart below shows my earnings from him with only 5 days playing in June so far:

That averages out to $58 a day or $1751 more a month if he stays on this trend. I'm really excited about poker affiliating now, and once I get my ginormous todo list out of the way, I'll definitely focus a bit more on affiliating.
PageRank2
I've received another paid plug advert, this time for the site PageRank2.com:
"PageRank2.com offers outstanding virtual show-girl dancing just like in Vegas. The girls are fast and hot, so are our cookies. We are able to deliver free steaming hot cookies right to your door, must be 18 or older to do so. But honestly, everything above is a lie, we do – though – offer impressive PageRank services as fast as our girls, and as hot as our cookies – So give us a chance and ya won't regret it."
So there you have it, now go make my advertisers happy and check out PageRank2.com.
Bookmark Updates
I've been back to working on Bookmark, and have found a number of interested parties in the past few days. What's good is that these individuals and companies are exactly the type of people that this domain is suited for: people who are interested in purchasing high quality generic domain names that do not infringe on anyone's intellectual property rights.
I've had a few offers from them already, one for $60,000, another one in the high 5-digit-range. But I'm waiting for offers in the $325,000 range still.
Oh, by the way, if you refer a person to me who ends up buying Bookmark, I'll give a 10% cut from my cut. (That's 1% of the final price; if the domain sells for $325,000, that's $3250 in your pocket I'll pay you.) So if you know anyone who may be interested, you may want to send them an e-mail 🙂
Replayer Updates
Ah, where to start? I had this whole big motivating speech planned, but I didn't get very much sleep last night so you'll have to settle for whatever follows.
In fact, I was up until 4am partly because I couldn't sleep, but also because I was discussing the future of Replayer with a poker player friend, and I started to again see the true potential of it all. I got excited about it again.
Below is the latest screenshot, with pretty much the finalized graphics of the actual Replayer. You can click the image to view the actual size: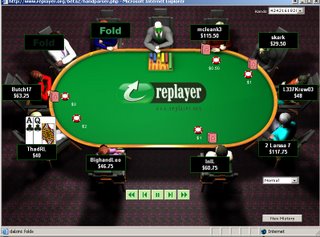 Now if that isn't sexy, I don't know what is. In fact, I honestly believe it to be among the top poker graphics out there in the history of the Earth.
It's also functioning just fine, being able to replay hand histories, replaying with sound and animation.. the whole nine yards.
Now work will focus more on the server aspect of it, allowing people to register accounts, send URL's to friends, etc.
I also have a secret little project I'll be working on with it which my friend helped me conjure up last night. It could be big. Very big.
I now have complete confidence in Replayer, and it will definitely be one of my major sites, if I don't sell it for $50,000-$100,000 before then.