February 28, 2011
Posted by Tyler Cruz
I've been alluding to this SEO company in my SEO Case Study post series lately, but haven't revealed who they are until now because I wanted to use them for a while longer in order to give you a more accurate overview of their results.
However, many of you have been very curious about what this mysterious "SEO Firm" is, and so I decided to finally reveal them today.
RankPay is an SEO service company that only charges after they have ranked you for your keywords, find different other services at www.scott.services. The pricing is set beforehand, and there are no set up fees. You only have to pay once you are ranked in the top 30 for Google or Bing/Yahoo, and pricing is then billed monthly.

Even if RankPay gets you up to the 31th spot on Google for your keyword(s), you will not be charged a cent when you use this SEO agency. Only once you are in the top 30 will you have to pay.
There are then 5 pricing tiers that you will pay based on your rank: 30-21, 11-20, 10-7, 6-4, and 1-3. Obviously, the higher your rank, the higher you will pay, but the pricing does not increase by very much.
What's nice is that if you're already ranked in the top 30 and want to get to the top 3, for example, you'll only be charged for improvement.
For example, check out the screenshot below:

The image above is RankPay's price (estimation) for 3 keywords to rank on TylerCruz.com. You'll notice that for "internet entrepreneur" that it shows N/A up to the 6-4 pricing tier on Google. That's because I am already ranked #5 for it, and so therefore don't have to pay for anything below my current rank.
It does, however, show that I have to pay for the 6-4 tier, but I think that's just their pricing estimation tool in play… I believe that if you contact support, they will tell you that they'll only charge if they rank you to 4th spot or higher, but you'll need to inquire in such a scenario.
I've found RankPay's pricing to be a bargain in most cases. Some keywords are priced very expensively ($3,000 for top 3), but if you try a bunch, you'll find some absolute steals. If you prefer custom outreach link packages, you can check out Freshlinks.
I've been using RankPay since December 1st, 2010 (3 months), and have already seen some results.
The image below shows some of the recent SEO activities that RankPay did to improve my rank: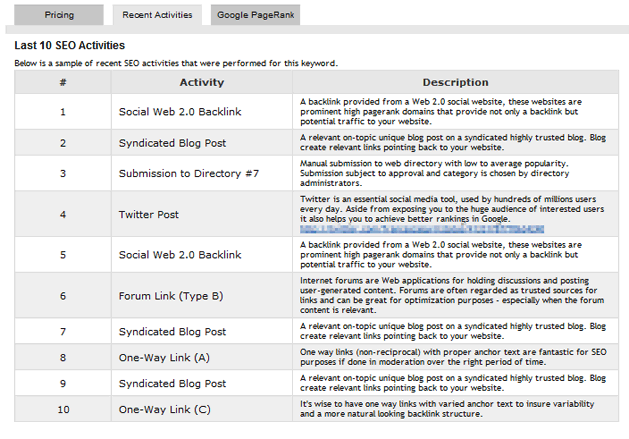 As you can see, they do a good mix of various link building efforts with Social Networking sites, blog posts, directory submission, forum links, Tweets, etc. I even saw them get me an .edu link once.
They aren't high quality backlinks on high PR authority sites, but I wouldn't expect that for their prices either, and I do like how they have a very good mix of sources. Still, I recommend to consult an expert in seo in toronto if you want better results.
They do not give the exact links except for Tweets, but they could be found out by using various SEO "spy" tools.
So as I say, I've been using RankPay for 3 months now, and gave them 2 keywords on my movie site to target.
The keywords are EXTREMELY competitive, with a combined total of nearly 6 million exact searches on Google each month, and 101 million and 61 million websites returned for each term.
I should also mention that the page I was targeting (as it wasn't my home page) was a brand new page that wasn't linked anywhere (not even on my site!) and had a PR of 0 (obviously).
A week ago, I was ranked #119 and #270 for these keywords on Google, which is pretty good after 3 months considering just how competitive the keywords are. I've since dropped out of the top 1,000 for both keywords, but that's not to be unexpected with SEO.
I'm curious what kind of results I'll see in the next couple of months. With both keywords being so high in traffic, I think I'll only need to get to page 3 before I'll start seeing traffic.
Below are some screenshots of my rank improvement over time for those keywords: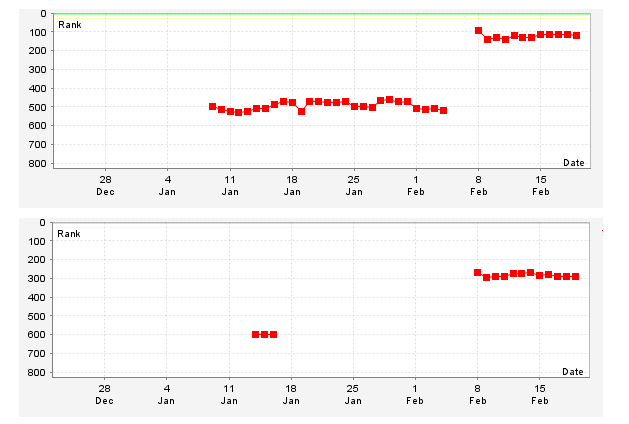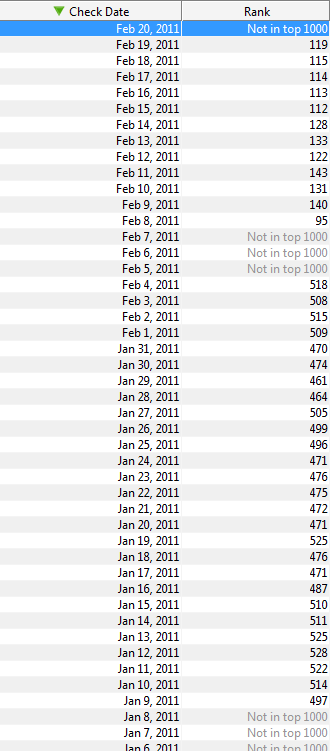 RankPay was introduced to me by a friend whose keyword is now ranked #21 on Google and #13 on Bing/Yahoo (wasn't ranked previously). In turn, I recommended it to a friend who ranked in the top 10 after only 2-3 months (although I hear it wasn't that competitive a keyword).
It's still too early for me to give a complete endorsement of this service, but so far I am satisfied with the results. After all, I haven't paid a single penny to them yet, and I won't until I'm ranked in the top 30+. I have another one to try which is seo ราคา ถูก ในไทย.
So, if you're looking to improve your rankings in the search engines but don't want to "gamble" with hiring a SEO freelancer with no guarantee of results, then RankPay is probably your best choice. You can also rely on the expertise of professionals on https://www.yourveganmarketer.com/small-business-seo-consultant/ to help you in your business ventures.
Instant $50 Credit
Sign up with RankPay and use the bonus promo code "TYLERCRUZ" to get an instant $50 credit in your account 🙂
If you sign up, please be sure to share your results with me as I'd love to hear about them!
Posted: February 28th, 2011 under SEO