March 31, 2013
Posted by Tyler Cruz
Tomorrow is April Fool's day, and while I've posted April Fool's jokes on my blog in the past, I decided not to post the one I had in mind for this year.
For the past two months, I've posted a recap of my affiliate marketing earnings of the previous month at the beginning of the following month. It just so happens that this would coincide perfectly with April Fool's day.
My idea was to write up a fake post, making it sound as real as possible (just like the the one from six years ago). The lie was going to be that something catastrophic happened to my campaigns, such as being banned from Facebook or having an advertiser go under and not pay me. I was going to write that I had finished March in the red by around $21,000 or so.
I was going to write it as convincingly as possible and let it sit for a day or two before posting my follow-up "April Fools! I Got Ya!" post.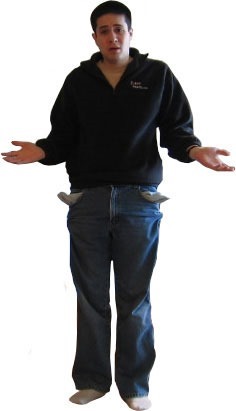 Why I Didn't
While I believe that I could have fooled at least 50%+ of readers, in the end I decided that it was in poor taste.
March was, in fact, very good for me (I'll have the real monthly report posted in a couple days), which was a surprise as I had predicted that it would be rather dire (see the "The Sad Truth About March" section near the bottom).
Affiliate marketing can be a major roller coaster, and things can and will change dramatically at a moment's notice, whether it be for the good or the bad. Writing a joke/fake blog post that I was banned from Facebook or screwed by an advertiser or network is in poor taste because these types of things do happen all the time! And they are absolutely devastating when they do.
While affiliate marketing is probably something like 70% hard work/perseverance, 20% skill, and 10% luck – the luck factor has such a strong weight to it when it does hit, that it's just not funny to joke about.
When bad things happen in affiliate marketing, they can easily cripple you instantly. You can go from making $50,000/month net to $4,000/month net overnight. This isn't just hypothetical – this happens to affiliate marketers all the time.
A killer offer can go down, a network can die, an advertiser can prohibit you from running their offers, competition can increase dramatically, a traffic source can ban you, offer terms and payouts can change, etc.
I don't want to make it sound like affiliate marketing is pure luck and chance because it isn't. Hard work is usually rewarded eventually, and skill and perseverance can battle bad luck when it arises. But that doesn't mean that bad things don't happen.
Ask any super affiliate, and I'm sure they can list off a number of devastating things that have happened to them on their campaigns – most of which were beyond their control.
In the end, basing an April Fool's joke on the fact that I was fortunate enough to have a good March but pretend that it was horrible instead, is just in really poor taste.
The Real Post
This post has been getting pretty depressing so I wanted to leave on a happier tone.
As stated earlier, I will be posting my real affiliate marketing report for March within a couple of days. Despite my prediction that the month would be quite bad, it actually ended up being a new record high for me. Weird, but I'll take it!
Keep an eye out for the post.