December 10, 2006
Posted by Tyler Cruz
Guess what? A scout from Alliance Atlantis motion pictures has requested my permission to write a movie based on my life. Titled Two Contracts in Two Days, the biopic follows…
Okay, just kidding. Obviously. But hey, it captured your attention didn't it…
Bookmark Updates
TLA on TylerCruz.com
PublisherForums Contest
Bookmark Updates
It's been over a year since I had first mentioned my involvement with Bookmark.com. In November of 2005, I signed a contract which stipulated my role as broker for the domain.
I've worked fairly hard and contacted a lot of companies and indiduals during that span, however have not received an offer in the area my client and I are looking for.
Our contract expired recently and fortunately yesterday we met up again to resign a revised and updated contract.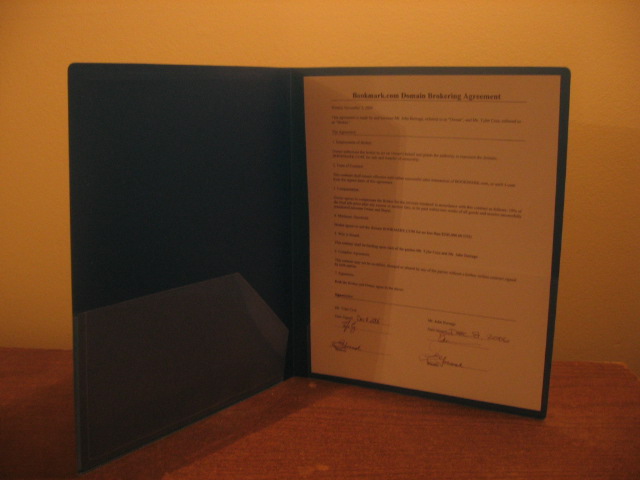 I've just listed the domain on Sedo and parked it there as well. It's already generating revenue from being parked and so I feel good that I can give the owner a source of passive income. I'm currently awaiting Sedo to answer my e-mails and to acknowledge that I've paid for premiums on their site for maximum exposure.
I must say that I'm pleasantly surprised as to the ease and effectiveness of parking domains. It takes mere seconds to actually do and you're instantly making money that you otherwise wouldn't be making. Aside from Bookmark, I also parked my domain Halflife.org. It hasn't been 24 hours and it's already made me $0.27. So let's say $0.30 a day. That's $109 a year. Buy 500 half-decent domains, and that's $55,500 a year. Subtract $4,000 (500 * $8) for registrar fees and you're netting over $50,000 a year from doing nothing. If that isn't pure passive income I don't know what is.
I've known about domain parking for a long time, of course, but things don't really hit home with me until I see proof of the pudding in front of me. This is definitely something I might consider getting into. I love domain hunting and buying, and I love passive income. Yes.. this is something I could definitely get into…
I must say that while Sedo has great reach and features such as domain parking, that their customer service is quite horrid; they do not have a phone number for me to contact and it's been several days and I haven't heard back in regards to my e-mails yet.
Nevertheless, I hold hope that Sedo bodes well for Bookmark and that the domain finally sells. Wish me luck.
TLA on TylerCruz.com
Just a small note here, but Text Link Ads finally sold a spot on my blog. I'm still annoyed that they set their price so high for my blog which is why there aren't more advertisers, but hopefully one day they'll improve their system.
If you look at the very bottom left of my blog, you'll see a text link for Income Tax linking to H&R Block, a large tax/accounting company. I found it interesting that it links directly to their site which means that they are actually SEOing their site through non-traditional means (for large companies).
My links go for $50 a month and appear at the very bottom of my blog, not noticed at all. Not too shabby if you ask me!
PublisherForums Contest
In my last blog entry I announced Something Major. As promised, here it is. Be forwarned, however, that the following is not official yet.
I will be holding a contest for PublisherForums. A big one. A Ginormous one.
How big? Let's just say that it will dwarf Lee Dodd's famous (or infamous) one for EarnersForum. At least in prizes it will.
How can I manage this? Well, I had somebody who is interested in me and my websites and asked if he could invest in any of my projects. A few weeks later after a bunch of MSN and ventrillo conferencing we have an agreed contract made up: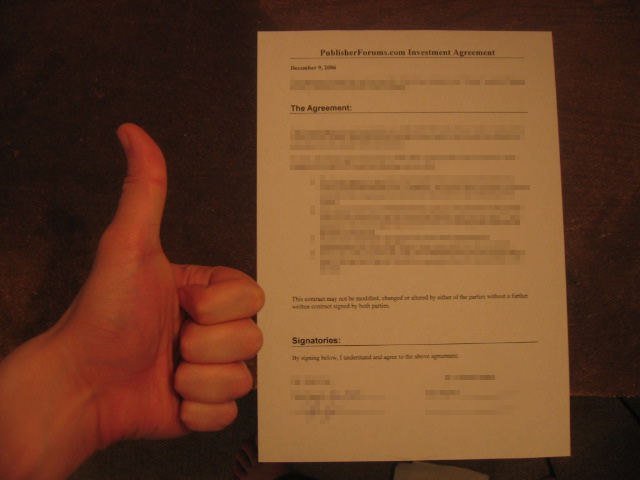 I won't be starting work on the contest or anything until I have the contract back signed by him and the cash in my account. I am infamous for getting too excited about things and getting my hopes up too high. I've been careful about that this time.
I just sent him my signed contract this afternoon so I should have his copy in a day or two at the latest. I then hope to have the money within 1-2 weeks.
If everything goes through well and the money is in hand, I will be putting forth a good chunk of change of my money as well for marketing and advertising the contest, including a press release.
Stay tuned on this contest. I have huge hopes and expectations for the contest, as I believe PublisherForums to be a great forum, but only lacking traffic and activity due to poor public awareness.
And don't worry, the contest will be giving away prizes based on many different factors; it will not be a simple highest-post count wins deal. Instead, it will be more of a 'highest quality poster with minimum of 200 posts' and 'best community spirit' type of deal.
Stay tuned! There's one massive PublisherForums.com contest coming soon (hopefully!).
That's it for now, hopefully by my next update I'll have the contest stated as confirmed.
Good luck and good earnings!