February 3, 2016
Posted by Tyler Cruz
It's actually been quite a while since I gave an update on Votesy. In fact, my last designated update was back on December 3rd, 2015, so let's get you up to speed.
A couple weeks ago I actually did a soft launch of Votesy… talk about soft, I didn't even blog about it!
And it turns out that the decision to do a quiet launch was sound after all, as there ended up being over 45 bugs that weren't discovered until the site went live, including some very critical ones. No matter how much you test things beforehand, there always seems to be some bugs that you never identify until your project is already out there.
Fortunately, all but a few lingering small bugs have since been fixed and the site is now running pretty smoothly.

No Mobile Support
The major drawback to Votesy at the moment is that there is absolutely no mobile support. While iOS and Android apps are planned for the future and will piggyback off of the site's existing API system, the site currently does not even render properly on mobile devices, so there is literally no mobile support at all.
However, it's a lot cheaper and faster to make the site useable for mobile web-based viewing than it is to develop apps, so I may have that done while the apps get developed so that people can at least use the site on their phones until then.
That being said, I am currently out of budget to develop the site any further, so it's really up to the site to excel from this point onward in order to help pay for its continued development or justify pouring more money into it.
Right now, I'm just happy that it's finally up and running.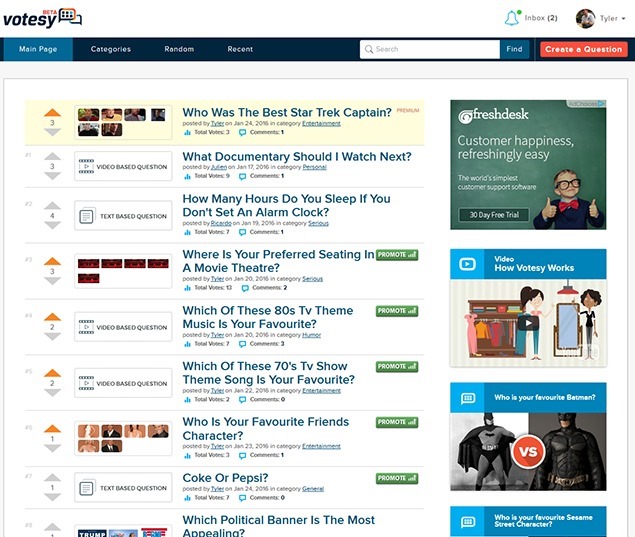 Promotion Efforts
With my focus over the past 2 weeks having been on tackling all the bugs and issues that were popping up (by the way, that is another reason why I was AWOL from my blog for a while), I obviously didn't want to start marketing or promoting Votesy until most of the bugs were fixed.
So, marketing efforts on the site so far have been fairly minimal apart from a Facebook and Twitter mention or two, and a couple of threads made on Reddit (which didn't gain any traction).
I am currently considering sending out a press release for Votesy, although I am not sure how press-worthy the site would be. I also have never had any successes in the past with press releases. I'm still considering it though.
Initial Reception
Here are the stats of the site so far (as of January 30th, 2016; I'm drafting this post a few days in advance of publishing it):

About 10 of those users are test accounts from me and the developer, but the rest are all legitimate and verified users.
With such a quiet launch, and with numerous setbacks (some of the bugs didn't allow people to register, create a question, or even load the site) I'm actually happy with these numbers so far. It will be interesting to compare them with the stats in my next Votesy update.
What's Next?
My goal now is to start getting the word out. I'm still on the fence about a press release, but I plan on contacting some websites and communities to share the news of the launch and communicate how Votesy could be of benefit to them.
It's all about getting the word out now.
So there you have it – Votesy has launched – please go check it out!