February 15, 2011
Posted by Tyler Cruz
So who watched IBM's Watson on Jeopardy last night? I recorded it on my PVR and was happy to learn that it was available in HD (not that watching Jeopardy in HD is a must or anything).
I don't know why they make Jeopardy only a 30-minute show. I know that airtime is valuable, but Jeopardy really needs 1 hour with all the commercials, introductions, and Final Jeopardy breaks.
Anyway, I was almost shaking in anticipation while watching it last night. I just find it extremely fascinating and interesting.
For those of you who didn't watch it, it was amazing. And funny, too. Actually, let me add scary to that list as well.
It was scary because once the game started, Watson leaped out of the gates in a fury, completely dominating his two esteemed opponents. The game was only about a minute in and Ken was at $1,600, Brad at $1,000, and Watson at $6,400!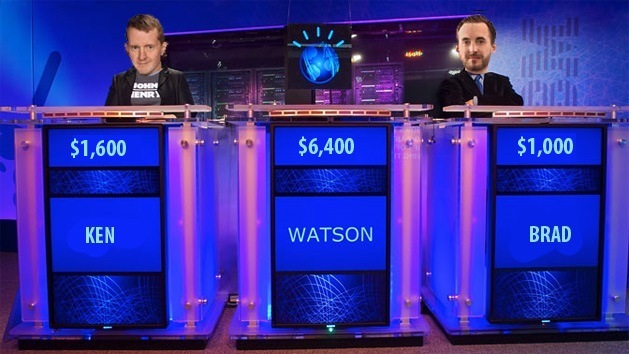 I started to feel a sense of gloom come over me… because it was really a bit scary seeing a computer completely dominate two of the best Jeopardy players in what is a very complex game. I mean, he was completely rolling over them.
But then, Watson made some interesting blunders. In one answer, he was supposed to respond with "missing a leg", but said simply "leg" instead, which did not get credited with the win. The question was:
"It was the anatomical oddity of U.S. gymnast George Eyser, who won a gold medal on the parallel bars in 1904"
It was a close call, but I think Watson might have gotten a bit unlucky there, because I think if it were a human contestant, Alex would have given him another chance to expand the answer.
On another question, Ken incorrectly answered "80's", and Watson then incorrectly answered "1980's". I don't think the IBM team has any way for Watson to know the incorrect answers… there wouldn't even be time for them to text it in for it to compute. This also would have helped Watson in the "leg" question, since Ken incorrectly responded with "missing a hand", and so Watson could have picked up on the "missing" part.
If a Watson 2.0 comes back on a future game, I think that IBM should try to build in a voice-recognition program that takes the other opponents incorrect answers into consideration. That would help it (ah screw it, I'm switching pronouns) him greatly – if not only to avoid saying the same incorrect answer as another opponent.
An interesting feature that Jeopardy included in the episode, which I wasn't aware was going to happen, was the posting of Watson's top 3 responses for each question, and how he weighted them. The game goes at such a fast pace that the overlay only displays for half a second before disappearing again, but you can kind of follow along to what Watson is thinking.
I personally don't really like this. It's fun for something like chess, but that's because you can analyze the consequences of such a possible move which will have impact on the game. Since Jeopardy is just Q and A (or A and Q) trivia, it's not as interesting. I think it would actually be more interesting if they didn't show this… Watson would be more mysterious that way.
Getting back to the first episode though, while Watson had a great lead, he stumbled a few times, losing some cash, and then Brad Rutter did well to catch up.
At the end of the first episode (which finished around 70% through the first set of questions), Ken was at $2,000, Brad at $5,000, and Watson at $5,000.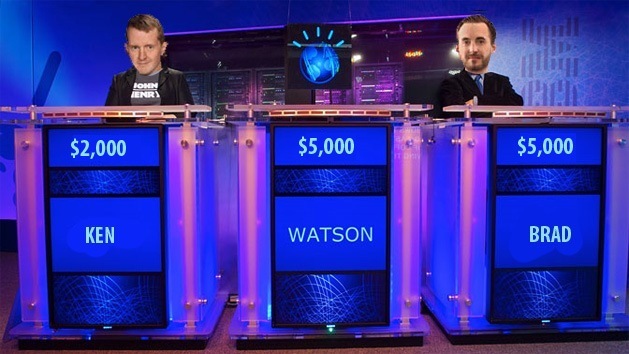 Watson made some mistakes and Brad caught up to tie him, but I still think Watson is going to end up winning unless he makes a huge mistake in Final Jeopardy. He is just too fast and accurate. That being said, I still also think that it will be a close game.
Who do you think will win now? Here's another poll (that will close once tonight's episode ends)that you can vote on, this time with the knowledge of the current scores:
Who will win the Watson Jeopardy match (after day 1 info)?
Watson (81%, 17 Votes)
Brad Rutter (14%, 3 Votes)
Ken Jennings (5%, 1 Votes)
Total Voters: 21

Loading ...
Below is a short clip from yesterday's episode, for those of you who missed it. Watch it while you can (before YouTube deletes it)!:
(Note: You may need to visit the post directly at TylerCruz.com if you're reading this via e-mail or RSS in order to see it.)