September 22, 2009
Posted by Tyler Cruz
A few weeks ago, PeerFly's Summer Challenge on PublisherChallenge came to a finish.
Paul Piotrowski, IMM on PublisherChallenge, ended up winning the top prize of the Main Category. Shortly after winning, he made a very detailed blog post revealing how he won and more importantly, how he planned to win.
Paul is an occasional guest poster here and runs the blog InspiredMoneyMaker.com. He is a huge believer and follower in personal development, self-improvement, and self-reflection (think Tony Robbins). Paul used various visualization techniques before he even started to compete in the competition, and in the end his visualizations came true.
Paul's detailed post is titled How I Manifested a Mac Book Pro For Free and I recommend reading since this post is really just a summary of his.
The PeerFly Summer Challenge ran for 2 months, but Paul kept procrastinating and hadn't committed to joining and participating until there were only 2 weeks left. This meant that everyone else had a 6-week head start on him. He took the following screenshot at that time, showing that he was in 90th place with only 19 days remaining.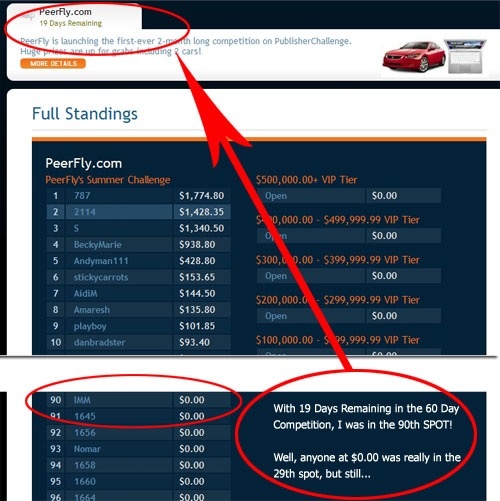 As you know, in the end he managed to secure first place. It wasn't easy though, and he had to work hard to push himself past his rival, 2114. But in the end he did it.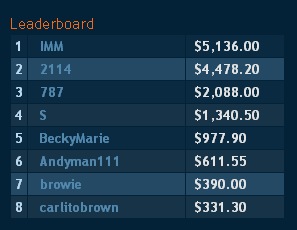 The following snippet from his post sums it up well:
"Things come up.  Life gets in the way.  You get busy with "stuff" and that's exactly what I did for two weeks!  I kept thinking about the competition but I wasn't taking any action towards winning.

Finally on Aug 14th I knew I had to make a decision.  Commit to winning this laptop and do whatever is necessary to win it, or stop thinking about it.

I decided to commit myself to winning, and I began to take action."
As a reward for his efforts, determination, and perseverance, Paul won a brand new MacBook Pro Package.
1st place was actually a 52-Inch Samsung 1080p 240Hz LCD HDTV, but Paul already had a big screen TV so he asked PeerFly if he could have the cash value in the form of a Macbook Pro instead. I'm only mentioning this because I wanted Paul to get the big screen TV so that I could have delivered it to his door and made a Tyler McMahon appearance.
Here is Paul with his brand new Macbook Pro. If you touch it, he will slice you open with his samurai swords behind him.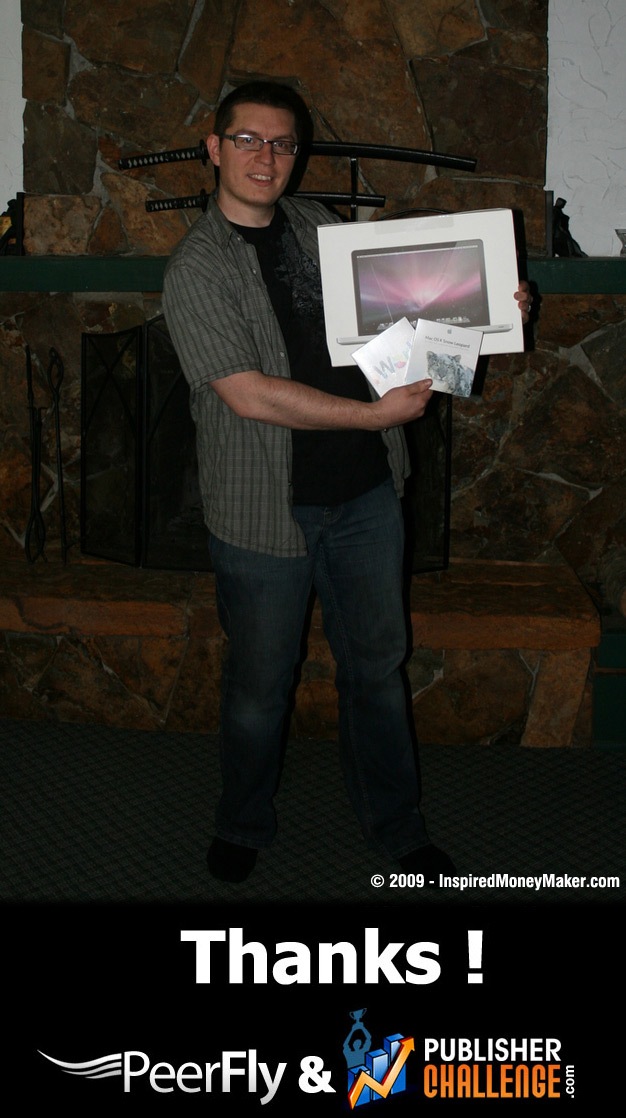 Now that Paul has a Macbook Pro, he can finally edit videos like a pro since iMovie rocks. He made his first video shortly after winning. Since it was his first video, he didn't realize quite how long it was so it's a VERY long video at half-an-hour, but he goes into detail how he won the competition through visualization techniques.
If you have any questions for Paul, feel free to post them at his original post, or ask them directly here, I'm sure he will respond to you in detail.
Congrats Paul!