April 22, 2010
Posted by Michael Kwan
The following is a paid review for TylerCruz.com written and reviewed by Michael Kwan. It is completely of Michael Kwan's opinion and is not influenced by being paid. If you're interested in having your site or product reviewed, please view my advertising page.
WordPress is an incredible versatile content management system. Most people seem to assume that WordPress is only good for running a blog, but it can be used for so much more than that. All you need is the right set of customizations, plugins, and themes to get the job done.
If you've ever wanted to run a premium buy-sell website but you have no idea how to go about coding one, you're in luck. All you need is ClassiPress, the "first and only professional classified ads theme for WordPress".
The newest iteration of the theme, version 3.0, was just released and it comes with a series of updates and new features. Let's take a look at what it has to offer.
Converting WordPress to Classifieds
The great thing about ClassiPress is that you don't need to have any coding knowledge yourself, nor do you have to go through an incredible complex installation process. If you know how to change the theme on a WordPress blog, then you'll know how to use this classified ads theme.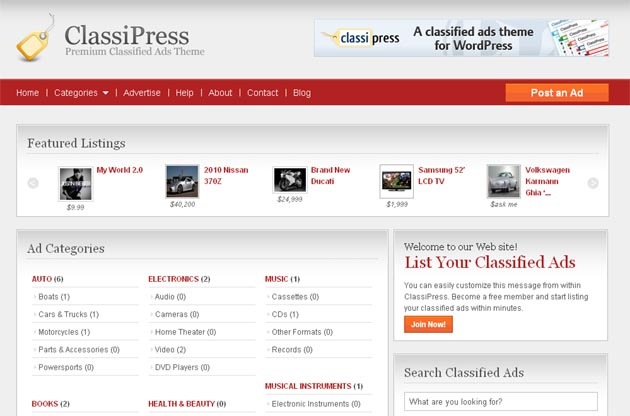 Here is a sample screenshot of what a ClassiPress-customized website would look like. The color scheme being used right now is red. If you go through the admin demo, however, you'll find that you can change the color scheme quickly and easily via a drop-down menu. In addition to red, you can have aqua, blue, green, or teal, each of which is also available with a black header instead.
The ClassiPress theme is designed to be used with a premium buy-sell website, meaning that you can charge people for posting their ads. These prices can be the same across the site or you can set different prices for the different categories. For additional monetization options, you'll see the pre-defined space for a 468×60 ad banner in the header, among options for advertising in several other places around the site.
Navigation for site visitors is reasonably straight forward. The main page shows the different categories and subcategories, making it easy to browse through the various sections. A search box is also implemented in the sidebar if they are looking for something specific. Check out the live demo to see how a live ClassiPress site looks and feels.
Categories and Subcategories
As mentioned, the ClassiPress system is preconfigured to have several different categories and subcategories. This only makes sense, since it is being used as a classified ads site.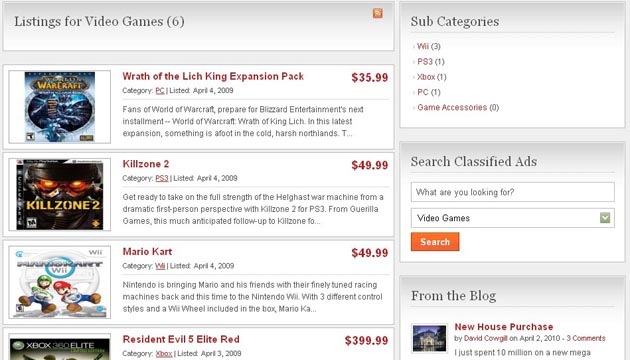 Interestingly, posts in the subcategories do not necessarily appear to the primary category pages. This way, you can charge an extra premium for the latter if you'd like. You can browse through the subcategories from the main category pages, however.
Each set of listings gives the site visitor a fairly large look at the thumbnail image, post title, asking price, and an excerpt from the body of the ad itself. Each classified ad is akin to a blog post, so any customizations you can do for the latter can be done to the former. For instance, the demo site is set up with social media sharing options.
The size of the individual postings on the category listing pages is a little too large for my tastes. This won't be an issue for a smaller site, but as you gain more volume, the ads can get overwhelming very quickly. Contrast this to the incredibly minimalist approach of a site like Craigslist.
Mapping the Sellers
One of the more interesting features for individual ads is the embedded map of the seller's location.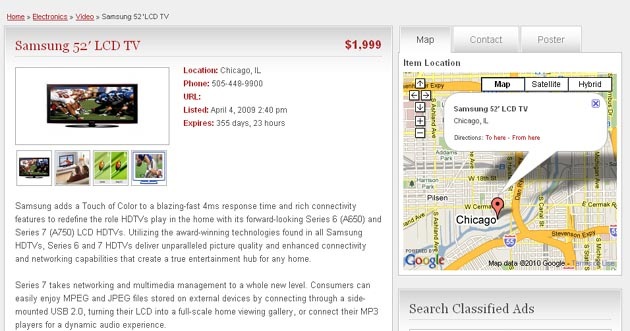 This can be very helpful, since potential buyers don't have to go to a separate page to see if the seller is near them or not. In order to use this, the seller will, of course, need to reveal his or her address.
One question that I do have about these classified ads is how a buyer can go about contacting a seller. There is no built-in messaging system, like how you would find with forum software, and the contact form is to reach the site administrator.
You could create custom forms and fields in WordPress to accommodate this, but it would be nice if there was built-in email address masking, as is the case with places with Craigslist and Kijiji.
Posting Your Own Classified Ad
When someone wants to post a classified ad on a ClassiPress-powered site, they must first register for an account. After that, the form is relatively straightforward.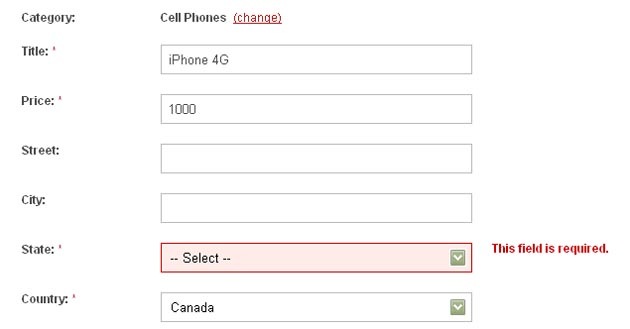 One small issue that I encountered with testing the demo site was that it forced me to select a state, even though I wasn't choosing the United States as my country. This can be easily rectified by not defining the state as a required field.
After all the pertinent information is entered, including product images, the seller is then directed to the payment page. From here, you can accept posting fees via PayPal, among other services.
User Dashboard and Control Panel
The "back end" of ClassiPress is comprised of several option pages within the WordPress dashboard. Using this easy-to-understand interface, you can customize your classifieds site as you see fit.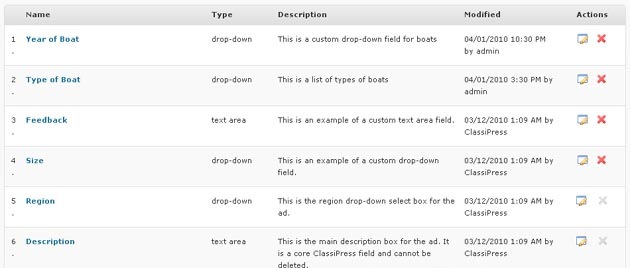 The general settings page, for instance, lets you control the home page layout, Feedburner URL, Google Maps key, maximum images per ad, new ad message, header ad, single ad, and so forth.
The other options pages are: Pricing, Ad Packs, Gateways, Form Layouts, Custom Fields, Transactions, and System Info. As you can imagine, you can spend a great deal of time customizing the installation to best suit your preferences and needs.
The core installation process is no different than the process you'd use any other WordPress theme. You can upload the ZIP file from within the WordPress dashboard or you can upload manually via FTP and activate the theme from within the WP dashboard.
Can You Make Money from a Premium Classifieds Site?
As is the case with so many other online ventures, the ability to make money with a premium classifieds site largely lies in your own hands. Some people find great success while others do not. With ClassiPress, at least you don't have to worry about the hard coding for the site.
Looking at the features page, the different editions of ClassiPress are largely the same. The most critical difference is the number of installations you are allowed with each license. Pricing starts at $69 for the Personal Edition (one concurrent site) and goes up to $199 for the Ultimate Edition (unlimited sites, plus WordPress MU).
All in all, ClassiPress looks like it could be a very powerful tool and it's an easy way to get into the classified ads business. You'll need to spend some time to customize the installation, but all the groundwork has been done for you.