February 28, 2010
Posted by Tyler Cruz
Yahoo and Microsoft have been in discussions to merge their search platforms, Yahoo Marketing Solutions and Microsoft AdCenter, for some time. Not too long ago, they announced that they had come to an agreement and would be merging in the future.
Last week, both Microsoft and Yahoo! sent out e-mails to their search marketing advertisers, announcing that they have now received regulatory clearance to form a search alliance. So it looks like things are moving along and this merger is really going to happen.
In the announcement, they introduce us to SearchAlliance.com, which gives more information about the search marketing merger including news and answers to commonly asked questions.
On the site they state:
"Our aim is a high quality transition of advertisers and partners in at least the US prior to the 2010 holiday season. However, we may wait until 2011 if we determine this will be more effective."
So it appears that advertisers should be able to take advantage of the merger within this year.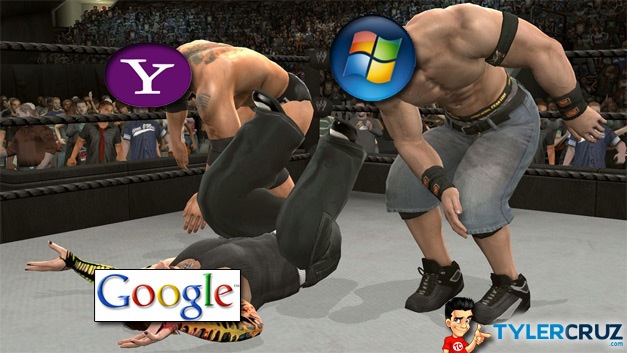 (It took me forever to find an image to modify that would work for this post, so please enjoy this one.)
This makes me wonder how this merger will affect pricing, quality score, among other vital factors important to advertisers.
Also, the demographics of Yahoo! and Bing users differ a fair bit. While Yahoo users tend to mimic the behaviours closer to those Google, Bing users tend to be more business-oriented. With this merger, this could effectively hurt many existing campaigns.
Below are some key points as mentioned on SearchAlliance.com:
Search ad inventory from Yahoo!, Microsoft, and their respective partners will be combined into a new unified search marketplace.
Microsoft will acquire an exclusive 10-year license to certain Yahoo! search technologies.
Microsoft will manage the technology platforms that deliver the algorithmic (powered by Bing) and paid (powered by AdCenter) search results.
Full implementation of the terms of the Search Alliance is expected to occur within 24 months following regulatory clearance.
Yahoo!'s Sales team will exclusively support high volume advertisers, SEO and SEM agencies, and resellers and their clients, and Microsoft will support self-service advertisers. In addition, Microsoft AdCenter will be the platform for all search campaigns.
It kind of sucks that AdCenter will be the new platform, as I really don't like it. It's cumbersome and awkward… I would have much preferred to use Yahoo's, but maybe AdCenter will undergo some improvements as a result of the merger.
However, there is some good news. The following points are taken from the MSN e-mail:
Reach up to 150 million searchers and get approximately 62% more search volume than on Yahoo! alone through a new, unified search marketplace combining the Yahoo! and Microsoft networks.
With just one buy, you'll reach users on Yahoo! and Microsoft sites, as well as other premium partner sites.
This will make scaling much easier, as now you will only have to work with 2 search engines traffic sources instead of 3.
Then again, the merger opens up traffic to possible competitors of yours who were only advertising on one of the networks, which could possibly raise bidded prices. I'm not really sure how the merger will affect the market in terms of whether or not traffic will be cheaper, more expensive, or stay the same, but one thing is certain: advertisers will now have access to a lot more traffic volume in one unified source.
What do you think about this merger? Share your comments.