February 13, 2016
Posted by Tyler Cruz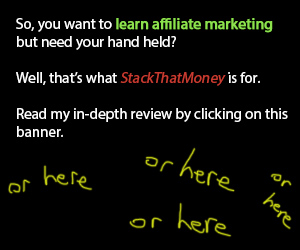 I've been dreading having to write this post as it will not be a happy one. In fact, it's pretty sad.
But my last affiliate marketing update was made all the way back one year ago on February 23, 2015, which was my monthly report for the month of November 2014, and so I know I had to give you guys an update on what was going on with my campaigns at some point.
Cutting straight to the point, I haven't been doing any affiliate marketing for a bit over a year. Literally nothing, apart from briefly trying a simple campaign once or twice for a couple days. As a result, I've made virtually nothing from affiliate marketing for 1 year now.
This shouldn't come as too much of a surprise though, considering I haven't posted about affiliate marketing at all in a long time, as well as the fact that I was heavily focused on real estate investment for about a year. And of course, my latest focus and investment being on my startup, Votesy.
What Happened
So what happened?
It was a long series of mishaps that eventually crushed all my campaign efforts, and eventually, my spirit:
Traffic Sources Dying
I used to use a large selection of traffic sources, but my best performing ones were smaller (relatively) networks where I was amongst the top advertiser.
Over time, though, these networks began to shut down one by one and so I was left scrambling trying to find replacements.
I don't blame myself here at all though, as if you read my affiliate updates in the past you'll know that I was constantly trying new traffic sources. There were a couple of opportunities where I could have ventured off into some alternative ways of promoting my campaigns… but overall I think I took advantage of what I could at the time and really tried to scale things.
Changing Regulations
I was actually a very whitehat affiliate marketer. I definitely never did any cloaking or anything like that, so don't mistake what I'm saying here.
Over time, traffic networks and the FDA have only gotten stricter and stricter, getting to the point where simply getting an ad approved on Facebook or Google AdWords would become a bit difficult.
This also had a huge impact on offers. Long gone are the days of rebills (well, for the most part), for example. I never ran any rebills though apart from my very first successful campaign about 9 years ago, and I didn't even know it was a rebill at the time (shows what I knew).
Over all, this fact didn't play too much an impact on me though since, as I say, I was very whitehat.
Affiliate Network Owed me $15,000
This is a bitter one for me. Now, I've had instances in the past where an offer's company would refuse to pay me, but the most it ever was before was for around $6,000 or so, and then the network at the time (PeerFly) offered to pay for my traffic costs out of their pocket, so I at least would break even.
But in this case, the network didn't compensate me at all, and what made me angry is that they didn't give me any indication that my traffic wasn't backing out for them for a month, so I had no way of knowing that it wasn't working for them, and I remember inquiring about this before too.
I debated on whether to blog about this or not, and publicly shame the network and warn others about them, but I feared a backlash from the network, with them copying or revealing my campaigns. They probably wouldn't have, but I couldn't trust them – after all, they wouldn't pay me $15,000.
Hit With Meniere's Disease
This actually had (and continues to have) a very big impact on my campaigns, as I was literally unable to work when I was first diagnosed with Meniere's Disease a year ago.
There's no real cure for the disease, but the docs nevertheless put me on various drugs in the beginning which really screwed me up. I literally could not see my computer or phone screen at all (it was just one big blur), and had trouble walking around in my own home.
The 24/7 pulsatile Tinnitus and stress and hopelessness of having to deal with Meniere's Disease (all of which I still have, BTW) was absolutely devastating and life-changing for me and working on affiliate marketing was the farthest thing on my mind at the time.
This all hit right as my campaigns were beginning to tank, so it really crippled any attempt at bouncing back.
Purchased a $274,000 Income Property
From July 2014 to July 2015 I changed focus from affiliate marketing to real estate investing, in particular buy and hold rental properties. I spent a lot of time reading and learning the ropes of the industry, primarily from BiggerPockets.com (which I highly recommend), as well as creating a fairly sophisticated Excel spreadsheet.
The market here has been very dead (as in very few properties going on the market) over the past couple years, so I was searching for a good rental property for a long time.
I eventually purchased an income property with 3 tenants for $274,000, including setting up a new holding corporation for it and hiring a property management company and all that good stuff.
If you missed it, you can read all detailed 23 posts from my income property adventures here.
My point here is that a lot my of focus and interest shifted from affiliate marketing to real estate for a year, as well as a good chunk of my business's affiliate earnings went into this investment as well.
Exchange Rate
As I mentioned in an earlier post, with the USD-CAD currency exchange rate being the highest its been in about 13 years, is is extremely expensive and near-impossible for me to do affiliate marketing.
Affiliate marketing, as you know, takes a lot of upfront money before you can find winning campaigns, and I had allocated a good chunk towards Votesy.
For example, right now to spend $5,000 it would actually cost me closer to $7,000 CAD after exchange rate fees.
Working online as a Canadian is great for me when I'm making money, but really bad when I'm not.
Votesy Investment
As I just mentioned, I put a good chunk of money into Votesy, with the rest all being converted to Canadian, so I have very little left in my USD bank account for affiliate marketing.
So, with all of those curveballs above, I've stopped affiliate marketing for the time being.
A Quick Look at My Affiliate Marketing Successes
The above is all pretty disheartening so I thought I'd end on a happier note, which is to outline the successes I did achieve in affiliate marketing from 2013-2014:
Generated $1.2 million dollars in revenue from affiliate marketing
Grossed $142,606.00 and netted $52,447.17 profit in June 2013
Earned $258,859.68 profit from my affiliate marketing campaigns in 2013
Grossed $7,097 from my affiliate marketing campaigns in a single day
Netted $3,099.99 profit from my affiliate marketing in a single day
Netted $52,447.17 profit from my campaigns in a single month
My biggest success though was sticking with it. I had failed so many times with affiliate marketing in the beginning, but I kept trying and eventually got up to 6-digit revenue months just like I had seen the "big boys" do.
Even though all my campaigns have since fallen flat, it still feels like an accomplishment to me.
And for good old time's sake, here's a month-by-month breakdown of my past reports:
My Affiliate Marketing Results
First, here's a recap of how 2013 fared for the entire year:
| | | | | |
| --- | --- | --- | --- | --- |
| Year | Gross | Expense | Net | ROI |
| 2013 | $823,884.01 | $555,024.33 | $258,859.68 | 46% |
| Total: | $823,884.01 | $555,024.33 | $258,859.68 | 46% |
| Monthly Average: | $68,657.00 | $47,085.36 | $21,571.64 | 46% |
And here's a monthly breakdown of 2014 (I stopped recording earnings after November 2014):
| | | | | |
| --- | --- | --- | --- | --- |
| Month | Gross | Expense | Net | ROI |
| January 2014 | $10,922.80 | $8,908.47 | $2,014.33 | 23% |
| February 2014 | $25,941.97 | $15,900.52 | $10,041.45 | 63% |
| March 2014 | $24,202.06 | $15,408.95 | $8,793.11 | 57% |
| April 2014 | $3,486.55 | $3,150.00 | $336.55 | 11% |
| May 2014 | $57,015.00 | $38,765.01 | $18,249.99 | 47% |
| June 2014 | $60,753.58 | $43,095.35 | $17,658.23 | 41% |
| July 2014 | $50,162.81 | $37,073.59 | $13,089.22 | 35% |
| August 2014 | $27,317.35 | $21,291.31 | $6,026.04 | 28% |
| September 2014 | $29,935.71 | $22,872.08 | $7,063.63 | 31% |
| October 2014 | $44,811.48 | $35,625.55 | $9,185.93 | 26% |
| November 2014 | $40,842.32 | $23,018.8 | $17,823.52 | 77% |
| Total: | $375,391.63 | $265,109.63 | $110,282.00 | 42% |
| Monthly Average: | $34,126.51 | $24,100.88 | $10,025.64 | 42% |
The Larger Picture: 23-Month Analysis
Below are my overall numbers from my campaigns since I started recording them in January 2013:
| | | | | |
| --- | --- | --- | --- | --- |
| January 2013 to November 2014 | Gross | Expense | Net | ROI |
| 23-Month Total: | $1,199,275.64 | $830,133.96 | $369,141.68 | 44% |
| Monthly Average: | $52,142.42 | $36,092.78 | $16,049.64 | 44% |
Will I Ever Return to Affiliate Marketing?
I may jump back into the volatile world of affiliate marketing eventually – after all, I first tried my hand at affiliate marketing in 2007 and tried it off and on for years until I finally saw success in 2012 – but I currently have no plans to get back in at the moment.
My focus is on Votesy now and simplifying the way I work. I will definitely miss the great money affiliate marketing can bring though.
February 11, 2016
Posted by Tyler Cruz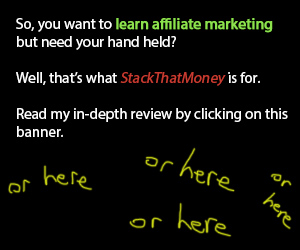 It's been a week since my last update on Votesy, and since Votesy is my #1 focus these days, I thought I'd give you guys an update on what's been going on during the past 7 days.
Overall, I'm happy with how things have gone throughout the week. I've been working on adding new questions to the site to keep things fresh as well as continue to do some light promotion efforts such as some advertising on Reddit (which didn't perform well), Facebook advertising, and Twitter posting.
I am currently spending an average of $0.51 per Facebook page like. I don't know if that's expensive or not as I have never done any Facebook page promoting before, but I'm going to assume it's fairly expensive since I'm just broad targeting and haven't done any split-testing at all yet. I'm going to guess you can probably get likes in volume for $0.15 – $0.20 with the right testing.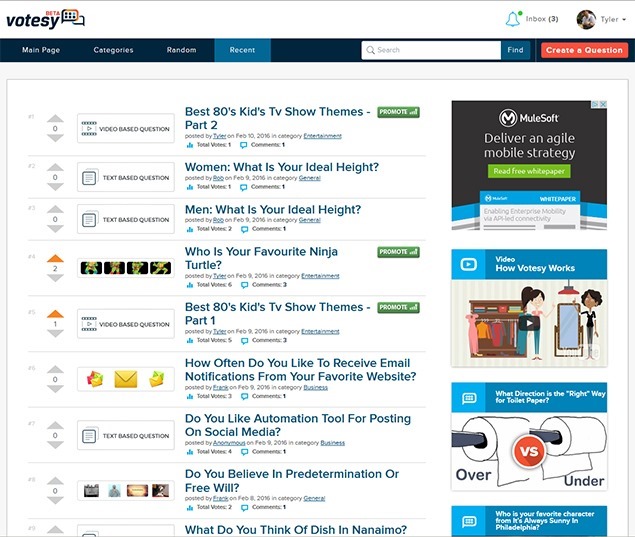 Anyhow, I currently like (for lack of a better word) obtaining Facebook page likes as to me it's very similar to list-building as I can repeatedly reach out to those users with page post updates. There are only 2 downsides that I can see: 1. It is up to Facebook's algorithm on whether or not your post will show to them (unlike e-mail where it will always be sent out), and 2. Facebook could shut down your page at any time (highly unlikely, but still a point to consider).
Feel free to like the Votesy Facebook page if you haven't already, or follow us on Twitter @VotesyOfficial.
Progressive Growth
Below are the stats that Votesy had as of January 30th, 2016 (as mentioned in my previous post update), after having been up for close to 2 weeks:

…and here are the stats as of 12:15pm February 10th, 11 days later:

That's an increase of 73 users, which works out to around 6 new users per day. Right now, I'd like to see an average of 20 new users a day, as that would mean 600 new users a month which I think is not too bad for a new startup.
There is not a whole of of retention currently; that is, registered users aren't frequently returning to vote or comment. I hope to address this in part by sending our regular newsletters which I haven't yet.
I did a lot of considering on whether or not to send out a press release and ultimately decided against it, as I didn't think it would be worth the money, at least not at this stage. I may do so once we have something newsworthy to mention outside of simply launching and existing. Maybe once/if we reach 5,000 users or something like that.
Now Mobile Friendly!
One of the major things holding us back before was that Votesy could not be used on a mobile device. It simply didn't render at all and was near impossible to use.
While not perfect, it's at least viewable and useable on mobile devices now, with the main issue being that you cannot create a question on mobile.
I'm hoping to get a few more improvements made on the mobile version so that it can last until Android and iOS versions are made.
What's Next:
As mentioned before, I would like to send out our first newsletter and perhaps set some automated weekly newsletters to be sent out.
I will also continue to promote Votesy as best I can and increase traffic and site activity.
I'm also thinking of running a simple contest, such as giving away a $20 Amazon gift certificate to the person who creates a question with the greatest number of votes after a week. If that does well then I can run more and bigger ones in the future.
I probably won't be doing another Votesy post update for a while as I suspect there won't be much to write about for at least 2 weeks. Hopefully it will be good news!
February 9, 2016
Posted by Tyler Cruz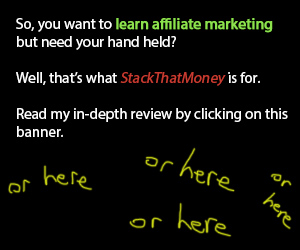 When I was 12, my best friend used to completely reorganize his bedroom about once a month.
It was a small bedroom, but he had a lot of stuff as most 12-year-olds do (Super Nintendo, hockey cards, etc.), so it wasn't exactly easy to move things around. Nevertheless, and without fail, about once a month I would go to his bedroom to see it completely changed.
It was actually kind of amazing, because there are only so many configurations you can do, but it was always so different which made it feel brand new even though it was all the exact same stuff as before. It made it feel fresh and kind of exciting, almost as if he kept getting a new room once a month.
Fast forward 20 years (wow, time flies), and I'm now finding myself remembering the above for the first time since all those years ago. The memories triggered as I was rearranging my office.
About 6-months after moving into my new house, I published a blog post giving a tour of my office including a video and photos. In it, you can see that I had set up my computer on the built-in corner desk of the office, which was a tight fit.
In fact, it took me a while to get used to the cramped space. The desk, while large, had one main problem – there were supports underneath which got in the way of your legs, meaning that you had to kind of bend and lean your way in to use the computer. Basically, it was just horrible ergonomically.
Here's a photo of where my computer used to be (more photos and video below):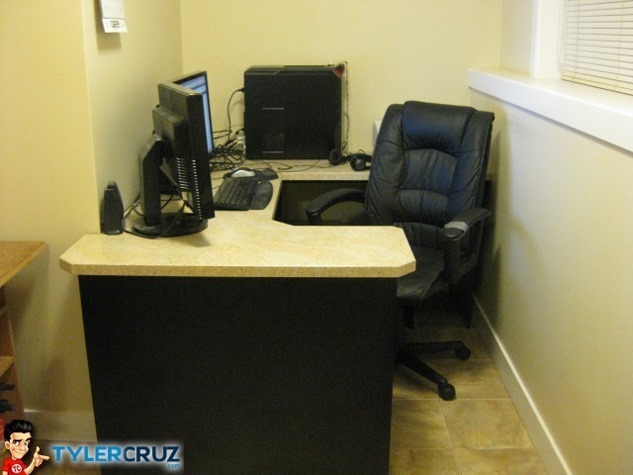 Since being diagnosed with Meniere's Disease just over a year ago, I've been doing every possible thing I can to try to lessen my symptoms. I read a little while back that symptoms could possibly be related to my sternocleidomastoid muscle, which is the big neck muscle. Now, I believe that there's a 2% chance this could all be related to that, but as I say I'm willing to try anything and everything.
And that's why I decided to switch my work area in my office, so I moved from my corner desk back to my old desk which I've had for a good 12 years now and still love. It's on the opposite corner of my office.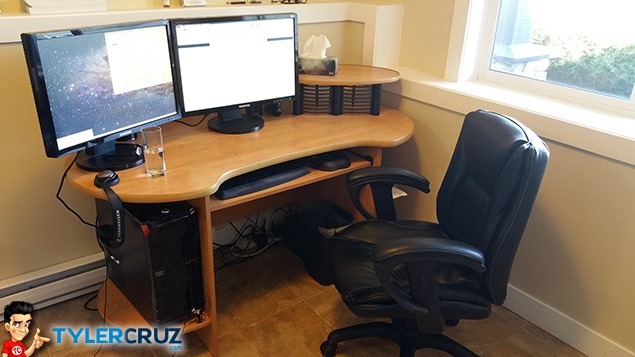 Now, I'm not a man of change. I'm a creature of habit, and therefore I never do things such as reorganize my room, so even just changing workspaces has a big impact on me. It changes the way I think and feel. I'm right beside a window now, the lighting is totally different, my keyboard and mouse are back on a pull-out tray, and I lowered my chair and raised my monitors for better line-of-sight.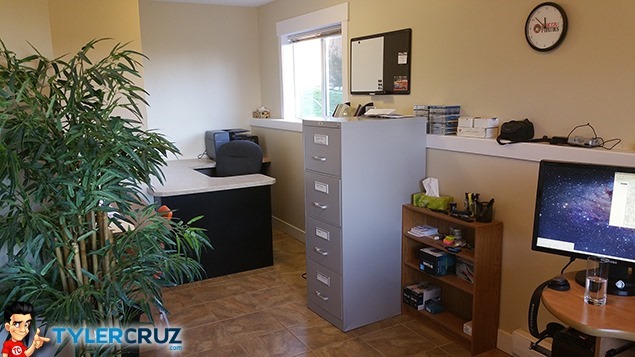 The first few hours at the location were actually very difficult to work because I'm sitting a little farther away from the monitors than I was before due to the pull-out tray, and so I had major eye strain. But fast-forward a few days later and I'm very used to it already. I actually find work slightly less draining, and I especially notice it when writing blog posts.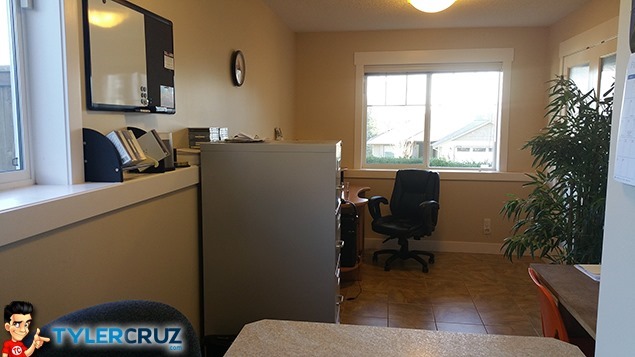 Here's the view from my office window: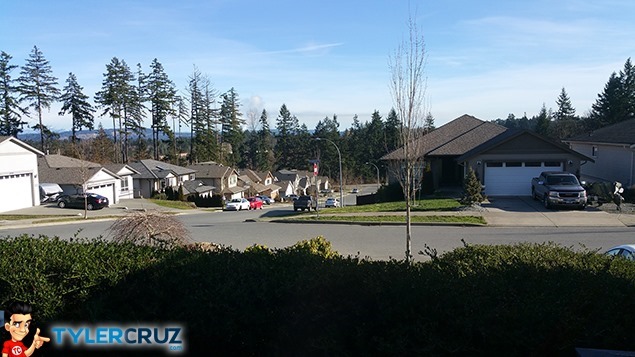 And here's a short updated video tour of my office:
(Note: You may need to visit the post directly at TylerCruz.com if you're reading this via e-mail or RSS in order to see the video.)
I also forgot to mention in the video that I also upgraded my printer. It's absolutely worth investing in a good printer, I highly recommend it.
Anyhow, who knows how long this "new" feeling will last, but I just thought it was worth posting about. Maybe try changing your workspace around too. If you do, please let me know how it affects you (if at all).
February 7, 2016
Posted by Tyler Cruz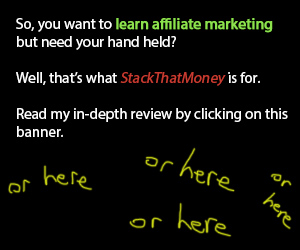 For those of you who are regular readers of affiliate marketing blogs out there, it may be interesting for you to learn that the trolling, flaming, affiliate blog PPC.BZ was recently listed for sale at Flippa.com.
I noticed it for sale when I had Movie-Vault.com listed as well. PPC.BZ was a 7-year-old affiliate marketing blog that was popular with the type of crowd who frequents WickedFire. The blog even focused on attacking me in a few posts

Anyhow, I counted only 8 blog posts made there since July 28, 2013, so I guess it was already a dead blog. It just goes to reinforce my repeated point that long-term blogging is extremely difficult. Anyone can start a a blog and offer fantastic content during the first year or 3, but as time goes on, it only gets harder.
PPC.BZ ended up selling for $1,655.00 USD.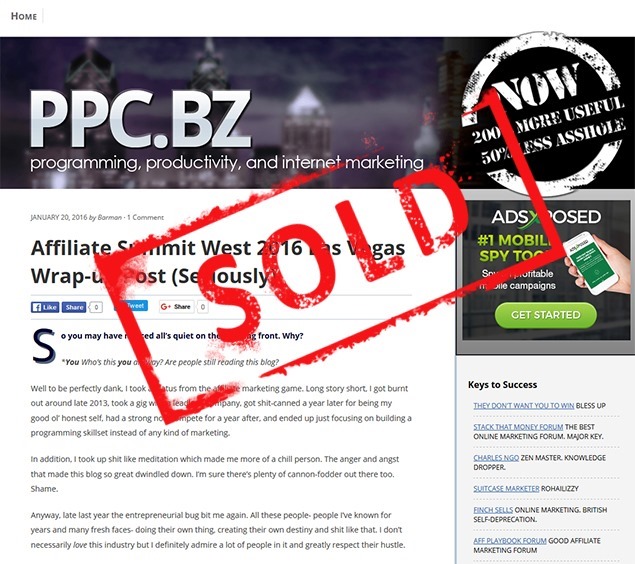 Truth be told, I was considering purchasing it myself

I thought that it could be worth it purely for the existing backlinks and swapping out its existing affiliate links over to mine, but I ultimately decided against it because I am trying to reduce my own number of sites so that I can focus on Votesy.
The new owner does not seem to have posted anything on the site yet, so it will be interesting what he does with it (if anything, he may just swap out the affiliate links as well).
There have been many affiliate marketing and "make money online" blogs that have simply been abandoned and shut down throughout the years, but I don't recall many that have actually been sold or put up for auction, which makes me wonder if the previous owner was desperate for cash.
I wonder how much I could get for TylerCruz.com if I sold it now. You can see the major downside to running a blog with your name in it…