May 23, 2013
Posted by Tyler Cruz
There is certainly no shortage of places to discuss and learn affiliate marketing out there. There are literally dozens of large forums dedicated to such discussion, most of them free.
But there's one place that is quite a bit different than the rest, and that place is called StackThatMoney.
StackThatMoney is a private affiliate marketing forum that costs a monthly subscription fee of $99/month. I have written about and even reviewed similar forums in the past, and still highly recommend these places, but if I could only choose one private affiliate marketing forum, it'd be StackThatMoney.

20-Minute Screencast Tour and Walkthrough
In addition to this written post, I went ahead and recorded a 20-minute screencast tour and walkthrough of StackThatMoney as well, for those of you too lazy to read and/or who would like to see how it looks from the inside.
The screencast is available in HD:
(Note: You may need to visit the post directly at TylerCruz.com if you're reading this via e-mail or RSS in order to see it.)
Why I Love StackThatMoney
If you used to wonder where all the big boys in this industry hang out, now you know. STM is full of true successful, experienced, and proven affiliate marketers – and if I tried to compare myself to them, it'd be like comparing an ant to an 800 pound gorilla.
But just because STM has a lot of ballers isn't what makes it great. Here are a few reasons why I love StackThatMoney:
Positive Atmosphere:
Even though there are some guys there who will spend more on Facebook in a day than most people make in a year, there is no stupid posturing, put-downs, bragging, etc. Everyone is relatively modest and there to learn and help others.
It's not a forum to brag about how much you make or make negative comments about others, but rather to share tips, ask questions, and learn how to make more money.
Guys making millions of dollars a year don't think they're too good to rub elbows with those newer in the industry, and you'll regularly see them offering killer tips and advice to those very people.
Killer Tips and Knowledge
With so many truly successful affiliate marketers as members, there is so much killer information available that it easily pays for the subscription.
I personally believe that the "Follow Along" campaigns offer the greatest method for affiliate marketers to learn the game and turn their campaigns profitable. It's like having a few dozen successful affiliate marketers over your shoulder as you work on your campaigns, telling you what you're doing right, what you're doing wrong, and what you should be doing.
STM covers so many areas that you are likely to find information that is conducive to whatever it is you're running, whether it be Facebook, AdWords, CPV, mobile, media buys, adult, etc..
Active Community
Despite being a "private" forum and charging $99 a month, word has spread throughout the affiliate marketing community because it is an extremely active forum.
For example, as of one second ago, there are currently 288 members online on the forum. These are actual paying members – not bots, spiders or guests. Of those 288 members, 5 of them are site staff/moderators/admins.
If you create a thread, you're going to get responses – quality responses.
Free Campaigns
It may sound crazy, as any sane affiliate marketer will never reveal their campaigns, but there are actual full campaigns revealed on StackThatMoney by some real big affiliates.
And when I say full, I mean pretty much everything you need to know including traffic source, targeting, offer, ads, landing pages, and angles.
Usually most of these campaigns will be campaigns that they used to run, but there are some that are revealed that they're still actively running. And these are not $5/day campaigns either, but we're talking about campaigns where they've netted anywhere from $10,000 to $500,000 profit from them.
They are a great way to see what works and to get ideas from, or if you want, to straight out copy (although you'd be best to make a few adjustments here and there).
Success Stories
In order to provide motivation and inspiration to its members (as well as good marketing material), StackThatMoney has a sub-forum for Success Stories.
Here is a screenshot I took of this forum. Check out some of the thread titles: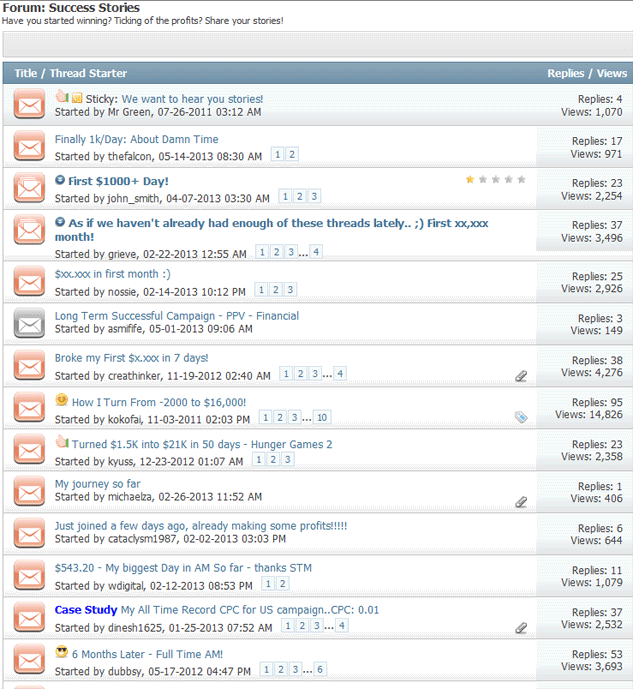 What's amazing is that the vast majority of these threads are from members who weren't making anything when they first signed up to StackThatMoney.
I'm telling you, StackThatMoney is breeding super affiliates.
Sample Forum Threads
Here are some forum threads that I copy/pasted from the forums, in order to give you a rough idea as to the type of content available:
Best Places to Live for Affiliate Marketers and internet marketer communities
Converting Landing Pages (round 2) PSD + HTML
One Dirty Leadimpact Trick to Outbid Your Competition
A Campaign That Made Me Over $80,000 In Profit!
Here's 1 of my Campaigns Making $800+/day on Average! (daily deals)
(Newbie/Intermediate Guide) Complete Guide To Facebook Ads
Make A POF Dating Campaign Profitable In 24hours
$500,000 Profit – An Old Ringtone Campaign On Facebook.
Finally 1k/Day: About Damn Time
Reaching My Goal of $1,000,000 Revenue
Is FB Asking For ID For Bumps On All Accounts Now?
This is the type of content you can expect to see on a daily basis.
Tools, Landing Pages, and Discounts
I left this section at the end because I personally feel that the community and informational content is what makes StackThatMoney so great.
But in addition to everything I already covered, a subscription to STM also includes free access to a wide selection of tools, landing pages, and discounts.
Tools & Services:
Available to members are a couple dozen affiliate marketing related tools and services (not including whatever is made available from members in the forums!) including (but not limited to):
Adult Ad Spy – Brand new and something they're proud of (competing adult ad spy alone charges $200/month)
Plenty of Fish Ad Uploader
Plenty of Fish Spy Tool 
STM Mobile Tracker
Various Affiliate Related Calculators
Keyword Tools
Domains Tools
PPC/PPV Tools
etc.
Landing Pages
Spread throughout the forums (search is your friend) are threads where people give away free tested and proven landing pages, some even complete with source PSDs.
Discounts
Also available to STM members are special unique discounts to various 3rd party tools and services such as CPVLab and WhatRunsWhere.
Conclusion
If you're serious about affiliate marketing, I highly recommend joining StackThatMoney.
Whether you're a newcomer struggling to find your first profitable campaign, or an experienced affiliate marketer who is making 6-figures a month, StackThatMoney is an incredibly useful resource that is easily worth the monthly subscription price of $99/month.