March 16, 2006
Posted by Tyler Cruz
So I sit here, eating 3 Jr.Bacon Cheeseburgers and a Coke from Wendys, after having just returned from my accountant.
It must be no surprise then, that when I went to my parking lot and to my car, it was pouring rain, and on my way home, it was very sunny out and beautiful, with even a rainbow visiting.
Anyhow, after meeting with my accountant again today, my taxes are now officially completed and done with! If you guys don't know this already: If you don't have an accountant, get one! It is the best investment you will ever make. I had originally thought I would be owing xx,xxx. And the fact is, I probably would have if I hadn't had great 'ol Cathy to take care of me. There's just so many things that accountants (especially good ones) can do to save you a crapload of cash, and all legally of course. She did so many things that I never ever would have known if I did my own taxes. Saved me literally thousands and thousands. And not only that – but my taxes are done correctly. I say this because I'm guessing that 90% of people who file their taxes, do it incorrectly. Not all knowingly, in fact, most do it by accident, but the fact still remains that many people aren't paying what they are supposed to be paying or declaring what they should be declaring. I like the feeling of knowing that my taxes were done by a professional.
Anyhow, I ended up only having to pay $210 or so. Ha. Ha, I say! $200? Ooooohhh scarrrrry. Sure beats $xx,xxx. LOL 🙂 I'll go to the bank and pay tomorrow or next week.
This brings me to another point. How many web entrepreneurs do you think are actually declaring and paying their taxes? Seriously. I have absolutely no figures or proof to back me up on this, but I have a gut feeling that 90% don't declare them at all. And I must admit that this pisses me off. Why should I pay tens of thousands of dollars (Hello, tax season 2006…) when most other webmonkeys don't? That could so easily go towards buying a new site or advertising. Then I'd be making even more!
So yes, that really bugs me. But then again, in a way I don't care. Even though people who do tax fraud rarely get caught, I think it will catch up to them in other ways. Being an honest businessman or entrepreneur or whatever you want to call it says a lot, and I believe the people who don't declare their income are only kidding themselves. Besides, other than the moral and ethical sides of doing the right thing, there are a few perks, such as having it on record that you are making more, thus being able to get loans, buy a house, etc. much easier.
So my 2005 tax season is now over! What's scary is that my 2005 earnings were 3x that of 2004, and my 2006 will be 3x that of 2005!
Moving on, let's talk about Project J for a while.
I finally found somebody. Oh, that's right.
We're still in negotiations and writing out the contract and stuff, but so far I'm very pleased and impressed. Again, we haven't even started, and he sends me 9-page detailed documents on what he proposes to do specific to what I asked (this isn't prewritten/templated stuff). He's American, too. Perhaps what's most amazing, is that he had just finished a project extremely similar to what Project J is about, and showed me a sample of it. While his sample is extremely basic and not near the complexity and professionalism that my project proposes, it does have a core fundamental basis insofar as programming as my project. And while it's very rough cut, it does work.
He told me that it was done on an extremely low budget, and from speaking to him further I believe I can confide and trust in him that he has the abilities to make what I want.
Here's a screenshot of one of his detailed reports he's sent me so far: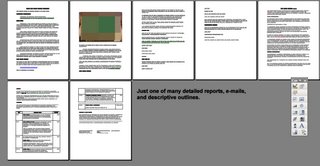 So.. yeah, definitely looking forward to getting project J FINALLY under way 🙂 I believe I've found the right man for the job.
Oh, and I bought some more domains:
Woodsman.org
JerryLee.org
JohnDenver.info
Darkie.org
ClarkGable.info
Chow!