November 2, 2017
Posted by Tyler Cruz
I have made a number of recent posts about Fiverr lately, but they have all been about being a Seller on Fiverr.
I am also a Buyer on Fiverr, and actually highly recommend it.
When I first heard of Fiverr, I used to scoff at the idea of hiring somebody there. After all, what type of quality could you really get for only $5? At the time, I was used to hiring top-notch talent that cost a pretty penny, so I was also a bit biased.
But now I turn to Fiverr for a lot of work. First off, most services don't actually cost $5. They may advertise as low as $5, but then that is just the base rate; depending on your needs you could be quoted $20 all the way up to $1,500+. Secondly, it's amazing what you can get on Fiverr for $10-$20. I use it whenever I need help with server administration or broken code, and have used it for design work as well. In fact, I got one design done for $80 that would have easily cost me $1,000+ if I had got it done elsewhere, like from my old designer.
But you can also easily get screwed on Fiverr and have to tread carefully. So here are 9 tips to buying services on Fiverr:

1. Don't Order from Gigs with Less Than 3 Reviews
It is far too risky to order from gigs without any past reviews, especially when you could order from dozens of other gigs which could deliver the same result as well.
You need to understand that there are PLENTY of horrible sellers out there who are out for a quick buck. Even though you are somewhat protected as a buyer, is it worth your time going through Fiverr arbitration, waiting a month to get your money back? And that's only if Fiverr sides with you – they could easily side with the seller if they provided you with something that's even remotely related to their gig description.
I would also avoid any gig that has under 3-4 reviews, as it's far too easy for them to get their friend or other account to purchase from them, falsely inflating their rating (it would quickly become too difficult and costly for them to do this past a few reviews).
2. Don't Hire Anyone Under 4.5 Stars
Similar to above, never hire anyone with an average gig rating of under 4.5 stars. Don't think of the star rating system on Fiverr to be that of like movie reviews. On Fiverr, it's more like the following:
5 Stars – Excellent, you can easily trust this seller and will be very happy with the results
4.8 Stars – Excellent, you should be able to this seller and be happy with the results
4.5 Stars –  Good, although the seller is not consistent and you need to be careful
4.3 Stars – Mediocre results. May be okay to hire, but you won't be "happy", only satisfied at best
4 Stars – Far too risky with sub-par results
3.5 Stars – Absolute garbage. Avoid. You stand a good chance of getting ripped off.
Follow the stars!
3. "Walk Away"
This can be seen as unethical and isn't something I do all the time, although I'm sure I've done it at least once: unless you're ordering from a succesful seller (Level 2+), most sellers will be desperate for work and will do anything to get business – especially newer gigs. If you start a conversation with a seller about what you want done, sending multiple messages back and forth, you can tell them to hang on as you're actually talking to another provider who quoted you less and tell them that you will think about it. More often than not, the seller will immediately message you back, slashing their prices by a lot or promising an immediate turnaround.
An alternative to this is that you can simply delay in responding to them for a couple of messages and they will often do this on their own as they think you changed your mind.
Yes, this is taking advantage of a seller's desperation, or you could simply look at it as a business tactic.
4. Communicate What You Want Clearly
I am also a seller on Fiverr, so I can see this from the other side. The more clear and detailed you are with what you want done, the easier it is for the seller, the more accurate the quote, the better the end results, and the faster the turnaround.
For example, if you want a custom WordPress theme, don't just tell them that you want a new design that looks "up-to-date" and "bigger". Tell them that you want a responsive design that works on computers, tablets, and smartphones, is compatible with the latest WordPress version, supports the 3 specific plugins that you use, and uses the colour palette of your logo which you send to them. Give them examples of multiple other web designs that you want your blog to emulate. Tell them you want it to be W3C compliant and to have at least a B+ grade on GTMetrix. You get the idea.
I would suggest that you have all this information ready beforehand, then answering any additional questions the seller will have afterwards. This will allow you to do tip#4 below:
5. Contact Multiple Sellers at the Same Time
When I'm looking to get something done on Fiverr, I will always find at least 3 suitable gig candidates that meet my criteria and standards and then paste in the description of what I want (see above).
This does a number of things: it saves time in case my first pick is unavailable or slow to respond, it lets me find the average quote of what this should really cost, and it shows me the quality of their response.
I will then choose the gig from the seller who had the best overall response – and it isn't always the lowest quote either – I am a big sucker for those who respond quickly, write well, and act professionally.
6. If Possible, Have Them Do Some of It On Spec
This is starting to get into the greedy category, but I stand by this tip and it's something I do often – especially for those with less than 10 past ratings.
Before I decide to hire somebody, I want to make sure they can do what I'm asking and that I'll be happy with it. I'll therefore ask them to show me proof that they can do it before I place the order. For example, you might need help with some Excel formulas. You could have them send you a video or screenshot with it finished before you decide to place the order.
You won't be able to do this for all gigs – for example it wouldn't make sense to ask somebody to design you a completed logo before ordering, but you could have them send you an extremely rough sketch if they are willing.
Having sellers work on spec will give you the confidence you need to place an order if you are overly cautious.
7. Don't Settle – You Have the Power
If the seller "finishes" and provides you something that you're not 100% happy with, don't settle! As the buyer, you have all the power. Sellers don't want to risk getting a low rating and will do a lot to avoid this. Voice your concerns – tell the seller that they are mostly done but that you aren't 100% satisfied yet.
Don't abuse your power – you may want to hire this seller again – but just realize that you have the leverage in this relationship and the seller should never be able to bully you around
8. Use The 'Show Online Sellers' Feature
When I am shortlisting gigs to contact (see tip #5 above), I will often use the "Show Online Sellers" filter from within the Refine Results area located on the left side of the site.
I do this for two main reasons. First, an "online" seller will likely respond to me within 15 minutes. Secondly, it means that they are online within an overlapping time of my own time zone, which is great to speed the process along.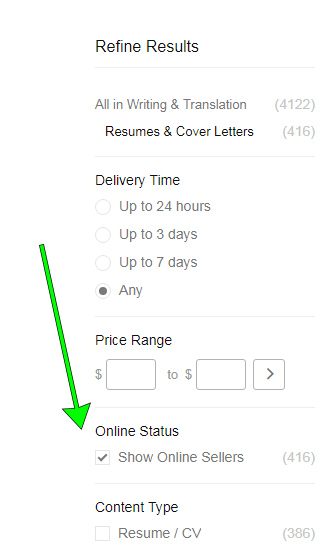 I don't always do this though as it will depend on the type of gig I'm looking to hire. For example, if I'm in no rush for an order and it's also an order that will take time to complete, I won't use this feature.
Higher Number of Reviews != Higher Quality
Despite what I wrote in tip #1, where I advise not to hire anyone with under 3 reviews, a great number of reviews does not necessarily mean higher quality. It just means that they are more popular.
I mention this because, while it's very safe to purchase from a gig that has 1,000+ reviews with an average of 5 stars, it doesn't mean it will be better than a gig that has only 12 reviews and a 5 star rating. In fact, you'll often find that the latter will not only be cheaper, but also you'll get a much faster turnaround than hiring the more popular seller. This is because the more popular seller may have 15 other orders in the queue whereas the newer provider has only you.
So really there's a minimum threshold to concern yourself with. As long as you choose a gig with an average 4.5 star rating and at least a few past reviews, you should walk away a happy buyer.
146 Responses to "9 Tips to Buying Services on Fiverr"