April 26, 2009
Posted by Tyler Cruz
A couple of weeks ago a member on my poker forum created a thread linking to his MyBrute character, challenging anyone to try to fight his character and beat him.
Always up for a challenge, I checked to see what the site was all about. The first couple times I played it I thought it was absolutely ridiculous. Now I now can't get enough of this stupid little flash game.
I thought it would make for a good blog post if I deconstructed the site and analyzed why it is so popular and how easily it could be monetized.
Now, this type of game is probably the last thing you'd ever find me playing, and once I explain how it works to you, you probably won't understand how anyone with an IQ over 45 could like it either. But I bet that a large portion of you who actually try it will end up being addicted to it and levelling your character. You may not like it at first, but addiction might take over and you'll soon be writing a blog post about it like I am 🙂
How It Works
MyBrute.com is a very simple and free online game in which you create a character that fights  other characters made by other people.
After choosing a look and name for your character, you're done and ready to start your first fight. Your character starts off with a couple random abilities, stats (Strength, Agility, and Speed), and weapons.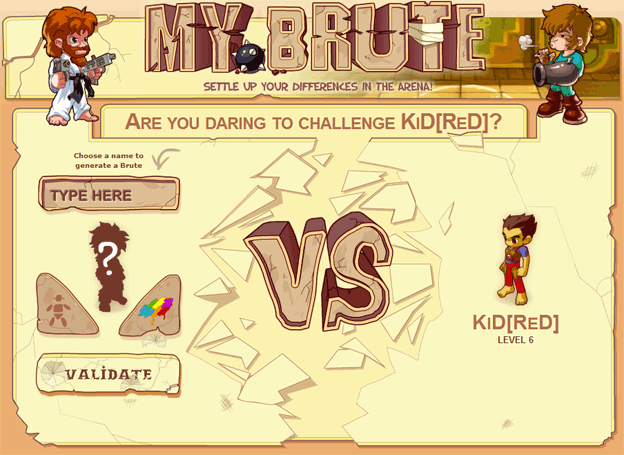 You can then enter the Arena (or choose to fight a friend if you know their name) to choose to battle somebody else's character. This is where the real surprising aspect of the site is, for you get absolutely no control over your character! The fighting is all done automatically for you and all you can do is simply sit back and cheer your character on.
While I love games of skill, there's still something oddly satisfying with the game even though all you're really doing is clicking a button (Fight!).
If you win you get 2 experience points, and if you lose you only get 1. When you get enough experience points (which incrementally increase each level, making it harder to level up each time), you level up which will again randomly give you a new ability, increase your stats, or give you a new weapon.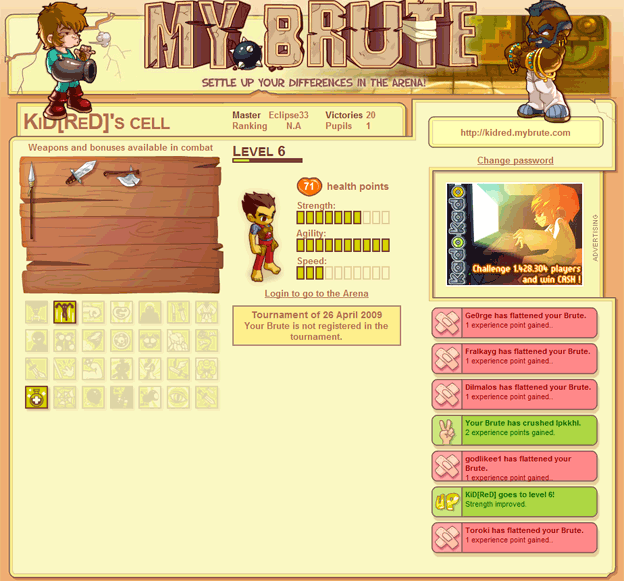 You can also gain experience points by referring other people to the site. This is one of the main reasons why the site has taken off, as addicts of the site will do almost anything to get more referrals (called pupils in the site).
What's most frustrating about MyBrute is that you can only fight up to 3 times per day. The limit seems rather ludicrously low (since each fight takes about 30 seconds), but at the same time it also has a weird effect of making you be sure to remember to visit the site everyday so you can get your allotted 3 fights in.
The limit also encourages you to refer others to the site since that is the only other way you can gain experience.
Why It's Popular
MyBrute is less than a month old but has already taken the web by storm. Just check out the Alexa stats below: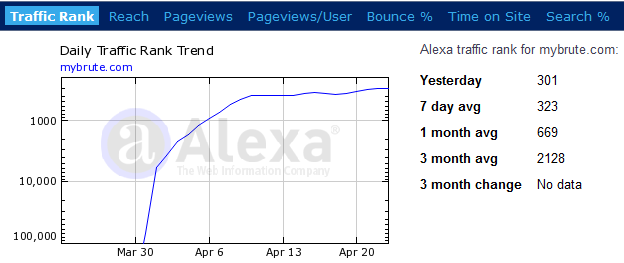 I know that Alexa is an unreliable metric tool to say the least, but even so, gaining a ranking of 300 only two weeks from launching is insane.
I can promise you that there will be countless MyBrute clones in the not-too-distant future popping up everywhere. In fact, I bet Elance is crawling with dozens of such requests right now.
I think MyBrute is popular for 3 main reasons:
1. It's Simple and Easy to Start Playing
There's a lot to be said for creating sites that are very simple in nature, at least to the user. I know of a little site named Google that will agree. People are just inheritably lazy.
MyBrute made creating an account incredibly easy. All you need is to create a username and select a randomly designed character and you're done. They don't even ask to enter your e-mail or choose a password. Later, if you wish to save your character (which you will), you can enter a password. The whole process of changing from visitor to player takes literally 10 seconds.
In addiction, the actual mechanics of the game are simply as well. The fighting is all automatic and you can't choose what weapons, skills, or abilities to focus or improve on. While it'd be nice to have some control over the latter, I actually really like how the fighting is automatic.
This is the perfect type of game to kill 5-minutes a day with.
2. The 3-Fights per Day Limit is Frustratingly Addicting
Since you can only fight up to 3 times per day, you become clearly aware that you need to visit the site once a day to take advantage of those precious 3 fights. As far as I know, the numbers don't roll over, forcing you to visit everyday if you want those fights.
3. The Levelling Up Concept is also Addicting
The process of levelling up has always been a very addicting concept. Just ask any World of Warcraft player. Some people can be so addicted to levelling up, in fact, that I'm actually surprised I haven't seen more use of this concept from other games looking to take advantage of that fact.
The desire to improve and/or want more is part of what makes us human. We always want more or to be better. We're rarely ever satisfied. I'd be very interested if somebody can take the levelling up concept and use it primarily for the use of making money online form it.
This Could Be a Money Making Machine
For some odd reason, MyBrute doesn't appear to be monetized in any way.
I don't know just how big MyBrute is, how many members it has, or their traffic. But I'm sure that if they monetized the site they could be making 6 figures a month if not 7.
The only ads on the site appear to be linked to other games that the parent company Motion-twin.com owns and operates. And from what I can tell, none of those sites have any advertising either, so it's not as though they're just trying to drive extra traffic to their other games. Even so, why not monetize the site anyway?
MyBrute is free and doesn't collect any contact information such as e-mail addresses, so I'm really confused why it's not being monetized. It would be incredibly easy to do so.
One of the best ways I can see, other than simply slapping on some banner ads, would be to offer paid memberships. Even if all the memberships did was raise the number of fights per day, it would see hordes of signups.
For example, a Silver membership could cost $5/month and give 10 fights per day instead of 3. I know that I'd personally pay for this, since I'm so addicted to the game. And for the real hardcore players, why not offer something like a Platinum membership at $50/month for 100 fights per day?
If 800 people purchased the Silver membership and 150 the Platinum, that's already $11,500 a month. I'm sure their hosting costs are expensive, so why aren't they monetizing it? I'm really curious.
Fight Me
My addiction to MyBrute dictates that you must fight me. My brute's URL is: http://kidred.mybrute.com, and after signing up you can try fighting me. Although, I'm currently a level 6 so it wouldn't be a fair fight… 😉